Quantum of Solace Black Shawl Collar Cardigan
Updated September 5th, 2019 – The Quantum of Solace black shawl collar cardigan that Bond wore with his Levi's STA-Prest jeans and Church's Ryder III suede chukkas during his visit to Mathis's villa quickly became an iconic sweater. The QoS version was provided by Tom Ford, but Bond wore a similar cardigan in Casino Royale. And Daniel Craig's character in The Girl with the Dragon Tattoo also sported one.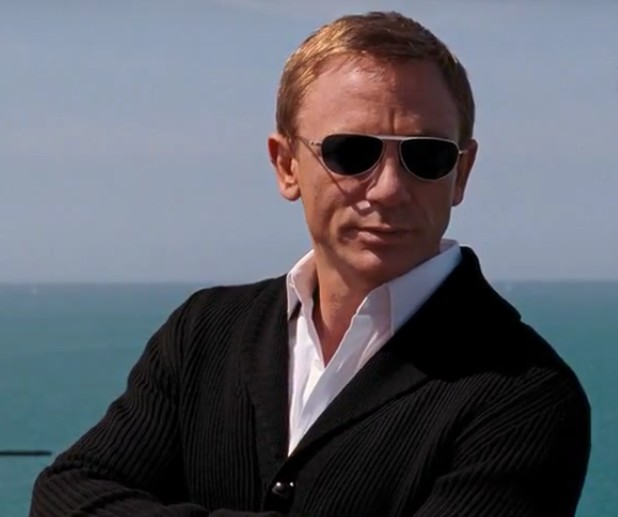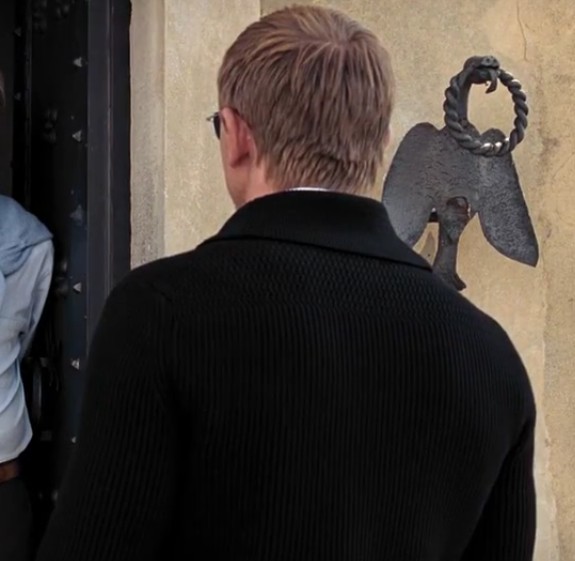 A simple black ribbed shawl collar cardigan at a decent price isn't easy to find. And so far this season it looks like we're back in the land of "close enough". But just in case anyone is interested in getting an alternative from the screen-used brand, The Italist has the new version of the Tom Ford 100% cashmere cardigan (slimmer fit, no leather buttons) on sale for $1543.22/€1553.62. Note that the product description says the color is "Blue". But the product code is definitely for the black one.
Features Wanted for the Quantum of Solace Black Shawl Collar Cardigan   
Shawl collar style
Rib knit texture
Black buttons
Two front, patch-style pockets
Best Option for the Quantum of Solace Black Shawl Collar Cardigan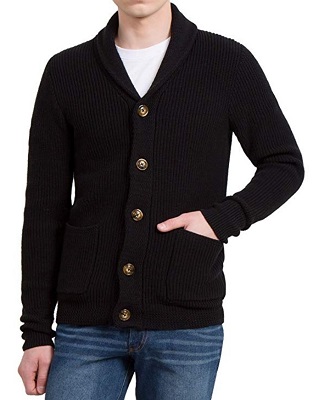 I can't speak to the quality. But from a looks standpoint? The Uxcell (which used to be Allegra K) seems like a great alternative. To get as close to screen accurate as possible, you're obviously going to have to change out the buttons. But the other details line up quite well: medium weight ribbed knit, patch pockets. The shawl collar, placket and cuffs even have a slightly different knit to add some textural contrast. They've used a 60% cotton/40% acrylic yarn. And sizes small to XL are available on Amazon. Just FYI, on Amazon UK the brand is called "sourcing map". But it's clearly the same cardigan.
Under $100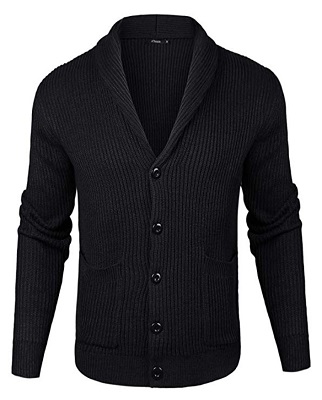 I already gave this one a shout-out in our Best Budget Style Finds from July. The yarn is a 65% wool/35% polyester blend and it has the ribbed knit style and patch pockets to match the original. And it currently has 3.7 out of 5 stars on Amazon, with most of the complaints focused on the sizing. So make sure you double check their size chart before you order. Amazon U.S. and UK have almost all sizes in stock.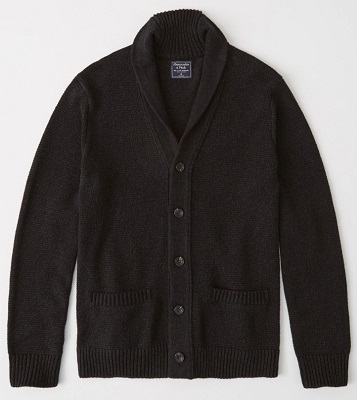 A 100% cotton option from the once-heritage-now-super-trendy brand. The knit on this one is more like an irregular herringbone weave. And it's cut to be a little baggy. So you may want to think about sizing down to get Bond's fit from the movie. They have small to XXL on their website.
Under $200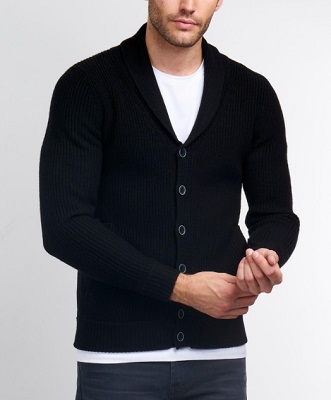 This is the first time I've come across Repeat Cashmere. So I was hoping, given the company name, that this particular cardigan would be … cashmere. But no joy today. Instead they've used a 100% Merino wool yarn. Anyway, aside from the typical differences with the buttons and pockets, the details look like a decent match. It's a ribbed knit and seems to be a slimmer fit. Plus, they've done something I sincerely wish more cardigan makers would do (yes, even Tom Ford). They've put the bottom two buttons close together. When you wear a cardigan, you should leave the very bottom button undone. But when the next button up is two or three inches higher, the hem spreads apart or starts flapping around. Two buttons close together solves that. Thumbs up to Repeat Cashmere for nailing that design detail.
Under $500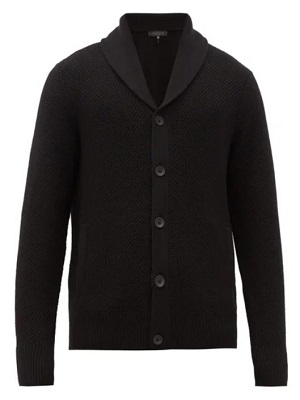 The Cardiff uses a seed stitch instead of a ribbed knit. So that's one key difference right off the bat. There's also (surprise!) the non-screen accurate buttons and the pockets. However, there are plenty of people that really like Rag & Bone designs, especially the fit. And it's a heck of a nice looking cardigan. If you're one of those guys that's more in the "inspired by" camp rather than wanting an exact match, this option is worth a look. MatchesFashion has the best UK price I could find and sizes small to XL are in stock on their website.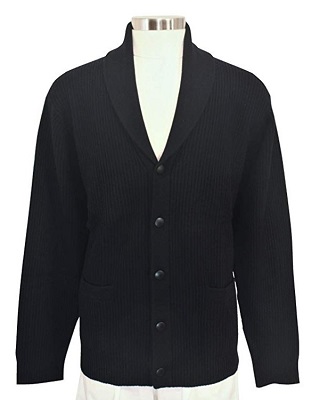 The original version of this post was one of the very first things I published when IA launched way back on November 30th, 2015. And this cardigan was listed as an alternative from the very start.
Here we are nearly four years later, and I'm still pushing this one. Apparently Cashmere Heartland now also sells on Amazon under the name "Shephe". So if you've been thinking about investing in a black cardigan and like the buyer protection Amazon provides, then here you go. Another option? Go to Cashmere Heartland's website and order it there. They have all sizes in stock AND it's priced at $379.00.
The Investment Piece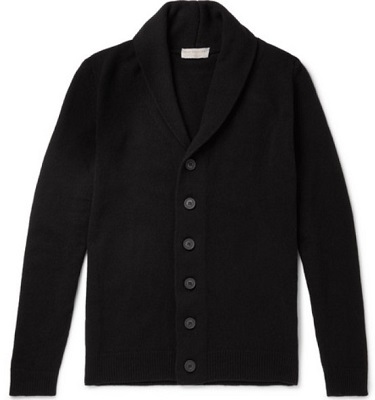 There was a time not too long ago when the "Investment Pieces" were in the $200 to $300 range. So the fact that we've jumped up to five hundred bucks should tell you how rare a good, affordable alternative for the Quantum of Solace cardigan is right now.
Having said that, the Patterson from Bond-brand John Smedley is really nice piece of knitwear. Made in England from a 90% wool/10% cashmere blend, its design isn't really a match for the Tom Ford. But it does have a simple, sophisticated style that should appeal to those of you who think the heavier ribbed knit is a little too casual or want something lighter. I've linked to Mr. Porter above, where they have sizes medium to XL in stock.
The first wave of fall inventory is just coming into stores now. So I'll keep looking for alternatives and add them as find them. In the meantime, if you have an alternative for the Quantum of Solace black shawl collar cardigan, tell us about in the comments. You can also visit our Facebook page, Instagram account, Twitter account and Pinterest Boards for more Bond and McQueen style advice and inspiration.