Quantum of Solace Black Shawl Collar Cardigan
Updated February 14th, 2018 – The Quantum of Solace black shawl collar cardigan that Bond wore during his visit to Mathis's villa quickly became an iconic sweater. The QoS version was provided by Tom Ford, but Bond wore a similar cardigan in Casino Royale and Daniel Craig's character in The Girl with the Dragon Tattoo also sported one. There was an updated version of the sweater, the Tom Ford Iconic Shawl-Collar Cardigan, at Neiman Marcus for $1590.00.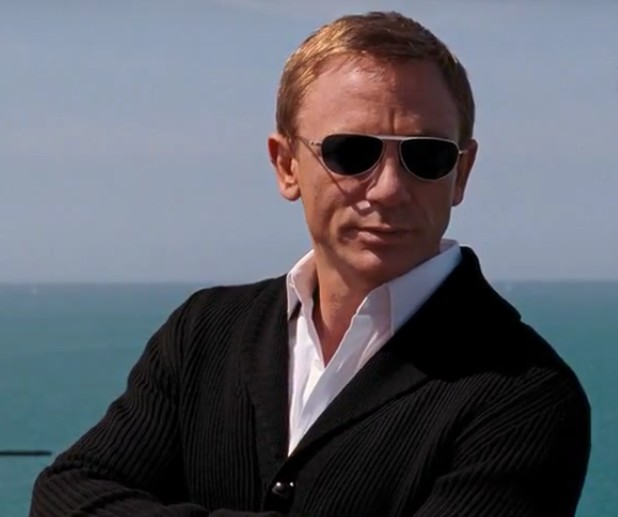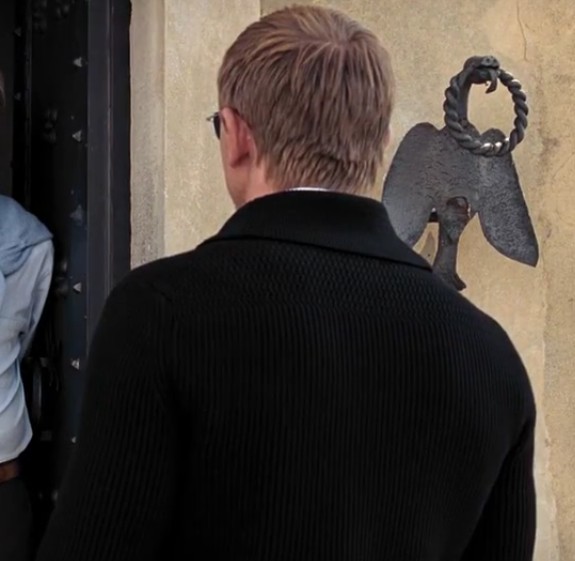 A simple black ribbed shawl collar cardigan at a decent price isn't easy to find. Luckily there have been a few more "comes close" alternatives this season than we've seen in the past.
Features Wanted for the Quantum of Solace Black Shawl Collar Cardigan   
Shawl collar style
Rib knit texture
Black buttons
Two front, patch-style pockets
The Replica
I've made no secret on this site of my admiration for Daniel Love's past work. So there's really only one question: did ROYALE Filmwear hit another homerun?
Well, if you're looking for screen accuracy, look no further. Daniel's meticulous attention to detail is evident once again. From the width of the lapels to the zig-zap stitching across the shoulders, this cardigan has nailed the finer design points of the original. Even the cuffs are extra-long to give you that extended roll.
The construction and material are also excellent. The yarn is 100% extra-fine Merino wool. So if you're thinking "wool = itchy", think again. The sweater is soft!
Now about the sizing. This cardigan is not your grandad's baggy knitwear. Bond wore the Tom Ford very fitted, and ROYALE Filmwear has replicated that fit. The Talamone is shorter than your typical cardigan, with higher armholes and a slim fit through the body and sleeves.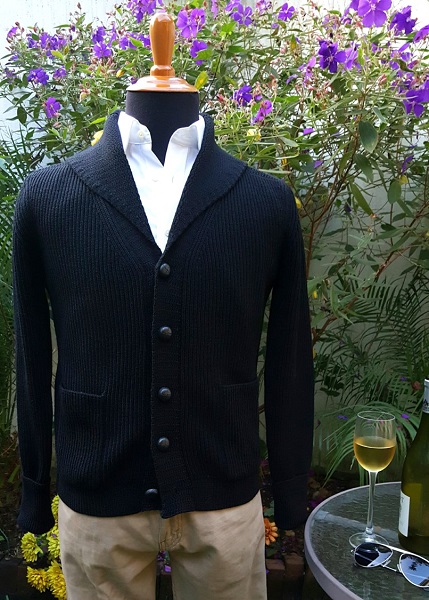 Because of the knit, the cardigan does have a fair amount of forgiving stretch. So it's not like it feels restrictive or binding when you're wearing it. And if you really want that SA look, then "snug fitting" is the objective. But if you'd like the fit to be a little more relaxed, then going up a size should definitely be considered.
ROYALE Filmwear is currently out of stock on this model. However, if you sign up for their email, you'll be notified when the next run becomes available. Is $219.00 inexpensive? Hell, no. But I do feel it's a very fair price given the screen accuracy and quality of Daniel's work.
Best Option for the Quantum of Solace Black Shawl Collar Cardigan  
Thank you AJB007 forum member Dirty Punker for the recommendation! And thank you J.Crew for getting something onto the market that comes very close to what we need! From what I can tell, the material is 100% cotton. As for style details, the basics are correct. The knit is a subtle ribbing and it has the patch pockets. Of course, the intricate knitting of the original is missing. Also, the buttons are plastic instead of leather wrapped. And I guess the collar could be wider. But hey! Until Royale Filmwear does another run of their replica, this one will get the job done quite nicely! J.Crew has sizes XS to XXL available at the time of writing.
Under $50
In terms of design details, this one isn't the most SA. It's a flatter knit and it has welt pockets. But the slim fit should do nicely for getting that Mathis's Villa style. And buttons are always an easy fix. Swapping those out for some basic leather covered ones will certainly help. They've used a 40% cotton / 40% viscose / 20% nylon yarn, which makes it a little easier to care for. Amazon currently has sizes small to XXL in stock. Nice to have an option for you bigger guys!
I can't speak to the quality. But from a looks standpoint? The Allegra K seems like a great alternative! The main thing that stopped this one from being the "Best Option" was the buttons. To get as close to screen accurate as possible, you're gonna have to change 'em out. But the other details line up quite well: medium weight ribbed knit, patch pockets. The shawl collar, placket and cuffs even have a slightly different knit to add some textural contrast. They've used a 60% cotton/40% acrylic yarn. And Sizes 36 to 46 (yep! suit jacket style sizing!) are available at Amazon.
John Blair has used a 100% acrylic yarn for their cardigan. Which is less than ideal, but should make taking care of it a little easier. It does have 4.4 out of 5 stars after 34 reviews. So people seem to like it. And I have a feeling this could be a solid alternative for larger gentlemen. The main complaint about the cardigan is that the sizing runs large. And it's certainly a more generous cut than the slim-fit options above.
Under $200(?)
AJB007 forum member Chriscoop is a big fan of REISS. And this is another of his suggestions. They've used 94% cotton/5% nylon/1% elastane yarn for the cardigan. So expect a little bit of stretch. Plus we get the medium ribbed knit and the patch pockets. But I am not sure what's up with that U.S. pricing. Quite the jump! REISS currently has sizes small to large in stock.
The Investment Piece
Yes, I am still pushing this one as an alternative. Apparently Cashmere Heartland also sells on Amazon under the name "Shephe". If you've been thinking about this one and like the buyer protection Amazon provides, here you go. But … they only have sizes large and XL available. Another option? Go to Cashmere Heartland's website and order it there. They have all sizes in stock AND it's priced at $365.00. Has anyone tried one of these yet?
As always, I'll add more alternatives as I find them! If you've found an option you like, share it in the comments below! And remember to check out our Facebook page, Instagram account and Pinterest Boards for more James Bond style advice and inspiration!