Skyfall Barbour X To Ki To
Updated on February 11th, 2018 – Bond's extremely popular jacket from the Scotland scenes in Skyfall is the Barbour X To Ki To. Given the jacket's distinctive styling, it's obviously a hard one to find an affordable match for. You can learn more about the X To Ki To (and some Barbour alternatives) at James Bond Lifestyle. And you can read this excellent review by James Brosnan for more information about the Barbour Dept. (B) Commander version of the jacket.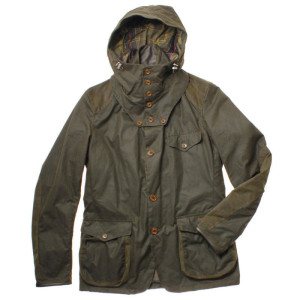 Finding the combination of simpler blazer design in waxed cotton in the right color and fitted style really is next to impossible. I most often found more traditional "Barbour" style barn coats with corduroy collars, basic travel blazers, or waxed cotton field jackets with busier military details. Now if you still have your heart set on picking up a Barbour that's as close to To Ki To as possible, check out END Clothing. They have the Barbour Beacon Sports Jacket available in all sizes for $499.00. Update: END Clothing has the Beacon on sale at the time of writing for $349.00 plus free shipping. They only have sizes small, medium and XL in stock. 
Best Option for the Barbour X To Ki To: 
The Lutz does have the more traditional Barbour corduroy collar. But you can still wear it like a blazer with the collar popped (as Bond did in the film). Alright, it's not the cheapest option. However, it is a genuine Barbour in a close color and style for about $100 less than the current Beacon Sports Jacket. Sadly, it's sold out almost everywhere online. But you can find all sizes on sale at Allweathers.co.uk for £175.00.
Under $100
Well, it ain't waxed cotton! And the fit looks pretty boxy. But this alternative from London Fog also won't break the bank. The darker brown color aside, it's not a bad match details-wise either. Button closure front, button closure patch hip pockets and a true blazer style. You could do worse for under $50.00 shipped from Amazon. They have sizes small to XL in stock. Note: Check out doubleoslevin's notes about this option in the comments below!
Under $200
A significant drop in price makes this NatGeo option more attractive! The Rugged Safari Travel Jacket made from a water resistant (not waxed) cotton. But it maintains its water resistance thanks to "tight weave of the fabric, not a surface waterproofing treatment". The main complaint from customers on the NatGeo site seems to be about the color. It seems like it comes looking a little "newer" than the one in the product pic. Sizes medium to XXL are in stock.
I'm still loving this alternative from Irish company Vedoneire. It's more of a blazer style than the screen used Barbour. But the pockets certainly come close.  And "popping" the collar is going to help even more. Fabric is 50% cotton/50% polyester. I have another jacket from these guys, and I've been very happy with the quality for the price. And if you're in the U.S., ordering directly from the company is no problem. That's what I did, and I received my jacket in about 5 days with no extra duties or taxes.
Under $300
If we can look past the Abraham Moon & Sons' tweed lining on the collar and lapels for a moment …. Made from Halley Stevensons British waxed water-resistant fabric, this one is also insulated with a light quilted lining. So it will work well for those of you in cooler climes. The fit is also fairly tailored, which is nice. Note that the color appears to be closer to dark olive in some of the other product photos. Boden is down to size small now on their website.
The Positive Impact Option
This one was made for NatGeo by the Swedish company Fjällräven and it's been included in this post for a while now. Fjällräven have a fair amount of history behind them (they made the fabric for one of the first expeditions to Greenland). And when you consider that the price of many of their lightweight shells starts at €400, $180 doesn't seem so bad. But it was only recently that I clicked on their "Responsibility" page. These guys are pretty aware of both the social and environmental impact their business is having. They're doing some very interesting things to help mitigate that damage. It's well worth a read to find out how innovative a company can be, not only in its designs, but also in its approach to corporate responsibility.
I'll keep adding more options as they show up. In the meantime, if you have any great finds you'd like to share, the comments are below! And for more Bond-style inspiration, remember to visit us on Facebook, Instagram and Pinterest.