Skyfall Crockett & Jones Islay Boots
Updated February 9th, 2018 – For Skyfall's big finale set in Scotland, Daniel Craig's James Bond wears the Crockett & Jones Islay boots. You can still pick up the original Islays at Crockett & Jones for about $650.00 (£470.00).
Features wanted for the Skyfall Crockett & Jones Islay Boots
Higher cut boot with speed lacing
Black Dainite or Danite-like rubber sole
Pebbled grain leather in darker brown
Wing Tips with medallion detailing at toe
I'm trying to keep the options under $250.00 (on sale). But it can be difficult to still find quality leather and construction for less than $150.
Update: After an extensive search, there just weren't that many pebble grain/Scotch grain options turning up at a reasonable price right now. So, unfortunately, most of the options below are all full grain, smooth leather. But I'll keep looking!
By the way, if you need some help understanding the different shoe and boot construction methods, Primer has a good article explaining them. And if you need some insights into the proper care of your leather boots, Tips Bulletin has this well organized beginners guide.
Best Options for the Skyfall Crockett & Jones Islay Boots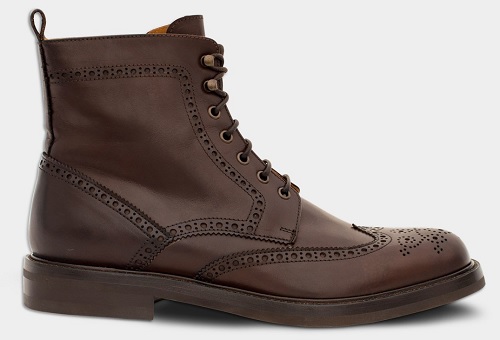 They ain't the cheapest option on this list. But the price is about 1/3 that of the Islays. So I'll consider them "budget". As for the quality? Well, the boots are made in Italy using a full grain leather upper and a Vibram Eton sole, featuring Dainite-like studding. Velasca has gone with a blake stitch construction, which means the boot can be re-soled (albeit with a little more difficulty). The blake stitch construction also makes the boots a little lighter and more flexible than a full Goodyear welt construction would. However, you are sacrificing a bit of durability and water-resistance. What else? Oh! If you sign up for their email, you get 10% off your first order. And shipping and returns are free in the European Union, the U.S. and Canada. The Ganassas currently have 5 out of 5 stars on the Velasca website. In short, lots to make them worthy of being a "Best Option".
Grained French calf leather, a double rubber Dainite-like sole, and Goodyear Welt construction. What's not to like? Well … the return policy. These ship from Spain. And if you have problems with the size, you're paying for shipping back to that beautiful country. So it's a risk. I've also heard from Meermin owners that breaking in Meermin footwear can take a bit of work (and a touch of suffering). But Meermin has a lot of fans. Additionally, they've just opened a store in New York. I haven't heard anything about them accepting returns there. However, I take that as a good sign that Meermin is getting serious about working with their U.S. customers. Most sizes are in stock on their website. Just remember that they use UK sizes!
Under $100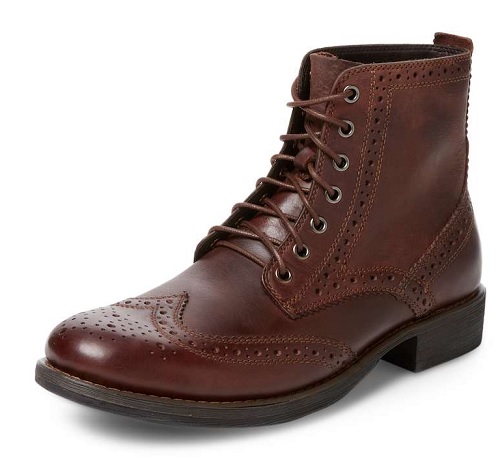 The good news? That's a hell of price reduction. Originally they retailed for $130. And Gilt has a decent selection of sizes left. The bad news? They're final sale, so no returns if they don't fit. Uppers are full grain leather. Inner lining is a wicking fabric to help keep your foot dry. Construction? They're not saying. Neither Gilt nor the Eastland website has any information. But I have a pair of Eastland camp mocs and they've held up very well over the last two years. So if you're looking for a low-cost alternatinve, I think these are worth a shot.
Full disclosure: I have never heard of "Red Tape" before. So I have no idea about their reputation or quality. But these boots currently have 4.5 stars out of 5 on the Amazon UK site after 193 reviews. So that's something. The Peters feature leather uppers on a "Stitch Cleated Sole" (whatever that is). UK sizes 7 to 11 are in stock, but no half sizes are offered.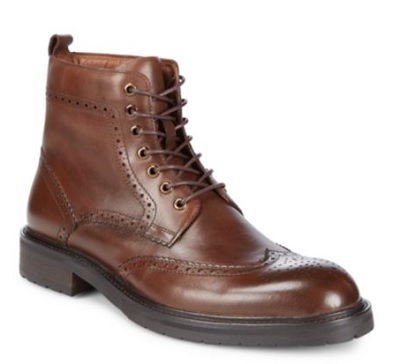 I was this close to making these the Best Option. The problem is they're on the Saks Off 5th clearance site, so who knows how long they'll be available. There's also no mention of where the shoe is made (I'm guessing Asia) or the type of construction (I'm guessing blake stitch). But they seem like a very solid option while they last! Regular retail was $200, and the boots feature a full grain leather upper with a fabric liner. Saks has sizes 7 to 12 in stock.
Under $200
I'm not saying these will use the best quality leather. But that textured finish comes closer to the Islays' "scotch country grain" than the smoother leather of the other alternatives. No mention of the construction method or what the lining is made of. It also seems M&S has gone with a knock-off Vibram sole. All that being said, if you want a casual budget boot that gives you the right look, these seem like a good option. UK sizes 6 to 12 are in stock on the M&S website.
Another heavily discounted alternative, this time for 6pm. Regular MSRP was $300, which most of us know is way overpriced for a pair of Cole Haan boots. But just north of a hundred bucks is more than reasonable for what you get. The Kennedy's certainly like they are built on a narrower last in the pics on the site. That could make these a good option for those of you looking for a more streamlined boot or with B or C width feet. 6pm has a decent selection of sizes left.
It was visitor hifimad who suggested we check out Samuel Windsor in the comments on another post. I'm very glad he did! Their Prestige Country Boot certainly has a lot of the features we want. It's Goodyear welted, has an Italian leather upper with the pebble grain (!), a leather liner, and a Dainite-like studded rubber sole. Plus they have UK sizes 6 to 12 in stock. And the boots have 4.8 stars out of 5 after 137 reviews. All of that sounds pretty darn good for under a hundred pounds! The main issue? That light colored welt.
Anyone visiting us from Spain? I found these through a great Spanish men's style forum called Rincón de Caballeros. If you want to practice your foreign language skills, it's a fun place to hang out. Anyway, back to the boots. Full grain calf leather, Blake stitched construction and a Dainite-like Vibram sole for around $120? Yes please! Seriously liking the look of these. They have European sizes 38 3/4 to 47 in stock. Not sure about availability outside of Spain though.
Just a solid, nuts and bolts pair from Clarks. That darker burnishing on the toe isn't exactly appreciated. But it should blend in with the application of a darker polish and conditioner. They're coming to you from Amazon, but just a quick note: sizes on the U.S. site are running really low; however, the UK site has almost all sizes in stock for the more rustic-looking "Braun" color.
The Investment Pieces
If you're looking for a slightly more sophisticated take on this boot style, these are worth a look. They come with full grain leather uppers, Goodyear welted construction and a glove leather lining. They also have a leather sole with rubber heel cap. So don't expect them to offer much grip when the snow finally arrives.
If "Made in Britain" is your thing, then Burghs have got you covered. Herring Shoes enjoys a solid reputation for great customer service and the quality of their in-house footwear for the price. These feature full calf grain leather uppers and a true Dainite sole. They're currently very low in sizes. But it seems like a re-stock is coming in March. Now if you're willing to spend about $80 more, you should check out the Barker Calder boots in Dark Brown Grain, also available at Herring Shoes. The Calders use a textured leather and have a boot height that makes them very similar to the Islays.
I've kept Allen Edmonds off this list for a long time. But man, do they have their fans! So I think they're about due for inclusion. First, please note that the link above goes to the Factory 2nds version of the Daltons. That means the boots may have some cosmetic flaws, but no problems that would compromise durability or performance. Second, Allen Edmonds recently went through a change in ownership. And a subsequent price hike on first quality shoes and boots. For example, the regular version of the Daltons now sits at $495. So saving almost $200 for a potential small nick or color blemish seems like pretty good trade off. What about the boots themselves? Well, the Daltons have been a well-loved model from AE for years now and get a lot right. Full grain leather uppers, Goodyear welted construction, and a last shape that will accommodate a most feet. Be warned that sizing availability for 2nds goes up and down. But if you're patient, your size should show up at some point.
I'll add more options as I find them! Feel free to share your's in the comments below. And don't forget to check out the stuff we post on our Facebook page, Instagram account and Pinterest boards!