Crockett & Jones Tetbury from Skyfall
The original Crockett & Jones Tetbury from Skyfall is available at their website for $590.00. Not sure I can recommend these for running or fighting on top of trains, but given that toe box shape, they're probably a mean point of contact when kicking bad guys.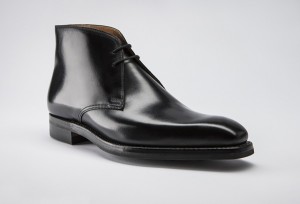 Features Wanted for the Crockett & Jones Tetbury:
More of a dress chukka shape, with chisel shape toe box
Full black rubber soles with defined heel
2 eyelet lacing
Best Options: 
Adding a new best option: Florsheim Constable Chukka regularly $220.00, on sale for $119.90. This is a pretty solid boot, using a full grain leather upper and Goodyear welt construction. Great value for the money and there are still lots of sizes left.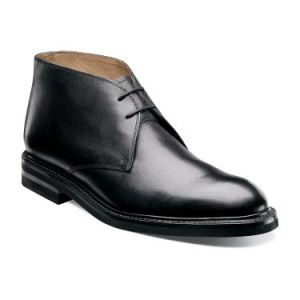 The Florsheim Jet Chukka is available for $135.00 at Florsheim. Obviously, three eyelets on this one and the sole is definitely more streamlined than the originals.
At Marks and Spencers, they have their M&S Collection Luxury Leather Chukkas Boots for £79.00/$128.00. Getting very close in shape, although the heavier double line of stitching makes it look a little busy.
Or if you want to invest more, you can get the M&S Collection Leather Welted Chukka Boots for £149.00/$242.00.
Other Options: 
Sizes are really starting to run out in these ones.
Florsheim Montinaro  $84.99 on sale.
Marc New York Lexington $82.46 on sale.
Calvin Klein Wilson 2 is another budget option, on sale for $49.99
More alternatives will be added as I find them; share your options in the comments!
This post was updated on June 7th, 2016.