Daniel Craig Esquire 2011 Grey Shawl Collar Cardigan
Updated February 17th, 2018 – Wow! It's about time this one got an update! This is one of the very first posts I wrote for the site and I honestly don't think I've touched it in almost 6 months. The good news is there are now lots of viable alternatives for the Prada grey shawl collar cardigan Daniel Craig wore in that August, 2011 issue of Esquire UK. And the look itself is still a classic. The combination of the cardigan with the white Henley, the cuffed jeans with the R.M.Williams plaited belt (alternatives for that are here), and the Crockett and Jones Skye boots won't be going out of style anytime soon.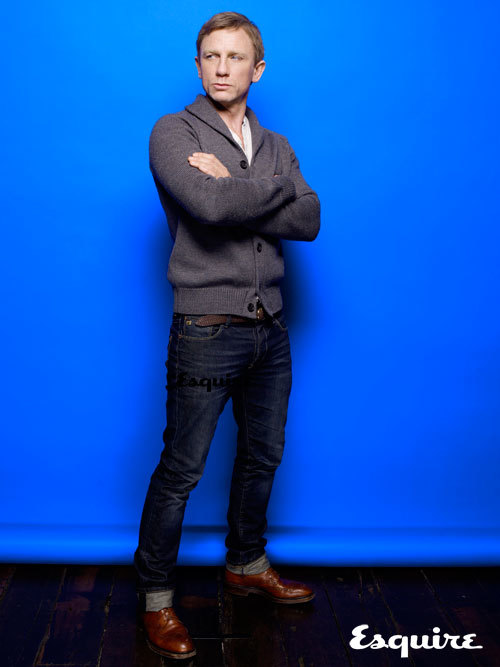 Features wanted for the Daniel Craig Esquire 2011 Grey Shawl Collar Cardigan
Mid-grey merino wool or cashmere
Flat knit with ribbed cuffs and hem
Five button closure with dark grey buttons
Raglan sleeves
Best Option for the Daniel Craig Esquire 2011 Grey Shawl Collar Cardigan
A darker grey color? No pockets? Darker buttons? Yep, it checks most of the boxes. This 100% cotton alternative from Canadian brand Le Chateau does use a slight ribbed knitting. But nothing overwhelming. The have sizes XS to XL available on their website.
Under $50
Yeah, they call it "black" on the 6pm.com website. But it certainly looks dark grey with flecks of black running through the heathered fabric. Material is a 55% cotton. 45% polyester blend. Sizes small to XL are currently in stock.
Our friends from VB are back again. This is the same cardigan that spent months as the Best Option for the Tom Ford Quantum of Solace cardigan until it sold out (it's back in stock now in that color). In the dark grey it's a solid affordable alternative for the Prada. Flat knit through the body, with ribbed cuffs, hem and placket. Fabric is 40% cotton, 40% viscose and 20% polyamide. They have sizes small to XXL in stock at Amazon U.S. and UK.
The textured heather knit keeps this 100% cotton option from being an ideal match. And I've a gut feeling it's coming to us from Asia. So I'd be careful with the sizing. But the general color looks good. And it's pocketless. Amazon UK has sizes small to XXL available.
Under $100
This could have been a "Best Option" contender if only it was a darker grey! They've used a 50% acrylic, 21% cotton, 20% nylon, 9% silk yarn, which isn't the greatest. But the styling is a great match, even with the pockets. Nordstrom has a wide variety of sizes available, from regular medium to XXL to Tall and Big.
Under $200
Hmmmm. Patch pockets again. If you can get past those (and the lighter grey color), the Oak Park has a lot to offer. Starting with the yarn. LAD has used a (ready for it?) 34% wool, 8% alpaca, 34% nylon, 22% acrylic, 2% elastane yarn imported from Italy to create the cardigans flat knit. Sizes small to XL are on sale on the LAD site. But you can also order it from Amazon U.S. ($137.50 to $198.00, depending on size) and Amazon UK (£98.67 to £142.09, depending on size).
For me, this is the clear winner on the list of alternatives. Except for the price. But if you're hunting for that great investment piece? This one is definitely worthy of consideration. 100% new wool, a subtly ribbed knit, leather football buttons, AND it's made in Scotland by a family owned business. However, you might want to consider cutting off those elbow patches. End Clothing is offering this option and they have sizes 36″, 40″, 42″ and 44″ in stock.
The Investment Piece
Just in case spending $175.00 on the Jamieson doesn't feel like enough of an investment …. John Smedley holds a Royal Warrant (which, in this particular case, means they makes sweaters for the Queen). So maybe just under $500 isn't that much to pay to dress like royalty. The yarn is a 90% wool, 10% cashmere blend. And the color and other style details are incredibly close to the Prada. Just a beautiful piece of knitwear. Available at Mr. Porter, where sizes medium to XL are in stock.
Share your favorite alternative for the Daniel Craig grey shawl collar cardigan from the Esquire interview in the comments below! And don't forget you can find us on Facebook,  Pinterest, and Instagram!
Images used in this post were sourced from Esquire UK,