Updated February 23rd, 2018 – Daniel Craig's 007 wore the suede J Crew Kentons during the Morocco scenes in SPECTRE with the Matchless Craig Blouson, the Brunello Cucinelli chinos and belt, and both the Tom Ford polo and the Orlebar Brown linen shirt.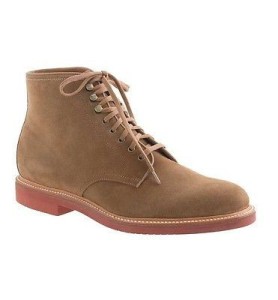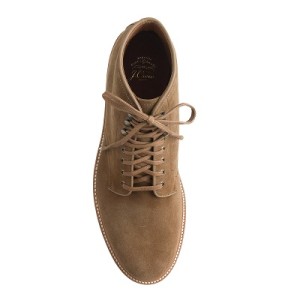 The original J Crew Kentons are no longer available in this color, although they sometimes show up for sale on Ebay and the fan forums. This model had actually been around for a while. But then Bond happened and they flew off the shelves.
Features Wanted for the J Crew Kentons  
Darker beige or sand colored suede
Higher cut with speed lacing
Brick red sole
So about that brick red sole …. One of the big drawbacks of some of the less expensive alternatives is they go with a "natural" colored rubber or leather outsole. And for some that can be a deal breaker. But there may be a solution.
Warning! DYI Moment!
I did a little research into dyeing shoe soles. And I found that the Angelus Sole Dye Kit ($25.55 plus $7.35 shipping) is available in "Brick". Which means we can actually change our boot soles to the more screen accurate color! Here's a video from Angelus showing how the dye works.
I haven't tried this yet. But I have a Kit on order and I'll share my experience once I'm done. Now, on to the alternatives!
Best Option for the J Crew Kentons
Goofing around on Instagram pays off! I found these on the feed of Golden Fox Footwear and when I saw the price on their website, my jaw dropped. Double stitched suede service boots with a Goodyear Welted construction for under $120? Sounds good to me! They are unlined, which has its pros and cons, and missing the speed lacing hooks. But the reviews for these boots on the style forums say they're a solid boot for the price, as long as you keep your expectations in check. You can also get these at Amazon U.S. for $79.90 to $119.95, depending on your size, plus $6.95 shipping.
Update: I wrote a review of the Boondockers almost exactly one year ago (you can read that here). Over the last twelve months, I've put the boots through their paces. And I have to say they've held up incredibly well. There's still almost no wear on the soles. The uppers haven't gone soft or floppy and really kept their structure. And they've definitely broken in and molded to my feet. So they're super comfortable to wear. Overall, I'm very happy with them and have no hesitation in keeping them as the "Best Option".
Under $100
Well the price has certainly dropped on this option since we first listed it in 2015. Although they're more of a chukka style boot, they do have the brick red sole and the color of the suede comes close to the Kentons. Amazon still has a good selection of sizes left in stock.
A solid new alternative from Jack & Jones. The suede color is a nice match and the overall styling gives us the look with want. One weakness is the method used for the construction. It's obviously closer to what you'd see on a pair of desert boots. But in general, I think these could a winner for those of us on a tighter budget. Zalando has European sizes 40 to 46 in stock.
Under $200
Yes, it's big jump up in price. But the boots are made in Portugal using Italian suede and a natural crepe sole. So there should be some quality there. And looks-wise, they certainly capture some of that Kenton spirit. However, there is one BIG design difference. And that would be the zipper on the side of the boots. That "feature" will knock these out of contention for many of you. Nordstrom is stocking sizes 8 to 13. Or you can order them directly from Supply Lab.
The Investment Pieces
AJB007 forum member (and guy with the best username ever!), Obi Sean Kenobi did a little "out of the box" thinking and suggested this option from Taft. The color of the Jaro's upper is a great match. And it has that brick red outsole we want. And it's lined in calfskin leather and uses a blake stitch construction. Sure, it has a captoe. But there's another, more significant difference. The upper material is actually wool. Which, I have to admit, I think is pretty cool. I don't know if you've ever tried to keep light colored suede clean. It can be a pain. So the idea of boot I can wash with a soft brush and some Woolite definitely interests me. YMMV. Taft has U.S. sizes 7 to 12 in stock; no half sizes are available.
You want a red Dainite sole? These have got a red Dainite sole. The link above goes to the older version of the Spencer, on sale at 6pm.com. And they're a pretty good alternative to the Kenton and a solid boot in general. Aside from the brick red sole, they feature a full leather lining and are made in Italy. 6pm.com have sizes 41 to 43 (U.S. 8 to 10) in stock. However, there is a new version of the Spencer available on the rag & bone website. The suede on that version has a more reddish tone and black pull tabs and outsoles. It's also priced at $495.00. You can take your pick of the two. But I'm kinda leaning to the older option.
If you have some suggestions for great Kenton alternatives, leave them in the comments below. And we also post affordable alternatives and deals from around the net (as well as other fun and informative stuff) on our Facebook page, Instagram account and Pinterest boards!