Some of the information about the original Levi's STA-PREST 306s used in the film comes from Matt Spaiser's excellent site The Suits of James Bond. And thanks to forum member welshboy78 at AJB007 I learned that the same Bond wore the same model of Levi's in the Quantum of Solace Haiti scenes and in the Mathis Villa visit scene, but in two different colors.
A lighter color in Haiti:              A darker color with Mathis: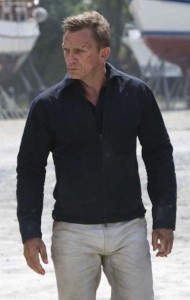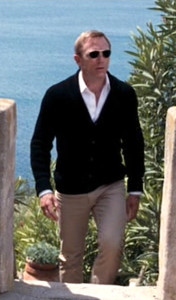 Best Option for the Levi's STA-PREST 306s
Levi's 508 in British Khaki: $49.99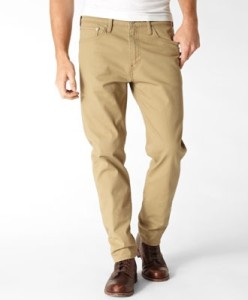 Levi's is no longer using STA-PREST or the 306 (as far as I can tell), but AJB007 user sandman1935 said that 508s are close in cut. The 508s are still available in British Khaki, which is a little darker than the color in the Mathis scene, but may still work. Levi's 508 are on sale for $49.99 at Amazon U.S. In the UK, you can find them on Amazon priced between £44.00 and £84.46.
Options for the Haiti Levi's STA-PREST 306s
A real bargain pair from Target. The Standard and Grind Slim Straight Twill Pants in Sandstone are on sale for $20.00.
As noted above, we want to look for lighter, almost ivory, colored jeans to capture Bond's Haiti look. Lands' End's Straight Fit Natural Jeans in Sand Dollar are a good place to start. They're currently on sale for $34.99, with almost sizes still in stock.
Nordstrom Rack has the Lucky Brand 221 Original Straight Leg Jeans in Monterey K on sale for $39.97. Still a good selection of sizes, too!
Uniqlo's Miracle Air Skinny Jeans are priced at $49.90/£39.90. The 32 Beige color definitely appears to be a very light, so they may be a good choice for thinner guys.
Jack Thread's Slim Denim Jeans in Natural Garment Dyed are going for $59.00.
Lastly, House of Fraser has the Pretty Green Castlefield Skinny Fit Jean in Stone on sale for £52.00. Still a good selection of sizes. And given the recent performance of the currency (sorry!), these good be a great value for those of you on the U.S. side of the pond. Just note that these appear to have a more aggressive taper. Might not work so well for guys with thicker legs.
Options for the Mathis Villa Levi's STA-PREST 306s
The version of the 306s Bond wears to visit Mathis are more of true khaki/chino color. Levi's has a lot of options in different fits. Starting with choices for guys with some mass,  the Levi's 541 Athletic Fit in Timberwolf Cruz Twill are priced priced between $44.91 and $79.99. The 514 Straight Fit Twill Pant in Chinchilla are priced between $26.00 and $58.00 on Amazon U.S. Folks in the UK can find them on Amazon for £28.26 to £85.72, where the color is called Beige.
If you're on the thinner side, you can try Levi's 513 Slim Straights in True Chino, priced between $37.99 and $69.50. If you want to go even slimmer (without going "full painted" on), the 511 Slim-Fit Line 8 Twill Pant  in Sand is a good choice. Priced between $36.09 and $58.00.
Moving on to some non-Levi's alternatives. MandM Direct has the Jack and Jones Glenn Original Slim Jeans in White Pepper for £14.99. Still lots of sizes left. Just for comparison, these are currently going for about £45.00 on Amazon UK.
For a more relaxed fit, the Dockers Straight Fit Jeans in New British Khaki for $58.00/£58.99 are worth a look.
New option coming at ya from Mango. Their Slim-fit off-white Patrick Jeans in Sand are $59.99/£45.99.
And Amazon UK has the Pioneer Men's Jeans in Beige 24 for £44.34. Despite the fact that the model's a beanpole, these look like a straight cut, and have some Elastane in the fabric for stretch.
Remember you can share any alternatives you find in the comments below!
This post was updated on July 13th, 2016.