Quantum of Solace Harrington Jacket
Updated September 18th, 2017 – Like the Tom Ford black cardigan, for a few years after the film's release it seemed like every brand had its own version of the Quantum of Solace Harrington jacket. Now? Not so easy to find a budget one with the right details. Here some other (famous) shots of the original from Tom Ford: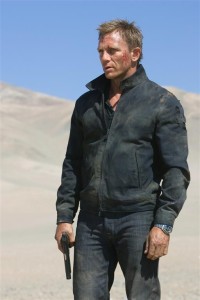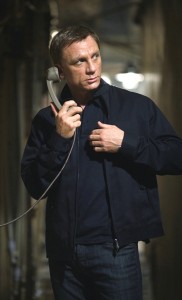 Features Wanted for the Quantum of Solace Harrington Jacket
Harrington/Barracuda style collar
Dark navy blue cotton or cotton blend
No elasticized or knitted cuffs or hem.
Best Option for the Quantum of Solace Harrington Jacket
Yep, the Onfire again. This is a new version of their Harrington. 100% cotton and the hem is elasticized at the sides only. The best feature (aside from the price) is the color. It's that deeper, darker blue that we need to get the Bolivia look. Unfortunately, M and M Direct do NOT ship to the U.S. But if you live just about anywhere in Europe, it's available!
The Classic Option:
Honestly, if you can afford it, just save up and get a genuine Baracuta G4 in Navy. Normally they're priced around $450.00 and up with shipping, duties, exchange rate, etc., but Baracuta just had a 30% off sale, so the price came in at $350.00 shipped to the United States. As a bonus, you will be the owner of a jacket that has a long history beyond Bond.
The Replica Option: 
Finding a good replica is always a solid option. Magnoli Clothiers have a version for $350.00 (shown below on the left) and AJB007 user SilverFinger made a popular replica sold through his ROYALE Filmwear site (shown below on the right). The ROYALE version is sold out, but you can still find people selling used ones on AJB007 (or wait patiently for their next production run!) You can read my review of the jacket here.
Under $100   
This option has been on our list here for quite a while now. Made from 63% cotton/37% nylon blend, the jacket does have snap button closures at the collar and that knit hem. But color and fit-wise, it looks like it could get the job done. However, you'll need to be a size small. That's all House of Fraser has left in stock.
And one specifically for our friends in Europe. Celio isn't particularly well known. But I've pretty happy with the few things I've purchased from them. Their take on the Harrington does have the knit hem. But it keeps the cuffs elastic free and it's a nice deep blue. Unfortunately, only sizes small and medium are left. And they tend to size on the smaller side.
One for the bigger guys that want to add some Bond-style to their closet. Credit to ASOS for realizing not everyone is built like Daniel Craig and delivering a jacket that captures that Bolivia look. The material is a cotton twill and it has the button cuffs and waist adjuster tabs. Remember that ASOS ships free worldwide. And that's always a bonus!
About as cleanly designed a Harrington as you're going to get. Everlane has used a 5oz, water resistant cotton cloth for their jacket and gone with hidden snap closures on the collar tab and pockets. They've also forgone any buttons on the cuffs or hem. Given the typical quality of Everlane's products, this one should be a steal for under seventy bucks. They're also an ethical company, only working with factories that meet certain fair labor and environmental standards and promoting transparent pricing. Lots to like!
Under $200
This Polo alternative avoids the knit cuffs/hem pitfalls of many of the other options listed. It also appears to be unlined, which would make it a good choice for those of you in warmer climates. I've linked to End. Clothing for this option, since it looks like they're offering a version with a blue polo pony logo on the chest and have sizes small to XXL in stock. But if you're okay with a red chest logo (or really good with magic marker), the official Ralph Lauren site has the same jacket for $165.00.
The GANT Raglan is still on deep discount at SaksOff5th (regular price is $415.00). But they only have sizes large, XL and 4XL in stock. Of course I need to point out that elasticized knit hem. But more important is the fact that this alternative has raglan sleeves (hence the name). If you have broader shoulders, raglan sleeves shouldn't be a problem (see the ASOS PLUS alternative above). But if you're on the narrow side? Know that the angle of the shoulder seams will tend to emphasis your lack of width up top.
Under $300
If you can get over the price and that knit trim at the collar, this 100% cotton alternative from Charles Tyrwhitt should do the job nicely! Not a lot of photos on their website showing the jacket details. But, aside from the dark blue color, flapless pockets and matte blue zipper, we're also getting open cuffs and hem and fabric that was woven in England. The jacket also comes in suit sizing (36, 38, etc.) so it's easier to fine tune the fit. And the description says they've updated the cut to fit a little trimmer.
If you've found an option for the quantum of solace Harrington jacket that works for you, share the link in the comments below. And remember to check us out our Instagram account, Facebook page and Pinterest Boards for more James Bond style advice, inspiration and info on where to find the latest deals!