Casino Royale Sunspel Riviera Polo
Updated April 16th, 2017: The original Casino Royale Sunspel Riviera Polo is still available from the company for $120.00 before shipping, duties and taxes. Tom Ford made the polo used in Quantum of Solace, inspired by the Sunspel version.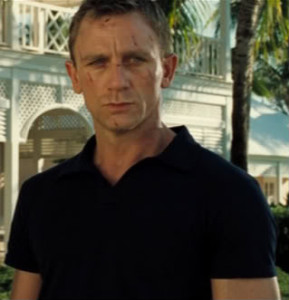 Update: Matches Fashion currently has the Sunspel Riviera Polo in the piqué cotton available for $95.00 right now.
So what's so hard about finding a navy polo? It's in the details:
Features wanted Casino Royale Sunspel Riviera Polo  
Cotton mesh fabric
Self facing fabric collar (not rib knit; the collar material looks the same as the rest of the shirt)
No ribbing on sleeves
Chest pocket
2 button placket with dark blue buttons
No logos
Best Option for theCasino Royale Sunspel Riviera Polo:
Uniqlo's Dry Shirt Collar Polo Shirt is available for the low price of £14.90. Three button placket unfortunately, but otherwise a good match!  Unfortunately, this particular style is sold out on Uniqlo's U.S. site. So for those of you state-side, the Best Option is probably the ….
Space
Woolrich has gone with a jersey cotton instead of a pique. But the other details come pretty close to the Sunspel. Plus the shirt is currently sitting with 4.9/5 stars after fifteen customer reviews. So they obviously got something right with this one. And for you bigger guys? It goes up to 3XL (although it is described as a "trimmer fit").
Other Options:
Self Collar with Chest Pocket
The J.Crew Broken-in Pocket Polo  has all the style features we're looking for. But the cotton fabric is more blown-up Bond at the end of QoS than Bond in Haiti. Remember to wait for one of J.Crew's constantly appearing discount codes to get the price down even lower.
Is this new offering from Mack Weldon the perfect alternative? Many seem to think so, if the press is to be believed. Am I still hesitant about including it on this list? Yep, and it really has nothing to do with the actual shirt. If you're interested in knowing my reasons, you can read this post on AJB007. If you couldn't care less about my ethical quandary, then buy it and be happy.
Self collar but no chest pocket
Not much to say about the Jack Threads Daily Polo. Shirt style collar, two button placket, lighter weight fabric and a slimmer fit. At less than seven bucks, it could be a good beater option. Just a couple of things to note. First, they're down to sizes xs to medium. Second, Jack Threads seems to be having trouble (in some cases serious trouble) in the customer service department of late. Reports are they're going out of business. So ordering from them is a bit of a dice roll.
So it seems that Uniqlo U.S. has replaced last season's polo (with the pocket) with this new offering (sans pocket). The fabric is a 52% poly/48% woven cotton blend which they call "AIRism". The other interesting detail? That French (covered) placket. All sizes are in stock.
Canadian clothing company Spier & Mackay have just launched their new Shirt Collar Polo Shirts. At $25.00 Canadian (about $19.00 U.S.), they're a real deal, and feedback on other forums about their polos has been overwhelming positive. You can read my review of the polo in this post. Summary? Great for the price, but you may need to trim a couple of loose threads. Sizes small and medium are currently sold out in the navy. Here's hoping they restock soon!
Even though it doesn't have the chest pocket, I still have to give a shout out to the Ken Wang Polo for $65.00, simply because it gets so much love on the men's style forums for its fit and collar design.
Have some other options? Share the links in the comments! And check us out on Facebook, Instagram and Pinterest for more fund Bond stuff!