Brunello Cucinelli SPECTRE Linen Blazer
Updated April 11th, 2017 – James Bond's look while he's waiting for his ride in the Moroccan desert in SPECTRE has quickly become a fan favorite. The combination of the Brunello Cucinelli linen blazer with the white Tom Ford shirt and rust knit tie, the Cucinelli gabardine trousers and belt and J.Crew Kenton suede boots is probably more practical for the heat than the Matchless suede jacket he wore earlier in the film.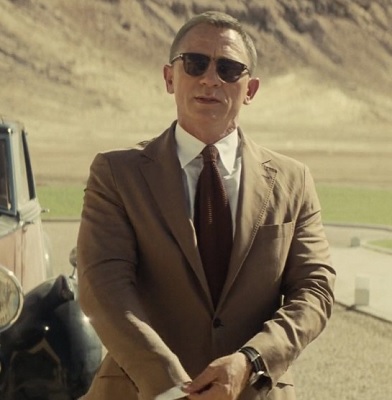 Update: AJB007 forum member (and very lucky man) Meesta Bawnd had a screen accurate jacket made by Brunello Cucinelli. He has very graciously shared some of his pictures to give us all a closer look at the SA color and details. You can see more pics in this AJB007 thread. Thank you, sir!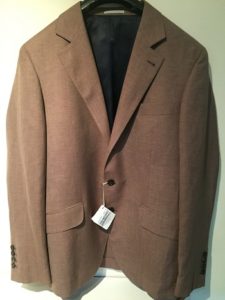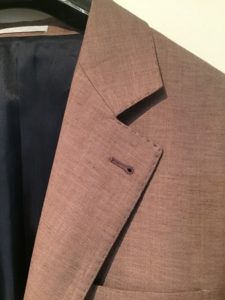 Features Wanted for the SPECTRE linen blazer
Linen or linen blend, with some texture, but no pattern
More of a softer, unstructured construction with average width notch lapels
3 buttons (3 roll 2)
Slightly cropped tail
Standard suit jacket pockets with flap; not patch pockets.
Light brown/British khaki/dark camel (what the heck do you call this color?)
Trying to be strict here about the budget and keep the alternatives under $200.00 on sale, but stay close in color and material. But some features will have to be sacrificed.
Best Option for the SPECTRE linen blazer
Well, they nailed it this year! I have last year's model. Although the color was spot on, the patch pockets and heavily textured fabric made it less than screen accurate. But this season's version comes much, much closer to the look we want. Yes, it does have a herringbone pattern. But it is very faint. And please note that Massimo Dutti's not joking about that "slim fit". I found it significantly tighter than their already slim-fitting standard jackets. Here's an in-store shot of me in a size 40. It ain't cheap. And you'll still need to swap out the buttons. But for now, this is the closest I've found on the market.
Options Under $100
Sometime late last year, heritage brand Austin Reed came back from the dead. And apparently they hired Zach Galifianakis to be their model. Nothing wrong with that. Anyway, they are now offering this wool/linen blend sport coat. They've used a made in Britain cloth, which is nice. Even if the color is a few shades lighter than ideal and that herringbone pattern is a tad strong. If you're on a budget, it definitely doesn't look like a bad choice.
Two alternatives from JC Penney. First is is their house brand Stafford Travel Sharkskin Suit Jacket in Slim Fit, on sale for $84.00 with a full run of sizes left. Its a wool/poly blend, but the sharkskin weave adds a nice texture to the fabric.
Maybe a little too light in color? A lot depends on the color of the pants you're using. And this one does have that nice pick stitching around the lapels and pockets. Downside is it's a poly/rayon blend AND it's fully lined in polyester. So not exactly super-breathable in that desert heat. JCP still has most standard sizes in stock. And it also comes in a "Classic Fit" for you bigger guys.
Options Under $200
Let's get this out of the way right now: fabric is a 65% Polyester, 33% Viscose, 2% Elastane blend. So no linen or wool in the mix. But that color? That's pretty damn close. And the fabric does seem to have a nice, light texture to it. Don't be fooled by the European sizing on their website. A size 46 is equal to a 36 and so on.
The fabric? It's 65% polyester/35% viscose. Plus, the jacket is fully lined and looks to be a little more structured than a typical casual sport coat. But the color definitely comes close. And since Perry Ellis is regularly running deep, deep discount codes on their site, I wouldn't be surprised if you'll be able to pick this one up for a lot less at some point. For example, as I'm writing this, they have a 60% off sale prices deal. Which makes the price on this jacket … $52.00!
Well, the name is certainly a mouthful. And, normally, when you see the words "performance", "blend" and "stretch" in the product name, it's fair to guess we're gonna get some synthetic in the fabric. Sure enough, the suiting here is a wool/poly/spandex mix. And since it's coming from Kohl's, no percentages are given. Still, the color and texture look like a good match on the website.
Vedoneire from Ireland has their Linen Blend Blazer in Fawn. I actually have another jacket from them (waxed cotton), and the quality is excellent for the price. The customer service experience with them was great as well.
I honestly can't tell you if that color is lighter or darker in person. But on screen? It looks good. SaksOff5th is the store offering it for 60% off it's normal $495 price tag. And they've got a crazy buy-one-get-one-free deal going right now. Which is definitely something to take into consideration. Good selection of sizes are left, but if this is the jacket you like, I'd jump on it quick.
Under $300
A great suggestion from AJB007 forum member JTM. Unfortunately, the OConnell Place is not available in the U.S. So you need to be on Rodd & Gunn's "Australia and the rest of the world" site to see it. But boy, is it a good match! The fabric is an Italian-made 60% cotton/40% linen blend. However, it looks like it's fully lined, which will cut down on the breathability. The description also says the cut falls on the classic/fuller side and sizing is limited to medium, large and XL. So you may need to visit your tailor to get a precise fit.
The Ebay Option
There are a lot of suitable alternatives floating around Ebay. A quick search for "Mens Brown Linen Blazer" gives more than 20 pages of results. Take these for example:
The first is a New With Tags Calvin Klein linen-blend in size 40 short for $45.50. The second is a New With Tags Enzo 100% linen in size 40 for $64.95. The last one is a used Banana Republic 100% linen in size 38 short for $39.97 or Best Offer.  And they all probably come closer to the screen used jacket that some of the options shared above.
Before you decide that Ebay isn't your thing, you may want to read this article and this article. Both will give some insights and strategies to help you have a positive buying experience.
As always, you can share the links to your best finds in the comments! And remember to check us out our Facebook page, Instagram Feed and Pinterest Boards for more James Bond style advice, inspiration and info on where to find the latest deals!
Featured image is sourced from Tuxedo Thursday. Other images are from the Daily Mail.