R.M. Williams Plaited Leather Belt
Updated on September 26th, 2016  – So the belt we see Daniel Craig wearing in every second picture of him out on the street is the 16 strand R.M. Williams Plaited Leather Belt.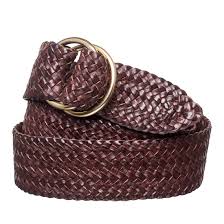 Credit to AJB007 user Tintin for IDing it in this thread. The Bond Experience also has a video pod cast that includes more information about the belt.
Here are some pics of Mr. Craig wearing his R.M. Williams belt ….
[Best_Wordpress_Gallery id="3″ gal_title="Daniel Craig R.M. Williams belt"]
The original is the R.M. Williams Brown Plaited Kangaroo Leather Brass O Ring Belt, available directly from R.M. Williams for $225.oo Australian (about $165.00 U.S.). The good news (unless you're from Australia) is the Australian dollar is weak against the U.S. dollar and British Pound right now. So you can get some great deals. The bad news: if you're buying from an Australian supplier, you're often on the hook for shipping, taxes, duties, etc.
But, not surprisingly, the most accurate budget alternatives also come from Australia. For the ones we've listed below, all prices are in U.S. dollars, converted at .76.
Oh, and just remember to size larger (a LOT larger) than normal if you want to get the Daniel Craig look.
O-Ring Braided Leather Options for the R.M. Williams Plaited Leather Belt  
Amazon U.S. has the 11 strand Badgery Queenslander Belt for $56.50 U.S. plus $8.50 shipping from Australia. This is the affordable option I went with and I got it in about 3 weeks. You can read my review of the belt here.
The Ringer from SKT Leather in Australia sells for about $61.00 U.S. This is their nine strand model, but they also sell the Goanna (14 strands, $88.00 U.S.) and Squatter (17 strands, $107.00 U.S.).
The product description on the Real McCaul site doesn't say the number of strands in the belt. But looking at it, I'm guessing it's probably nine. This one uses D-rings instead of 0-rings.
A new option from Australia. They offer both gold and silver buckles and sizes from 28″ to 48″. Plus a lifetime guarantee on their work. If you want to spend up a bit, you can get their 17 strand belt on sale for $115.00 U.S. plus shipping.
Heading over to Etsy …. The link above goes to the product page for their 18 strand, size 36 belt. But they have other sizes available. And if you can't find the size you need, consider PM them. They seem pretty open to doing custom work as well.
Unfortunately, Stateside and in the UK I just didn't find that many options unless you are willing to go with the more typical frame buckle or a looser, braided style of construction. If that's the case, a search across popular brands and sites for a "braided/plaited leather belt" will turn up alternatives that could do the trick and will probably cost less. These belts from Nordstrom and Polo have the tighter weave and plaited end of the R.M. Williams.  Those on a tighter budget can try Old Navy or Toneka.
If you find any alternatives that don't ship from Australia, let us know in the comments!