RM Williams Chelsea Boots
Updated February 10th, 2018: In Layer Cake, Daniel Craig's character XXXX wore a pair of RM Williams Chelsea boots, reportedly the no longer available Henley Model. Since then Mr. Craig has been seen on multiple occassions out and about wearing his personal pair of RM Williams. Obviously, they're some of his favorite footwear. The closest style I could find offered today by RM Williams is a model now called the Classic RM Craftsman in Chestnut. These are available to U.S. buyers directly from RM Williams for $495.00.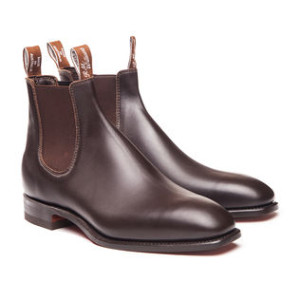 I don't usually geek out over footwear, but my God, that is a really beautiful pair of boots!
Footwear in general is a tricky thing. Often finding the right shoes or boots is a balancing act between paying for quality vs. what we can actually afford. To help with that, I've divided the options into three price categories: under $100.00 U.S., under $200.00, and under $300.00.
Features wanted for the RM Williams Chelsea boots
Double gore style (i.e. elastic panels on both sides of the boot)
Over ankle height
Minimal decorative stitching; as simple and plain in design as possible
Slightly elongated, chisel toe shape
Slightly higher profile out sole, but still dressy
Dark brown color, with little to no burnishing
Best Option for the RM Williams Chelsea boots
Full grain calf leather uppers. Full leather lining. Closed channel leather soles. Goodyear Welt construction. Minimalist design with the dressier, chisel-toe shape. Yep, the 101475s check all the boxes! And for less than half the price of the R.M. Williams. All in all, a good deal. The problem? If these don't fit you, you're paying for the shipping back to Spain to return them. That makes them a risky purchase. So I strongly recommend you contact Meermin and get your size as dialed in as possible for ordering.
Under $100
If you're not quite ready to commit to the whole Chelsea boot look, these can be a good, low-cost test pair. Genuine leather uppers on a rubber sole. ASOS offers 2 to 4 day free shipping and free returns worldwide. Which is nice. They have most sizes in stock and they also offer them in wider sizes.
Under $200
We'll tackle the elephant in the room first. Yes, they are a lighter color. But applying some darker polish will help take care of that over time. What makes them worth sharing is the shape. Whereas the majority of less expensive Chelseas have toe boxes that look like blobs, these have a subtle chisel shape which helps dress them up. M&S offers sizes 6 to 12. Sadly, these are not available on their U.S. site.
Nordstrom Rack is stocking these at the sale price. And that means sizes are a little scattered and we have no idea how long they'll be available. If you're looking for a waterproof boot, the Eddingtons aren't a bad choice. Full grain leather uppers, rubber sole and a "topstitched welt" construction (I honestly don't know what that is). Nordstrom Rack offers free shipping on purchases over $100 and you can return them within 45 days if you're not happy.
Under $300 
Full grain leather uppers attached to the studded Vibram Eton sole using a re-craftable rapid blake stitch construction. Velasca gets points for the construction. And for its excellent customer service, if the reviews are to be believed. The Malnatts definitely have a more rounded toe box than the R.M. Williams Chelsea boots. But that could be a bonus for those of you with a wider forefoot. And since Velasca offers free shipping on purchases AND returns, there shouldn't be a problem if the initial sizing is off.
A waxy, full grain leather upper on a leather/rubber sole. And they're made in Northampton, England. The Coltham has the slightly chiseled toe box shape we want. Plus, the gentlemen at Herring Shoes are just a pleasure to deal with. At the time of writing, they have UK sizes 6 to 13 in both medium and wide widths in stock.
I'll keep adding options as I find them. In the meantime, if you find a solid option, share it in the comments!