SPECTRE Tom Ford Prince of Wales Suit
Updated October 31st, 2016 – For blowing up buildings and and crashing on couches in Mexico in SPECTRE, James Bond wears an O'Conner model Tom Ford Prince of Wales suit in airforce blue.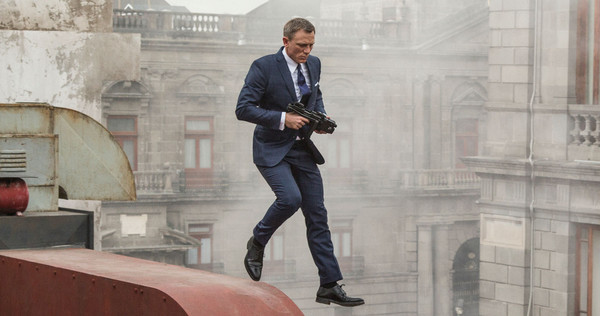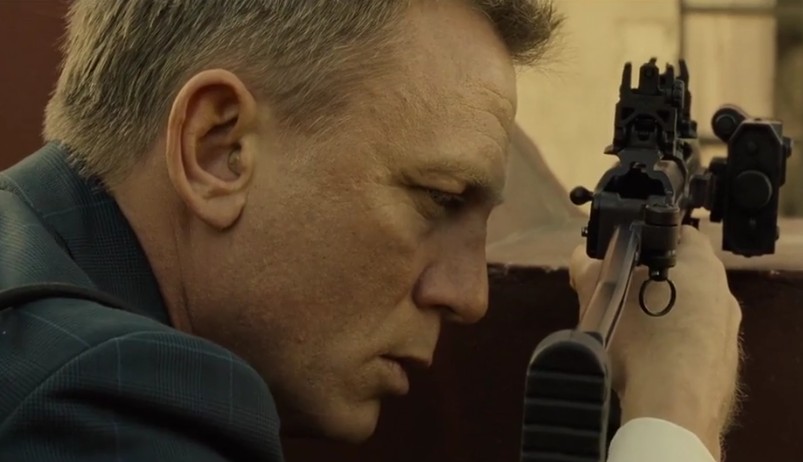 This suit has very quickly become a fan favorite. Matt Spaiser has an excellent description of the suit in this post on The Suits of James Bond. And BAMF Style has just published a detailed analysis of the complete outfit, from gun to watch. Definitely worth reading!
Some considerations about suits:
First, if you are not familiar with suit jacket construction, I would highly recommend reading this article over at The Art of Manliness.
Second, a good suit is as much about the fit as it is about the fabric. Choose a suit that you feel comfortable in rather than one that is cut exactly like Bond's. Much of Bond's appeal is rooted in the confidence he radiates. Being too scared to bust a quick action move because your jacket or pants might rip does not help with said confidence ….
Third, this is a site about affordable alternatives, so let's be realistic about what we're going to spend. I'll set the price ceiling at $500.00 U.S./£400.00. Yes, there are many other options out there if you can spend more. But an empty wallet also does not help our self-confidence.
Fourth, let's be realistic about what we'll get for our money. Most of the options below are fused construction, which is the cheapest way to make a suit. We may also be looking at wool/polyester blends, although I have tried to stay with 100% wool options when possible. And finally, the original Tom Ford used a unique Prince of Wales pattern which gave a subtle windowpane effect. So I looked for darker blue suits with a light blue or grey windowpane pattern rather than searching endlessly for the exact match.
Alright, let's get to it …
Best Options for the SPECTRE Tom Ford Prince of Wales suit  
I normally only share one "Best Option". But I'm making an exception for this post to include a more budget-friendly alternative and one "investment worthy" option.
A very modern cut made with a 71% polyester/29% viscose fabric. But boy, does the color and pattern come close. The cropped tail, thin lapel jacket comes with a single vent and higher armholes and button stance. The trousers are also a slim fit with a low rise. If you're on a serious budget and prefer a trendier suit style, this one is definitely worth checking out. Available at Debenhams. They have most common sizes in stock for both the jacket and the trousers, but inventory is running low.
Now our "investment" alternative. And it ain't cheap. But aside from the incredibly close fabric color and pattern, the suit has a lot to offer. Made in Italy from super 140s merino wool, the jacket features narrower lapels, mother of pearl buttons, a more natural shoulder and double vents. There's no mention of the type of construction on the Hawes & Curtis website. But at this price, I'd be disappointed if it wasn't at least half-canvassed. They still have all sizes available on their site.
Under $200
Way back in May, angelicbond over at AJB007 suggested this alternative. Since then, a few other forum members have picked one up. And so far the reviews have been very positive! The description on Ebay says the fabric's a 100% Superfine Cotton blend. So don't expect the formality of wool. The slim fit and peak lapels also make the suit a little more fashion forward. But the vendor is a Top Rated Seller with a 99.4% positive rating after nearly 14,000 reviews. That's pretty good. Conclusions? Those that have one like it. And a suit that comes close in color and pattern for just over a hundred bucks shipped ain't too bad.
A "classic" fit from a JCPenney house-brand. That means this is probably a good option for you bigger guys. Suiting is a wool/polyester blend. Trousers look to be the same, but with a bit of stretch. And while the color comes close, this is a windowpane only pattern. Sizes 40 to 50 are in stock for the jacket; the trousers are available in sizes 29 to 34.
An old alternative from Amazon returns! The fabric is a little darker than ideal. But it is a 100% wool with a glen plaid pattern. Being that this is Amazon, the pricing is all over the place.  If you're a 40 or 42, then the price comes in around $130. And if you're a 38R? Then you're paying full retail, my friend: $295. Also note the trousers are a 7 inch drop. Which is a little unusual.
Under $300
Another true glen plaid in a close color. Two things. First, the glen plaid does not have the distinctive light colored yarn in the weave. Which means the windowpane effect is lost. Second, the suiting is 55% polyester/45% wool. Not sure how you folks feel about that. House of Fraser has sizes 38R to 44R in stock. I'll assume we're getting a standard 6″ drop for the trousers.
I was this close to making this one the "Best Option". The only thing that held me back was that "classic fit". The fabric is close match. It's a 100% wool glen plaid with the lighter blue windowpane effect. The jacket also has a single vent like the Tom Ford. If you're not adverse to a bit of tailoring, it's still a solid choice. But you may want to drop down a size to get that fitted look. Available in sizes 36S to 50L at Amazon U.S.
And interesting 100% wool option available at John Lewis. They're calling it a "regular" fit. But that's a "Jaeger" regular fit. Which is still pretty modern in it's cut and styling. The fabric is a good match in color, even if the pattern isn't exactly right. The jacket is available in sizes 36R to 46L. And there's still a good selection of sizes for the trousers.
$300 and up
A good choice if you really want to embrace the windowpane. The "Cornflower Blue" is close to that airforce blue of the Tom Ford. And the styling of the suit is a nice blend of the traditional and modern. The jacket is cut a little shorter in the tail and the lapels are on the narrow side. But nothing too extreme. It also features double vents and working cuff buttons. Those could be a pain if you need to shorten the sleeves. The suiting is super 110s Italian wool. This one is still full price (£600) on the Hackett website. So £316.00 is definitely a bit of a steal. Sizes 38S to 46R are in stock, and the suit has a 6″ drop.
Made to Measure Options:
It's no secret that there are a lot of affordable made to measure services out there today for men. We're also seeing a rise in smaller boutique manufacturers that cut out the middleman (the store) to sell direct to the customer at a lower price. Some you may want to check out:
Suit Supply  have been in the online MTM game for a while now. But the styling and fit of some of their ready to wear offerings can creep into "Funky" territory. Their half-canvassed Sienna fit leans more to the classic side of tailoring. And the Blue Check wool/silk blend suiting is an interesting alternative to the Tom Ford.
In the comments below, Mike Fisher recommends checking out the Oliver Wicks Premium Navy and Blue Plaid 150s Suit for $749.00. It completely blows the budget. But then again it is made-to-measure and the pattern is a true Prince of Wales with a pale blue windowpane check overlay.
More options as I find them, and feel free to share your's in the comments! We post more about finding a suit that fits (and what to wear with it) on our Facebook page, Instagram account and Pinterest boards. You can click on the links to check them out!
Images sourced from The Independent and Movieweb.