The Affordable Bond Wardrobe: Extras & Details
The foundation pieces for our affordable Bond wardrobe are in place: shirts and sweaters; pants and belts; and outerwear and footwear. Now it's time to fill in the gaps and add the finishing touches. Since Daniel Craig's Bond wardrobe tends to be fairly monochromatic, we're going to start digging into some of the older Bond movies to add some color. Many of these classic looks can be brought up to date by focusing on modern cuts and fits, and keeping the guidelines in mind. It's also okay to have some fun with the Details (Bond does have some fun on his adventures, after all), which we'll discuss later in this post. Okay, here we go ….
Shirts
The Light Blue Polo
Channel your inner Connery and go pick up a light blue polo shirt. While Bond's is a more traditional ribbed knit collar and cuffs, I'm going to suggest a self collar to help it stand out in the crowd.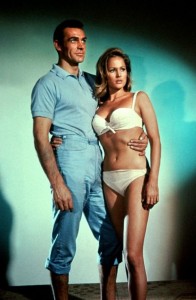 For the Dr. No polo alternative, try Kohl's Apt. 9 Modern Fit Polo in Faded Denim on sale for $14.99 or the Perry Ellis Ribbed Open Neck Polo Shirt for around $35.00/£26.00.
For tips on how the polo should fit, you can refer to the post on Shirts and Sweaters.
Black Long Sleeve Polo
The long sleeve black polo shirt can be used to capture a number of classic Bond looks, from Connery in Goldfinger and Thunderball to Craig in Casino Royal. I'm going to suggest trying to find a version that's a little dressier in terms of fabric and details to give the piece some versatility.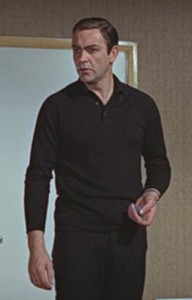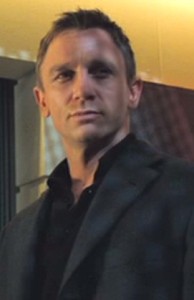 Options:
Head over to Amazon to see the Cutter & Buck Pima Cotton Belfair for around $55.00. Or you can try the Peter Werth Hemmingford Cut Knitted Polo Shirt at the House of Fraser, on sale for £27.00. If you're a little more budget minded, the Croft & Barrow Classic-Fit Solid Fine Gauge Polo is available for $18.00 at Kohl's (this one is a "classic fit" so you may want to size down).
Short Sleeve Button Front Shirt
Gingham check, striped, funky pattern or solid; blue, pink, tan, yellow, white or black; linen, cotton or silk; camp/revere collar or point collar. At one time or another, Bond's worn them all (most of them in Thunderball), so you really have complete freedom to find the combination that works best for you.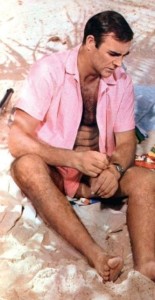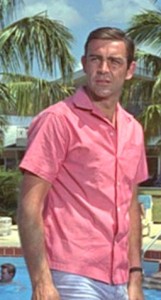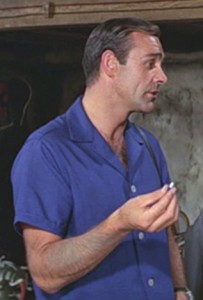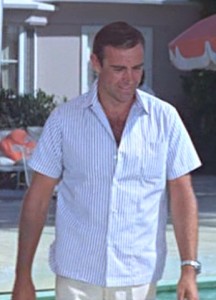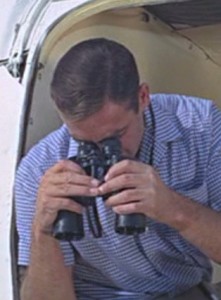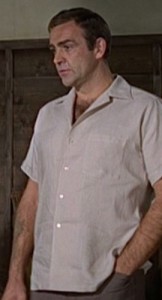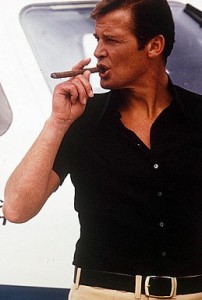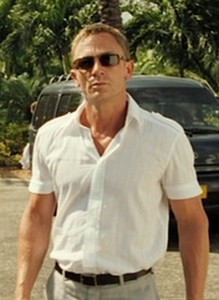 Options
If you want the red gingham check , the O'Neill Ford Wovens Shirt is on sale at 6.pm for $39.99. Prefer blue gingham? Try the ASOS Blue Gingham Check Shirt for £18.00/$31.00. To capture Bond's solid linen camp shirt with the camp/revere collar look, check out the Joseph & Feiss Silk Camp Shirt in Navy and Raspberry (bright pink) on sale for $29.99 at Men's Wearhouse. For a blue striped shirt, the United Colors of Benetton Men's Patterned Short Sleeve Casual Shirt in Pale Blue Stripe can be found at Amazon UK for around £10.00.
Fit and Tailoring Tips:
Unless you find one you like in a more modern fit (slim through the body with higher sleeves that hit just below mid-bicep), most camp shirts are going to be cut pretty boxy. So expect they're going to need some tailoring.
Most camp shirts are made to be worn untucked, so pay attention to the length. The hem of the shirt should fall about 6″ to 8″ below your navel, depending on your height.
The Colored Sweater
Confession time: I really dislike teal. I look jaundiced when I wear it and there's really nothing about the color that appeals to me. So thank God (and the various costume designers) we have other options. As discussed in an  earlier post, sweaters are a great way to add some color to an otherwise monochromatic wardrobe and can introduce new levels of texture that keeps things visually interesting.
The Crew Neck Sweater
Something like Vendoneire's Crew Neck Jumper in Asteroid Green for $65.13/£45.19/€59.99 is a good bet for the N.Peal Teal Skyfall sweater. If you want other teal crewneck options, you can check out this post. If you prefer navy to get Pierce Brosnan's Goldeneye look, take a look at the Howick Arlington Crew Neck 100% Lambswool Jumper on sale for £27.00 at the House of Fraser. For Roger Moore's grey ribbed knit sweater from For Your Eyes Only, check out H&M's Rib-knit Wool-blend Sweater on sale for $14.99 or the Michael Kor's Crewneck Knit Sweater on sale at Lord and Taylor for $59.00/£44.45.
.
The Burgundy V-neck Sweater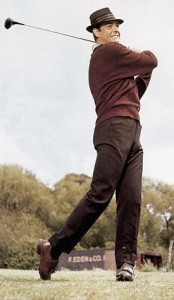 The classic from Goldfinger. You can try the Jack & Jones Premium V Neck Knitted Sweater at ASOS for $60.00/£35.00, or check out the Peter Gribby Men's Merino V Neck Jumper at Amazon UK for £49.99.
The Turtleneck/Mock-Turtleneck Sweater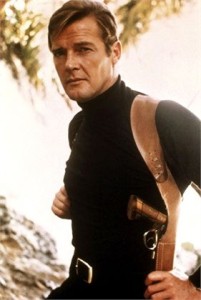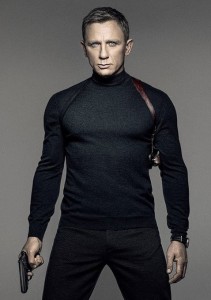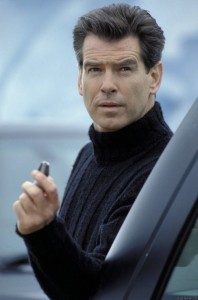 Inspired by Roger Moore in Live and Let Die or Daniel Craig in SPECTRE? Grab Magnoli Clothiers' Spectre Turtleneck for $55.00 (you can see other options here). Want Pierce Brosnan's black cashmere turtleneck sweater from Die Another Day? Check out the H2H Casual Turtleneck Slim Fit Pullover at Amazon for $30.00 (yes, 100% acrylic and I'll keep looking for something better). Or if Daniel Craig's light grey turtleneck is more your style, Lands' End has their Wool Alpaca Blend Turtleneck Sweater on sale now for $59.99 (additional alternatives can be found in this post).
Pants
If you went with a darker beige chino for the foundation wardrobe pants, now would be the time to add a pair of light colored jeans to your closet to get a wider range of Bond looks.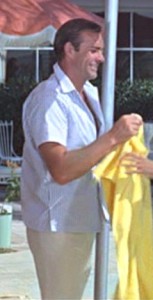 A pair of Levi's 513s in a light beige should do the trick for around $40.00, but there are plenty of light colored jeans out there. As always, find the pair that fit your legs, and don't focus too much on the brand and cut Daniel Craig wore.
For some insights into the length of the jeans and getting the right break, see this earlier post on Pants and Footwear.
The Unstructured Blazer
The post for alternatives to the Brunello Cucinelli Linen Blazer from SPECTRE has become one of the most popular on this site, and for good reason. Most of us probably can't see ourselves wearing a more traditional, formal navy wool blazer in our day-to-day lives. But an unstructured cotton or linen blazer is a jacket we can actually see ourselves using pretty regularly, especially if it's a more neutral khaki or light brown. Something like the Taupe Linen Blazer from Gagliaridi (originally suggested by AJB007 forum member Llafyks), on sale for €107.40, fits the bill nicely.
Fit and Tailoring Tips:
Try to find a blazer that maintains at least some of the style characteristics of a more traditional cut. Many brands today love "cropped" cuts, where the tail of the blazer barely covers your seat. It may be in style today, but super short blazers will look out of date pretty soon. Likewise with super slim lapels.
If you're ordering online, try to avoid blazers that have functioning sleeve buttons. They make it very expensive to shorten the sleeves.
Footwear
The foundation footwear for our affordable James Bond wardrobe included dark brown suede chukkas, black leather dress chukkas or Chelsea boots, and sneakers/trainers. What we need now are some warm weather shoes for a summer casual look. AJB007 forum member James Brosnan suggested espadrilles and it would be hard to go wrong with a pair of those for summer use. Although more expensive than a cheap pair you could pick from ASOS, buying a pair of Grey Linen Classic Alpargatas from Tom's Shoes for $55.00 allows the company to donate another pair of shoes to a child in need. You can learn more about their social good programs here.
The Swim suit
Light blue has always been a popular color for Bond when it comes to swimwear. And while the details on each pair are different (elasticized waist, black webbing belt, side adjusters or just tight), the length has remained a relative constant.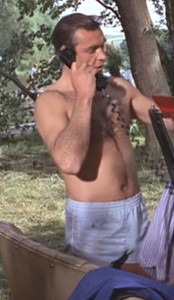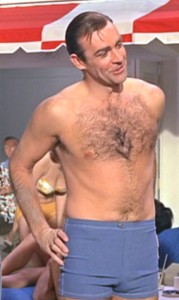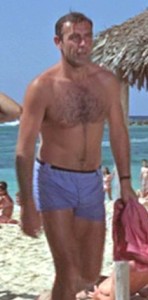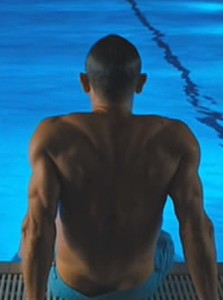 The SKYFALL Swim Shorts from Royale Filmwear are an easy recommendation. Modeled on the Orlebar Brown Setter model Bond uses in Skyfall, they go for $49.00 with free worldwide shipping. You can see other options in this post.
The Sunglasses
I'm not even going to suggest going with a cheap pair of sunglasses. They're your eyes: invest and protect them. Having said that, I also don't think you need to go out and pay $250 plus to get a solid pair that do the job. Bond wears some classic frame styles (wayfarer, modified aviator, clubmaster). And Ebay is always running deals on popular Ray-Ban models that come close to the Tom Fords and Persols for $60.00 to $90.00 . Heritage brand, different frames sizes for smaller and larger heads, quality glass lenses, and a good price; taken all together, they seem like a smart choice.
The Watch
Another confession: I am no watch expert. I know the difference between quartz and automatic and I'm familiar with some of the more famous brands out there. But ask me to go into detail on the various models of Rolex and Omega Bond has worn through the years and I'm a lost cause. So I'm going to the community for the best alternative and the one that keeps coming up is the Seiko SNZH55, for around $139.00 on Amazon U.S. Pick up a tool set and throw a NATO strap on it (either the classic Connery colors or Craig's black and grey) and you have, by most reports, a pretty solid timepiece for under $160.00. Check out this thread on AJB007 started by forum member Tennyson for more discussion.  
The Details, or How to Live Like Bond (at least a little)
The philosophy of dressing like Bond is discussed at the start of this post, so I won't repeat myself. I'll let Mr. Connery's insights serve as a summary …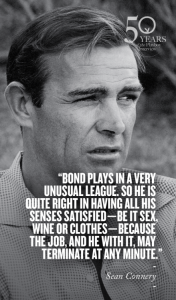 We all need to make more space in our busy lives to enjoy what's around us and and remind ourselves that it's not the clothes we're wearing but what we're doing in them that defines our adventures. So treat yourself now and then and look for opportunities to satisfy your senses a less dynamic person would overlook. To that end …
Cufflinks
Yes, you could go out and buy any old silk knots or silver studs to keep your french cuffs under control. But investing in a pair of custom cufflinks is not going to break the bank. Head over to Etsy or find a local jewelry maker that can craft a pair of cufflinks using your initials or your family crest (House of Names can help you with that). For $50.00 to $100.00, you've embraced your family legacy and now own something uniquely you.
Dressing Gown/Bathrobe
Bond likes his robes …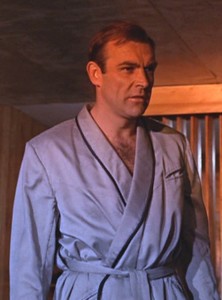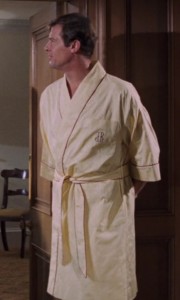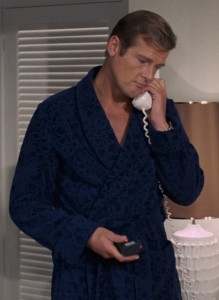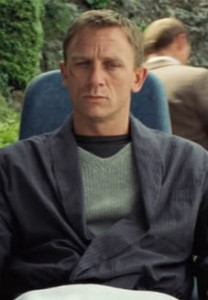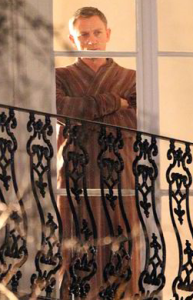 Again, it would be easy to suggest visiting mensdressinggown.com and purchasing a new robe from a company like Bown. Alternatively, you could plan a Saturday afternoon exploring the vintage shops in your city and find something unique for around $50.00 to $80.00. Vintage silk? Retro terry cloth? Kimono? Bekasam chapan? There are endless options; just find one with some history and character that you like (you can find some inspiration over at The Suits of James Bond). Wear it after your hot/cold shower (you can read about the benefits of the cold shower here). Or while you're shaving, when you're preparing your Bond breakfast and coffee, and for sitting in on a quiet night reading up on the finer points of … choose your favorite arcane subject.
The Shaving Set
Speaking of shaving, Bond's used shaving cream from a can, Gillette razors, and electric razors for grooming. But it was his scene with Moneypenny in Skyfall that brought wet shaving back to the public consciousness.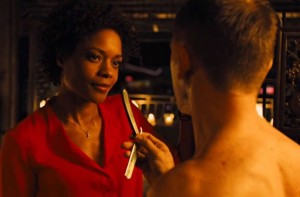 Wet shaving is one of those activities that says, "I have time to invest in myself." And just like shining your shoes, the practice of the wet shave is itself relaxing. Now I'm not saying you should jump straight into straight razor territory. But there are a lot of good wet shaving starter kits priced between $50.00/£35.00 and $80.00/£65.00 that work with Gillette Mach 3 blade cartridges or include a safety razor. Pick up some nice soap, learn how to properly load the brush to create a good lather, and enjoy the ritual. It's the kind of thing Bond would do.
The Travel Bag and Toiletry Kit
Two brutally obvious points: 1) Bond travels a lot and 2) most of us will not travel as much as Bond. So any chance for travel we get needs to be injected with as much "Bond" as possible. A leather travel bag and toiletry kit help us pretend that the two day trip to an industry convention held at a generic Marriott is really the start of a great adventure. The David King Frame Leather Duffle Bag in Cafe, on sale at Briefcase.com for $114.40, is a good size for a carry-on (you can find more options in this post). The Danielle Milano Large Framed Top Zip Toiletry Bag is available for £16.30 at Amazon UK. Packing tips I'll leave to The Art of Manliness.
And that's it! I hope these articles have helped some of us introduce a little more Bond spirit into our closets and our lives.
If you want to explore the basic strategy behind building an affordable James Bond wardrobe, read more here.
If you're looking for shirts and sweaters, check out this post.
Need pants and belts? Find options in this post.
Lacking in outerwear and footwear? This post will help you find alternatives.
If you have your own Bond style tips you want to share, the comments are below! Want more tips for living like 007? We're regularly posting suggestions, advice and random fun stuff on our Facebook page, Instagram account and Pinterest boards!
Some of the images used in this post were sourced from The Suits of James Bond, James Bond Lifestyle, Esquire, BAMF Style and the Playboy Tumblr account.
This post was updated on May 13th, 2016.