The Affordable Bond Wardrobe: Outerwear & Footwear
So we have our shirts and sweaters and our pants and belts to start building an affordable Bond wardrobe. Before we get into looking at outerwear and footwear, I just want to be clear so no one is disappointed: neither the Barbour X To Ki To or the Islays are on the list below; I just really liked that picture. Now on with show …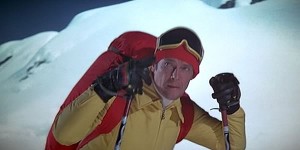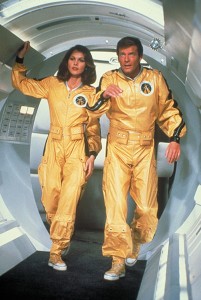 Outerwear
The Harrington Jacket
Key Features:
Harrington/Barracuda style collar
Navy blue cotton or cotton blend
No elasticized or knitted cuffs or hem.
This one is a bit of a no brainer. The Baracuta Harrington (sometimes referred to as a Barracuda jacket) is a classic style that's been around for more than 70 years. Popular with Steve McQueen, Elvis and Sinatra, both Daniel Craig and James Bond find themselves in good company.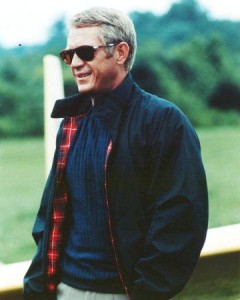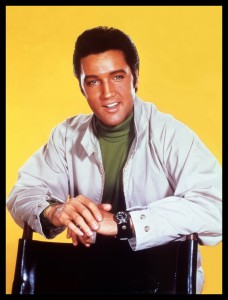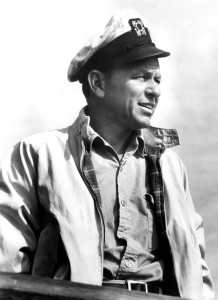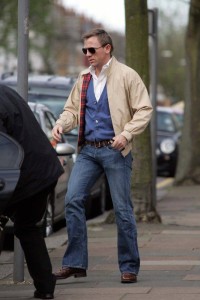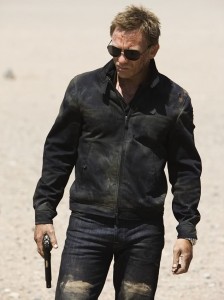 Bond's Tom Ford Harrington in Quantum of Solace is based more on the Baracutta G4 style, which lacks the knitted cuffs and hem and has a trimmer cut, giving it a more up-to-date and refined look. The best affordable alternative on the market today with these characteristics is probably the Cotton Rich Harrington at Marks and Spencer for £49.50 or $79.00. It has a partially elasticized hem at the sides, but otherwise it's a good match.
If you're patient (remember: timeless wardrobe), you could wait for Royale Filmwear to do a re-release of their Quantum Harrington Jacket in May 2016. Priced at $199.00, it's definitely up there in price, but Daniel Love's work and customer service get a lot of praise on the fan forums and his jackets sell out quickly. To get on their wait list, email them at royalefimwear@gmail.com.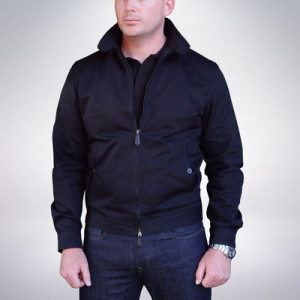 Fit and Tailoring Tips:
Try and find a jacket with a stiff collar so it stays standing. A Harrington can go from "cool" to "old man feeding birds in the park" pretty quickly if the collar material is too floppy.
The Peacoat
Key Features:
Dark navy wool or wool blend in a trim, slightly shorter cut
6 button front
Peak lapel collar
Single vent
Chest height hand warmer pockets
Flap pockets at hem
Another classic style, the great thing about the peacoat is it looks good dressed up or dressed down, making it a pretty versatile piece of winter clothing. Although Bond also wore a peacoat in Casino Royale, it's the one he used in Skyfall that most people remember. That coat came from Billy Reid and an updated version of it is still available for $695.00. You can learn more about the Billy Reid version at The Suits of James Bond, James Bond Lifestyle, BAMF Style, or check out this vlog from The Bond Experience.
There are literally thousands of peacoats on the market, so the one you choose will be mostly based on price and how close to Skyfall screen accurate you want to get. Some would suggest starting at a Navy Surplus store (as recommended by AJB007 member Peppermill), but the peak lapels on Bond's coat are not that common. Hell, finding alternatives with the patch pockets and chest pockets ain't so easy. The closest affordable option I could find was the Jack Threads Peacoat on sale for $129.99.
Some variations on the theme …
Let's say you want to smash up Bond's style from Skyfall with his style in From Russia with Love …
 
… you could pick up the O'Neill Men's Mariner Peacoat at Amazon U.S. for about $80.00.
Or let's say you live in a warmer climate; no real need for a wool peacoat, but you like that Skyfall look. You could try a waxed cotton or canvas peacoat; both Gap and Orvis did versions a few seasons back. Currently, the Land's Ends' Cotton Nylon Peacoat is on sale for $69.99 or you can find the Peter Worth Eastern Alpha Button Peacoat on sale at House of Fraser for £139.00. I'm sure more options will show up as spring gets closer.
Fit and Tailoring Tips:
It's pretty well known now that Craig wore a medium in the Billy Reid to give him a more tailored look when he was just walking around, and then switched to a size large for the action scenes. Being realistic, expect to size down in most "traditional" peacoats to get a shorter, trimmer fit, but don't forget you need to be able to move in the thing.
Yes, you can have your peacoat tailored to achieve the fit you want, but it won't be cheap, especially if you choose a heavier melton wool. As for the length? If you select a coat with the flap pockets, it's going to be next to impossible to shorten it.
There's definitely some debate about the best fabric: 100% wool or a wool blend? Some say the high quality wool is worth the price since it won't pill as much and because "tradition". Others side with a wool/nylon blend (80%/20%) because you can still get a high quality fabric that will resist pilling at a lower price. If this is a discussion you're interested in, check out this thread on Reddit.
I'll be including more options for peacoats in a dedicated future post.
The Gilet
Key Features:
Dark blue nylon outer shell
No collar
Lighter weight insulation
Diamond quilting pattern
I'll leave it up to you if want to go for the suede shoulder patches.
This suggestion comes from AJB007 forum member James Brosnan, and it's a good one. Going back about 35 years, Roger Moore wore a blue quilted gilet for rock climbing in For Your Eyes Only.  The Suits of James Bond once again provides details on the piece.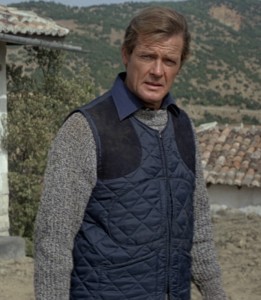 The fact is, a lightly quilted gilet/vest, while not essential, is a very versatile article of clothing and it's definitely back in style. Some good options:
If you want that retro, late 70s/early 80s style, try the U.S. Polo Association Quilted Vest from Amazon for around $28.00. Definitely size down.
Stepping up in quality, but keeping the same retro style, the Vedoneire Custom Fit Navy Quilted Gilet is €59.99. Folks in the U.S. can check it out at Amazon for $74.99 or you can order directly from the company.
If you prefer to keep it simple, try the J.Crew Factory Walker Vest, on sale now for $55.50.
Fit and Tailoring Tips:
Not much to say to about a gilet, except the less expensive versions are going to fit boxy, so know that going in.
Footwear
The Dark Brown Suede Chukka Boot
Key Features: 
More of a dress chukka shape (not a "desert boot" style)
Solid black rubber sole, preferably with a Dainite® type sole.
2 eyelet lacing
If you're not particular about getting the look of the original Church's Ryder IIIs, then pick up a pair of cheap suede desert boots and be happy; seriously, 99% of the population is not going to call you out on it. However, if you do want the Church's look, then I'm going to have to go back to the Florsheim Constable Chukka in brown suede, on sale now for $119.90.
If you feel like investing a little more, the Savile Row Brown Suede Chukkas at Amazon UK for £125.00 look like a good bet. Folks in the U.S. can find them on Amazon here.
Care and Maintenance Tips:
If you do decide to go with the Florsheim option, and that lighter brown mid-sole is driving you a little crazy, try using Fiebing's Sole Edge and Heel Polish to cover it. Honestly, it works.
Take care of your boots and clean and protect them regularly. Learn how to do that here.
I'm regularly updating this post with new alternatives for the Church's Ryder III, just case the options above don't appeal to you.
Black  Leather Chukkas or Chelsea Boots
Key Features:
More of a dress boot shape.
Full black rubber soles with defined heel.
2 eyelet lacing for the chukkas.
Elastic side gussets or gores for the Chelsea boots; try to avoid zippers.
Minimal stitching on both styles.
This is a casual wardrobe, so I'm fighting the temptation to include anything too formal, such as a proper dress shoe. But we still need something a little more sophisticated for those times when a "professional" appearance is required. Both the black leather dress chukka and Chelsea boot can fill that void. And while (as far as I know) Bond didn't wear a Chelsea boot specifically, Connery's Bond didn't shy away from ankle boots and the Bond of the books was not a huge fan of laces. Think of the Chelsea as a modern, more versatile update.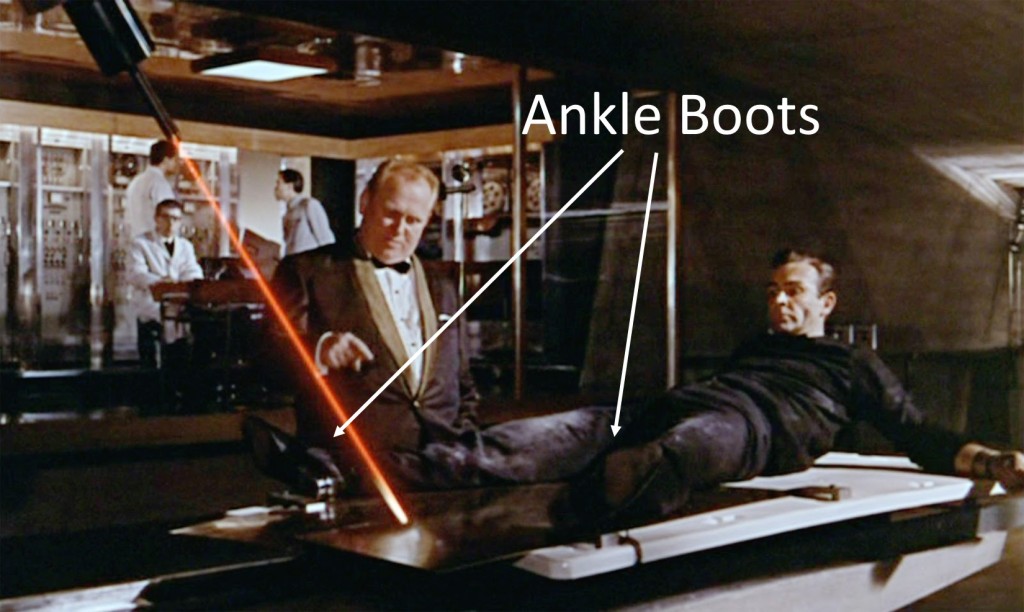 If you want to go the dress chukka route, I'd suggest taking a look (again) at the Florsheim Constable Chukka in black leather for $149.90. Honestly, it's just a hard boot to beat for the price.
In the UK? Try Marks and Spencer's  M&S Collection Luxury Leather Chukkas Boots for £79.00/$129.00. Or you can step up in price and go for the M&S Collection Leather Welted Chukka Boots for £149.00/$242.00.
If Chelsea boots hold more appeal, try something like the ASOS Black Leather Chelsea Boot for $77.00/£45.00. They're not a super high cut and have the minimal stitching we're looking for.
Care and Maintenance Tips:
I try to update this post pretty regularly with new alternatives for the C&J Tetbury.
Learn how to correctly clean and condition your shoes so they last longer. And use shoe trees.
Prefer a high polish to your leather? Check out the video below (it's actually pretty relaxing).
The sneakers/trainers
Key Features:
Blue suede upper
White outsole
Blue laces
Retro styling
Just as the dress chukkas or Chelseas fill the need for something more sophisticated, we also need something more casual for the weekends, which is where the sneaker/trainer comes in. Of course the model we're using for comparison is the Adidas Gazelle II he used in Skyfall. Finding a pair of the originals is a quest for some people, so you can imagine what they go for when a pair actually turns up.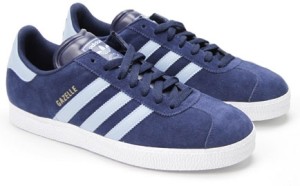 Luckily for those of us on a bit of a budget, AJB007 forum member armenianmovieman found the Adidas Topanga in Navy, Clear Sky & Off White over at End Clothing for $109.00/£79.00.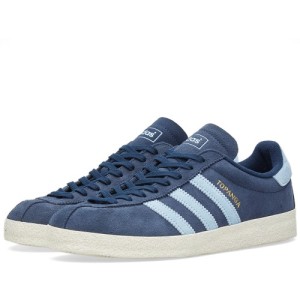 Care and Maintenance Tips:
If you want to explore the basic strategy behind building an affordable James Bond wardrobe, read more here.
If you're looking for shirts and sweaters, check out this post.
Need pants and belts? Find options in this post.
Looking for the extras that will round out your Bond wardrobe? Head over here.
If you have your own Bond style tips you want to share, the comments are below! And remember to check us out our Facebook page, Instagram account and Pinterest Boards for more James Bond style advice, inspiration and info on where to find the latest deals!
Some of the images used in this post were sourced from Stillvision, The Suits of James Bond, James Bond Lifestyle, and Esquire.  
This post was updated on May 13th, 2016.