The Affordable Bond Wardrobe: Pants & Belts
We've discussed an overall strategy for capturing some of James Bond's casual style and looked at some of the shirts and sweaters we can use to build an affordable Bond wardrob. Now it's time to move on to pants and belts.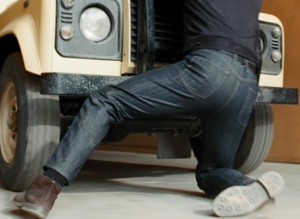 Pants
Dark wash jeans
Key Features:
Standard 5 pocket dark wash jeans with minimal detailing on the back pockets.
No rips or faded spots.
Straight or slim fit (but not tight) with a low to medium rise.
Best Options:
Our choice of jeans is very personal, so I can't really say, "buy these ones!". I'm just going to repeat here what I said in an earlier article: buy the jeans that fit YOUR legs, not Daniel Craig's. Value for money, Levi's are still hard to beat even if the quality of the denim isn't the best: they come in enough cuts to accommodate just about any body shape and are almost always on sale somewhere for around $40.00. If you have thinner legs, the 511s in Rigid Dragon are a good place to start.  If you have thicker calves, try the 514s in Tumbled Rigid. Somewhere in between? Try on the 513 Slim Straights in Bastion.
Fit and Tailoring Tips:
A note about pant break: with jeans, we can afford to have more break, but you shouldn't have multiple folds of fabric bunched up around your ankles. Remember that even in his casual clothes, Bond keeps clean lines and a tailored look. This is especially important if you're under 5'10". The more fabric you have around your ankles, the shorter your legs will look, so consider going with a single break at the most. The tops of your boots or shoes should be covered (no exposed ankles) and the bottoms shouldn't rise half way up your calves when you sit down.
And now a note about hemming: unlike dress pants, the original hems on jeans are hard to replicate if you need to get them shortened. On top of that, the cut of the leg in tapered or slim fit jeans widens as it goes up. So if you're a 28″ inseam and you buy a pair of 36″ inseam jeans ("but … they were on sale!"), when you shorten them the bottom is going to end up 1″ to 1.5″ inches wider than originally intended. In short, buy as close to your actual inseam length as possible so your jeans don't need to be hemmed and you conserve the correct fit.
To keep the color dark and prevent fading, wash your jeans as little as possible. When you do clean them, wash in cold water and turn them inside out.
Wear jeans with heavier, dark colored socks.
Beige Chinos
Key Features:
Neutral beige colored chinos.
100% Cotton; 2% spandex or elastane is okay if you want a bit of stretch.
Slimmer fit (but not tight) with a low to medium rise.
Best Options:
Since we're discussing an affordable wardrobe, buying a pair of cream/beige/khaki/taupe pants for every "Bond look" isn't really an option. If we can be flexible on the color, the same chinos could work with the black shirt (Casino Royale), the black shawl collar cardigan (Quantum of Solace), a brown distressed leather jacket (Skyfall), and a light beige suede jacket and a light brown blazer (SPECTRE), and for the time being the navy blue polo (Casino Royale and Quantum of Solace). For our first pants, I'm going to suggest something in a slightly darker khaki tone since they'll be the most versatile; we can always add lighter cream colored or darker taupe colored pants later for some variation.
If we're open minded (and squint a little), the same pair of pants will work with: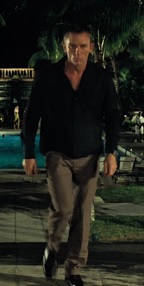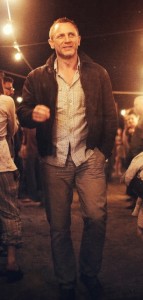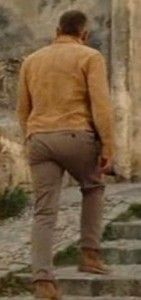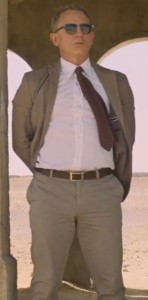 Or they can be used to update some of the classic looks from Connery, Moore, Dalton or Brosnan.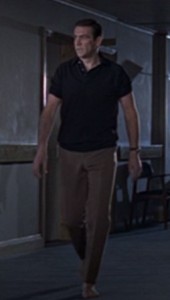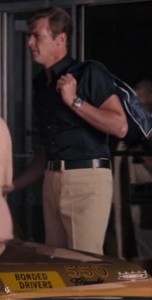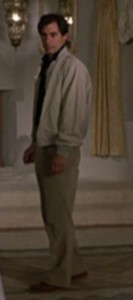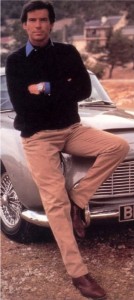 Best options? I'm going to suggest four you can try: the Docker's Alpha Stretch Khaki Slim Tapered Pant in Timberwolf for around $40.00 at Amazon U.S.:
The Marks and Spencer Cotton Rich Flat Front Chinos in Stone for $81.00/ £35.00:
The Zara Stretch Cotton Trousers in Tan for $39.90 or £29.99, suggested by AJB007 forum member TeenageBond:
The brand and color choice is ultimately up to you, but again, I think it's easier to focus more on getting the right fit and going with a more versatile, neutral shade of khaki pant at the start, and then adding lighter or darker shades in the future.
Fit and Tailoring Tips:
Another note about pant break: with your chinos, you really want to go with a minimal half break or none at all to keep the lines clean and extend the silhouette of your frame. Think Bond visiting Mathis or Bond at Shrublands if your not sure of the right length.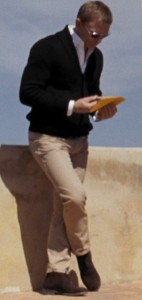 Crease or no crease? I'm going to suggest no crease; the chinos are supposed to be used with casual looks and the reality of our world today is creased casual pants look a little anachronistic. However, "without a crease" does NOT mean wrinkled, so iron your pants.
Wear chinos with medium weight, beige socks that are a close match to the color of the pants.
Grey Dress Trousers
Key features:
Slim or tappered fit with a medium rise.
Wool or wool blend, but the synthetics should be kept to a minimum.
Darker grey or mid-charcoal in color (see reasons below).
Side tab adjusters if possible.
Best Options:
Why a darker grey? Again, it's a versatile tone that can be used for multiple looks: the Neil Barrett trousers used in SPECTRE, the ACNE Wall Street Shark trousers from Skyfall, even the trousers Bond wears while golfing with Goldfinger or one or two of Daniel Craig's "real world" looks. We can always add a lighter shade of grey at a future date.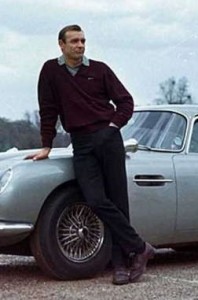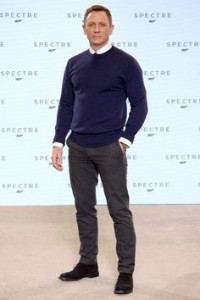 As for the right ones to choose, it's hard to beat Austin Reed's Flat Front Slim Charcoal Puppytooth Trousers on sale for £49.90. The subtle pattern gives them some visual interest, it's a great color of grey, and the details set them apart from just any ol' grey wool pants. Originally suggested by AJB007 forum member xxfastfuxx.
Fit and Tailoring Tips:
And another note about pant break: Since these pants are a little more formal, I'd suggest going with some type of break if it suits your height.  Over 6 feet tall? Go with a half break. Between 5'9″ and 6′? Try a quarter break. Under 5'9″? No break, but make sure the pants don't ride up too high when you're sitting down. Because we are looking at a more modern, tapered cut with a narrower bottom, anything more than a half break will just look like fabric piled up around your ankles.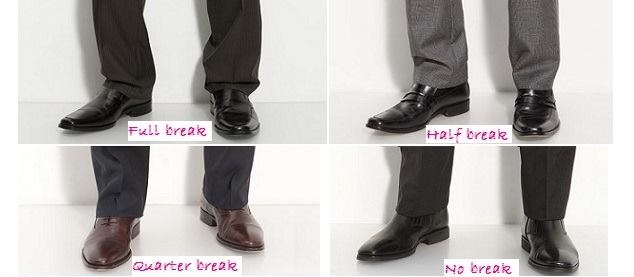 Maintain the crease? Yes. Grey trousers are still part of a casual wardrobe, but the crease dresses them up for a more professional look.
Bonus points if you can find the right fit with frog mouth pockets. They keep the trousers visually interesting, Bond uses them more than you may think, and they help preserve the clean lines of the pants by keeping the side seams hanging straight.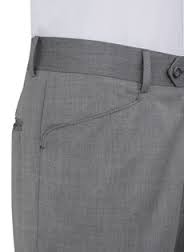 Wear your grey pants with medium weight mid to dark grey dress socks.
Belts
The Brown Belt
Key Features:
Woven or plaited dark brown leather.
Solid leather strap end (where the holes are) if possible.
Silver rectangular frame buckle, with no brand names embossed in the metal.
1″ to 1.25″ wide.
Best Options:
I'm suggesting a woven leather belt for the simple fact that it's more interesting than a plain, smooth leather belt. Also, this type of design has been used by both Craig's and Dalton's Bond. I'm recommending the solid leather strap end because it helps dress up a more casual belt style and comes closest to the Brunello Cucinelli belt Bond wears in SPECTRE.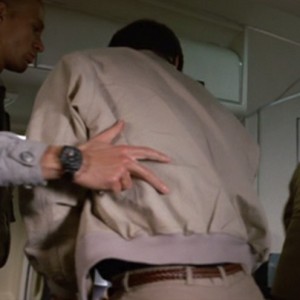 You can find more options for this belt style in this post, but my top two choices would be:
The Cole Haan Whitefield Leather Belt in Chocolate for £50.00/$68.00 at Lord and Taylor.
Dents Brown Plaited Strap Leather Belt at Amazon U.S. for $59.95. Amazon UK users can find it here for £41.95 .
The Black Belt
Key Features:
Smooth or subtly patterned black leather. Stay away from leather that's been embossed to look like reptile skin.
Simple silver rectangular frame buckle; no brand names embossed in the metal.
More of a matte finish to the leather; this is still a casual belt so while the leather can have some shine, we're not looking for a high polish.
1″ wide. Going with a narrower width allows us to use it as a dress belt in a pinch.
Best Options:
The black leather belt is an excellent way to demonstrate your attention to detail without being "in your face" about it. I think there are two easy ways to add visual interest to the belt: the texture of the leather and the buckle/keeper loop. Here are four examples that have interesting textures and/or hardware without going over the top. First is the Nordstrom Men's Shop Leather Belt for $49.50. You can also find their Saffiano leather belt here for the same price.
Next is the Charles Tyrwhitt Black Saffiano Leather Belt for £34.95 or $65.00.
The Bosca Reversible Leather Belt for $69.50/£51.53 at Lord and Taylor. At 1.25″ wide, it's probably a little too wide to use as a dress belt, but the subtle texture and metal keeper are nice features.
If you want to explore the basic strategy behind building an affordable James Bond wardrobe, read more here.
If you're looking for shirts and sweaters, check out this post.
Lacking in outerwear and footwear? This post will help you find alternatives.
Looking for the extras that will round out your Bond wardrobe? Head over here.
And, as always you can find us on Facebook, Instagram or Pinterest for more updates, Bond style strategies and general amusement.
Some of the images used in this post were sourced from The Suits of James Bond and BAMF Style.
This post was updated on May 13th, 2016.