The Affordable Bond Wardrobe: Shirts & Sweaters
There are a ton of STEAL THE STYLE and LOOK FOR LESS articles out there for dressing like Daniel Craig's James Bond. The problem with 99% percent of them is 1) the pieces they recommend are usually gone within a fashion season so they go out of date fast, and 2) they believe you want to dress like you're going to a 007 cosplay party. Let's leave the costumes for Halloween, shall we?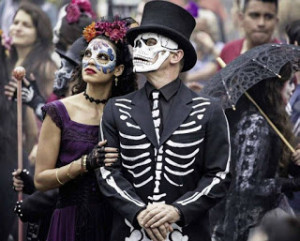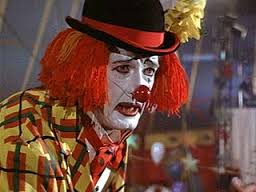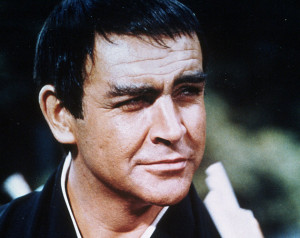 Anyway, this isn't one of those articles. Instead, I want help buyers learn what the key foundation pieces of a daily wear Bond wardrobe could be so when you're shopping you know what features to look for to capture some of 007's style. We're looking to answer the question: what does it take to build a basic affordable Bond wardrobe that's going to last?
Shopping guidelines for an affordable James Bond wardrobe
Price: Do NOT buy the best you can afford. Buy the best you'll feel most comfortable wearing … and then wear the hell out of it. Bond of both literature and film understands that the clothes serve a purpose; they are means to end, not an end unto themselves. And that end is to live life to the fullest. That's pretty hard to do if a) you have no money in your wallet and/or b) you walk around like you're on eggshells because you don't want your $500.00 "investment" shoes to get scuffed. This 11 year old article from James Bond Lifestyle discusses the psychology behind a practical Bond wardrobe.
I discuss what to look for regarding fit, color, fabric and details in this article.
Be patient. Unless you've just lost everything in a natural disaster, there really isn't any need to rush out and get everything on this list. Methodically waiting has several advantages: first, you can save up to get "the best you will wear"; second, stuff always goes on sale, which helps your budget (yay! more money for single malt whisky my kid's education fund!); third, and perhaps most importantly, you are building a timeless wardrobe, so you can afford to take the time to find pieces with the right details rather than settling for "close enough".
Find a good tailoring service (yes, even for casual clothes), and leave room in your budget so you can use it. I included "tailoring tips" for some of the items in this list.
Okay, on with the list. I'm going to assume we already have socks, underwear and t-shirts in grey and white.
Shirts
The Navy Polo shirt
Key Features:
Self collar
Chest Pocket
Two button placket
Trim Fit
Best Options:
The navy polo plays a big part in Bond's casual wardrobe, so it may be worth investing in it. I've listed some more budget friendly alternatives in this post, but right now the original Sunspel Riviera Polo can be had at Matches Fashion for $101.00. You can also get the pique cotton version for the same price if you want a slightly heavier fabric.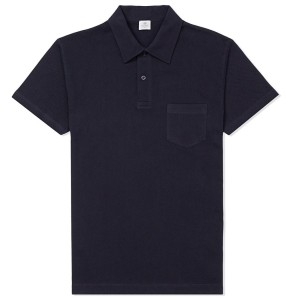 Fit and Tailoring Tips:
Ideally, the hem of the shirt should fall about 6″ to 8″ below your navel, depending on your height.
The sleeve should hit around mid-bicep when your arms are hanging straight at your sides.
If the polo has a longer tail, consider getting it tailored so the hem is as straight as possible.
The Long Sleeve Light Blue Linen/Cotton Shirt
Key Features:
Light blue, long sleeve shirt with a visible weave in the fabric
Shorter, non-button down collar
Trim or slim fit
No chest pocket
Best Options:
I'll have to go with the Uniqlo Premium Linen Long Sleeve Linen Shirt in 60 Light Blue for $29.90, even if it does have the chest pocket. Aside from the "Matchless jacket" outfit, this lighter shade of blue can also be used under a leather jacket for the Enjoying Death look. You can see some other options here.
Fit and Tailoring Tips:
For a good fit, the shoulder seam should lie about a half inch past the very top of your shoulder; the edge of the cuff should land at the bottom of your wrist bone when your arms are straight at your side.
When the top button is undone, the second button should lie about one inch below the bottom of the hollow at the base of your throat (it's called the suprasternal notch, just in case you wanted to know).
Even the "slim cut" shirts are probably going to need some tailoring to bring in the sides to give you a more fitted look.
Some tricks: the Italian sleeve roll and the military shirt tuck will both help you stay looking well put together.
The White Dress Shirt
Key Features:
Cotton fabric; it's down to personal preference if you want a fabric with some texture or want to stay with a smoother weave.
Even though Bond has been experimenting with different types of collars lately, I would suggest sticking with a medium spread collar with medium length points (it works well with most face shapes).
French cuffs? Go for it if you want them; personally I can't really pull them off as casual wear, but I've included both french and barrel cuff options below.
No chest pocket.
Best Options:
It's a white dress shirt; there are a million options. Nordstrom's Trim-Fit Dress Shirts (both the barrel cuff and french cuff) are considered good value for the money (especially if you can score your size at Nordstrom Rack). I've tried the Saks Fifth Avenue dress shirts, and been pretty pleased, especially since I got them at SaksOffFifth for about $30.00 apiece. The main thing I can say is if you shop around and wait for sales, you can get a LOT of bang for under $50.00.
Fit and Tailoring Tips:
Basically the same as for the light blue linen shirt, but in the case of dress shirts I've personally found that the sides of the shirt will need to be brought in by a tailor, no matter how "Super-Slim" they say the fit is.
Focus on the fit around the neck (1 to 2 finger rule) and the sleeve length; these are the most difficult and expensive to adjust.
Look for a shirt with higher armscyes (the hole where the sleeve joins the shirt body); this will help prevent the "bat wing" effect and make the shirt look more fitted.
If you go with the french cuffs, consider plain silver or grey silk knot cufflinks; nothing too ostentatious.
Knitwear
The Black Shawl Collar Cardigan
Key Features:
Cotton, wool, or a blend in which the natural fibers are a higher percentage.
Ribbed knit
Two pockets
6 buttons
Best Options:
It didn't get a lot of screen time, but Bond's look for the Mathis visit in Quantum of Solace almost single handedly resurrected the the shawl collar cardigan. When it's the knitwear of choice of two style icons, Steve McQueen and 007, you know it should be a staple in your wardrobe. Best options? If you're in the UK: the VB Cardigan for £28.90. If you're in the U.S.: the Jack Threads Fisherman Cardigan for $39.99. If you've got some cash to spend: the John Smedley Sherwood in Black for €170.00 or about $190.00, although it's missing the pockets. 
Fit and Tailoring Tips:
If the cardigan you choose is predominantly natural fibers (cotton or wool), expect it to stretch, especially around the elbows and waist. Don't be too worried if the fit is a little tight when it's new.
Changing buttons is about the easiest thing in the world. Pick up some black leather covered buttons to switch out the originals on your cardigan.
Leave the bottom button of the cardigan undone when you're wearing it.
Black v-neck sweater
Key Features:
Cotton, wool or cashmere if you can find a good deal.
Smooth, tight knit
Trim fit, but not skin tight.
No logos.
Best Options:
Like the white dress shirt, there are plenty of black V-neck sweaters to chose from. A lot depends on the fabric composition and weight you want. Cotton will obviously be lighter weight, but tends to stretch out and fade faster. Good quality wool will last longer, but it's warmer so possibly less versatile. As far as options go, Banana Republic's Silk Cotton Cashmere Blend Sweaters for $69.50 and J.Crew's Slim Merino Wool V-Neck Sweaters for $78.00 are popular (wait for sales and codes). Here are some other options from House of Fraser, Austin Reed, Marks and Spencer, and ASOS.
Fit and Tailoring Tips:
Like shirts, the shoulder seam should lie about half an inch past the very top part of your shoulder.
The point of the V should sit about 1.5″ to 2″ below the base of your suprasternal notch, depending on your height.
Pay attention to the fit of the sweater at the bottom. There should be no bagging or bunching of the material around your waist and the bottom of the hem should lie 5″ to 7″ below your navel, again depending on your height.
Pants and belts are up next! Got a good Bond style tip? Leave it in the comments below!
If you want to explore the basic strategy behind building an affordable James Bond wardrobe, read more here.
Need pants and belts? Find options in this post.
Lacking in outerwear and footwear? This post will help you find alternatives.
Looking for the extras that will round out your Bond wardrobe? Head over here.
And we're always posting new stuff on our Facebook page and Pinterest boards. Check them out!
The feature image used in this post was sourced from BAMF Style.
This post was updated on May 13th, 2016.