Gagliardi Linen Cotton Suit Review
As I stated in a recent post, a light colored linen suit can be a challenging look to pull off (Bond just makes it look easy). But linen and linen-cotton blends are such comfortable fabrics to wear in hot weather that suits in this fabric deserve a serious look.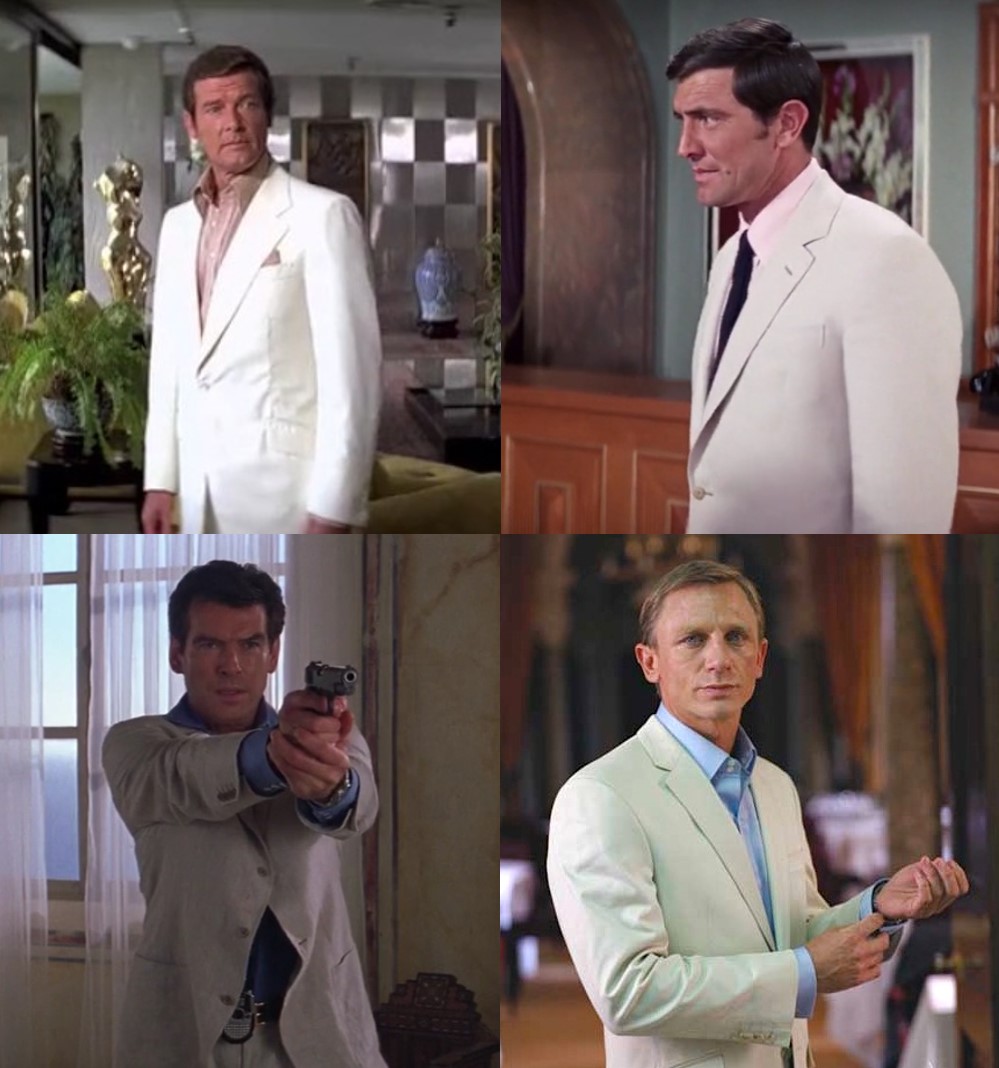 So this post is going to be a bit of a hybrid. One part review of the Gagliardi linen cotton suit in Chalk Herringbone (which won the "Best Option" spot in our aforementioned post). And one part "4 Ways to Wear It". Because linen is such a versatile fabric, you can easily dress it up (see Lazenby in On Her Majesty's Secret Service), dress it down (see Pierce Brosnan in The World is Not Enough), or wear the jacket and trousers as separates.
The Gagliardi Linen Cotton Suit Review
You know that feeling you get when you're holding an article of clothing in your hands and it's exactly what you wanted? That's how I felt when I took this suit out of the box for the first time. And after a week, nothing's changed. For me, the Gagliardi linen cotton suit checks almost every box on my "ideal linen suit" wish-list.
The Fabric
Gagliardi has used a 53% linen/47% cotton blend fabric from the Italian mill Lanificio Luigi Zanieri. It has some body and texture to it, but doesn't feel heavy, rough or stiff. The herringbone pattern is very subtle, and blends into the overall texture. It's definitely not the "track stripe" style herringbone that some of us may be used to. The color also isn't as "bright white" as it looks on their site. There's actually a hint of very light khaki/grey to tone it down. It's still cream, but a more muted shade.
Construction and Finishing
The two button jacket has double vents and natural shoulders with minimal padding. Thanks to the construction it keeps its shape and easily straddles the line between more formal and casual. Best of all? Unlike many manufacturers, Gagliardi has stayed with a half lining in the front and a simple viscose butterfly lining at the back to maximize comfort and breathability. That means they left almost every inside seam exposed. And they've finished them all beautifully.
Gagliardi has also added some nice little style details to the jacket. Pick stitching around the lapels and pockets, four inside pockets, and a contrasting blue patterned fabric under the collar and bordering the internal pockets really finish things off. The jacket also has four functioning buttons at the cuff. But more on that detail below.
The flat front trousers are simple but very well executed. They have a partial lining at the front in the same viscose as the jacket, leaving them light and airy. And again, the finishing on the seams is clean and polished.
In short, from a fabric, design and execution perspective, the suit is a winner.
The Fit
First off: I'm 5'9″, about 170 lbs, 40″ around the chest with wider shoulders. I normally take a 33 or 34 in dress pants and a 32/33 sleeve length in dress shirts. The Gagliardi suit jacket I received is a 40 regular and the pants are a 34, both in their Slim Fit. Out of the box with no tailoring, the jacket fits very well. The shoulders are comfortable and the armscyes, while a little high, don't feel restrictive.
The jacket also has definite waist suppression. But after doing up the top button, it didn't feel tight. I didn't see the dreaded "X" and there was very little gap at the skirt or vents. The button stance is a touch high for me (about an inch lower would be perfect) and the lapels a little narrow, but they're not even close to super-skinny Zara territory. The jacket length leans to the shorter side of conservative, but no one I know would call it cropped. Overall, the feel is one of a slightly modern take on a classic jacket design.
The mid-rise trousers are a true slim fit, with some noticeable taper. They go from 11.5″ at the thigh to 9″ at the knee to just over 7″ at the hem. But the tailoring is excellent, so they don't look particularly skinny or feel restrictive. Again, modern but not fashion forward.
One problem with the jacket …
So let's talk about the one flaw I found with the suit: those functioning cuff buttons. If I was going to tailor one thing on the jacket, it would be the sleeves. They're about an inch too long for me (even with my 1.043 ape index). But those functioning buttons are going to make shortening them a pain. By my reckoning, the most I could chop off would be about half an inch unless I get the tailor to work from the shoulder. Which is an expensive proposition. Not a deal breaker for me, but you do need to be aware of it. Whilst I think this suit was a great option for me, I know that people have very particular styles when picking a suit or tuxedo. For more options you may like to check out Tuxedo Rental sites to see if you find a style you prefer to this one.
Conclusions
I'll keep this simple. Aside from the challenge of shortening the sleeves, I really like this suit. The fabric, construction, fit and attention to detail are all there. At its regular retail of €349.00/£279.00, it's a great deal. At its current sale price of €210.00/£154.00 (about $200 U.S.), it's a steal, especially with Gagliardi's free worldwide shipping. Definitely highly recommended.
2 More Ways to wear the Gagliardi Linen-Cotton Suit
James Bond in On Her Majesty's Secret Service
Shirt: Mango Men
Tie: Fendi
Belt: Perry Ellis
Casual Night Out/Northern Lights
Shirt: Truth, Substance and Common Sense (modified). Alternative for the Zara Enjoying Death shirt from Skyfall. You can see more alternatives for the shirt in this post.
Belt: Massimo Dutti. Alternative for the Brunelo Cucinelli Morocco belt from SPECTRE. You can see more alternatives for the belt in this post.
Jeans: Pepe London. Alternatives for the 7 For All Mankind jeans from Quantum of Solace.
Suede Chukkas: Too Boot. Alternatives for the Church's Ryder IIIs from Quatum of Solace. You can see more alternatives for the boots in this post.
The Gagliardi Linen Cotton Suit in Chalk Herringbone is currently on sale for €210.00/£153.76 (approximately $202.00). You can learn more about the suit on the Gagliardi website.
Gagliaridi provided Iconic Alternatives with the suit at no cost for the purposes of this review. So that our reviews remain honest and unbiased, neither Iconic Alternatives nor the site's authors keep any products sent to us for our own personal use. Neither Iconic Alternatives nor the author were otherwise compensated by Gagliadi for this review.