The Affordable James Bond Apartment
Let's take a break from clothing, shall we? There's more than one way to inject a little 007 into your life. We've posted before about appreciating a fine whisky and the ritual of the morning Bond style shave. Now we're going to look at how you can start designing your affordable James Bond apartment.
Which, if you go by interior decorating skills Bond displays in SPECTRE, ain't that hard. I know his job as a secret agent keeps him away from home a lot. But seriously: he could at least buy a stand for his flat screen! Still, it's easy to imagine he has slightly more pressing matters on hand…
Having said that, the few pieces he does have demonstrate excellent taste. Aside from the electronics, Bond definitely leans to the traditional. The furniture consists of a simple high quality leather chair, a rustic wooden coffee table and what a appears to be a wine-colored, crushed velvet sofa with some throw pillows. Lighting is provided by the classic Anglepoise and a simple wood floor lamp with a classic white shade.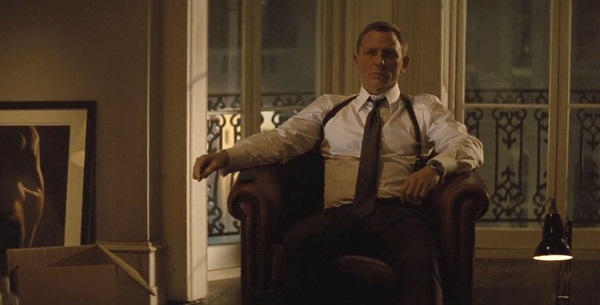 The finishing touches, most of which still live on floor, include a gilt framed painting of a horse, some framed black and white photographs, and an antique Persian rug. Oh, and books. Lots and lots of books stacked everywhere. And Jack of course.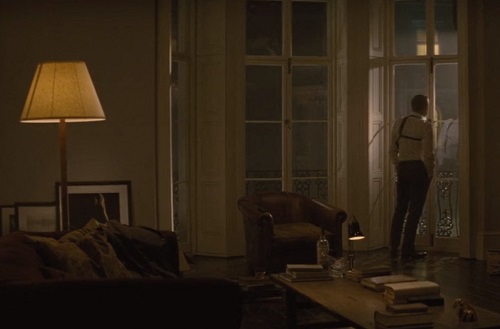 The philosophy behind the design?
I'm not going to attempt to psychoanalyze Bond via his decorating choices. However, when we look more closely at his apartment, there are some key takeaways we can apply to our own domiciles.
Keep it simple. All the core pieces Bond owns have strong shapes and simple designs. And he definitely doesn't crowd the place. There's space to breath, think and move around.
Focus on textures rather than patterns. Those core pieces are solid colors that emphasize texture. The clearest example is the pairing of the soft velvet of the couch with the rough natural wood of the coffee table.
Don't worry about matching. The different pieces work together because they all make a consistent statement about the man. He appreciates quality. He understands tradition and his heritage. And he believes form should follow function. Each piece is telling that same story in it's own way. That allows for a cohesive design without resorting to matching fabrics.
When in doubt, go for the classics. The Anglepoise lamp has been around for 80 years. That Persian rug looks like an antique. And the leather chair is a timeless barrel style. This ties into Bond's appreciation of heritage and his practicality. He wants designs that have proven themselves and he knows will work.
If we had to boil all of this down to one word, it would be "character". Yes, the apartment is spartan and unfinished. But it looks lived in. The few items that do occupy the space are interesting. You can believe they share a history with the owner and were selected with care. And he's comfortable with what he has.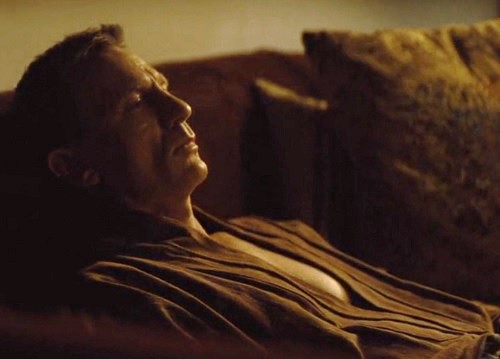 Now, this isn't a feeling you can create overnight. It takes time and patience. It really pays to invest in one piece at a time. So that's why we're starting with a few basics and drawing inspiration from the classic Bond of film and literature to fill in some gaps. And we've thrown in a couple of fun odds and ends just keep things interesting!
Furniture
The Original
Leather Chairs of Bath Leather Amsterdam Chair: approximately £1500.00/$2000.00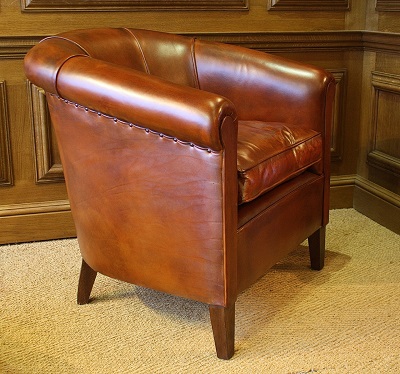 Leather Chairs of Bath is one company that has happily embraced its connection with 007. Their Amsterdam Chair was a key piece used to decorate Bond's rather sparsely furnished apartment in SPECTRE. And it's classic barrel-style shape, rustic leather and simple detailing do seem to be a good match for the personality of Craig's Bond. It's a chair you could definitely see him enjoying. The truth is I'm a big fan of genuine leather chairs and see them as an investment. With proper care, they can easily last decades. Yes, $2000 may seem a little steep upfront. But when you realize that the actual cost per year could work out to less than $100, their true value becomes obvious.
The Affordable Alternative
Alcott Hill Barrel Chair: on sale for $196.99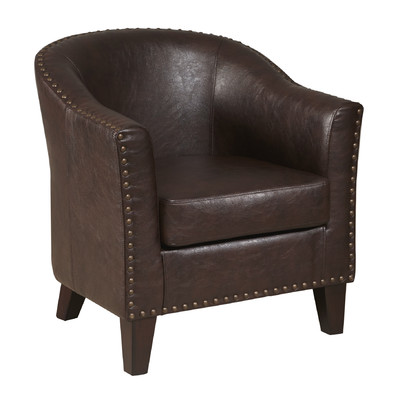 However, some of us just don't have $2000 to spend on a leather chair, regardless of its long-term value. If that's your situation, then take a look at the Alcott Hill Barrel Chair. It's made from faux-leather (not surprising at this price point). But the reviews on Wayfair are very positive on both the looks and the quality of the construction. They also note that the size of the chair is on the smallish side. If you want real leather at a lower price, try Rose & Grey's Vintage Leather Club Chair for £750.00 ($950). The leather color is darker than the Amsterdam. But it still has that distressed look and the barrel shape. And of course there's always the option of buying used from Ebay or Craig's List. If you'd like tips and strategies for scoring the best deals on thrift sites, start with this article.
The Desk
Woolsey Agent Desk: $3850.00 + $580 crating and shipping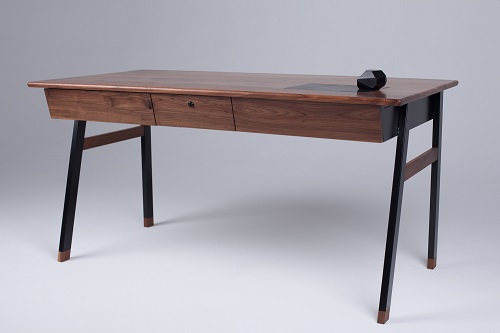 It's never been in a Bond film or mentioned in a Fleming novel. Instead, furniture designer Sean Woolsey took inspiration from Bond himself for his latest creation. Made from American Black Walnut with a steel powder-coated base, the desk comes with a leather lined hidden drawer and a magnetic power block. And that black wooden geode thingy just sitting there? That's the "key" to open the built-in leather mouse pad and reveal the secret compartment underneath. I'm not even going to pretend there's an "affordable alternative" for this one. But it's just too cool to leave off this list ….
Lighting
The Original
Anglepoise Original 1227 Desk Lamp in Jet Black: $285.00/£175.00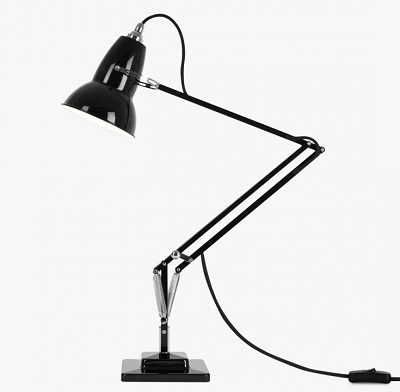 Ah, the iconic Anglepoise. Invented by car designer George Carwardine, the first four-spring model was released in 1933. It was subsequently re-worked into a three-spring version for the consumer market, and in 1935, Model 1227 was born. And its near perfect balance of industrial functionality and stripped-down elegance has remained virtually unchanged ever since. There are many imitators out there. But the 1227 is the true original.
The Affordable Alternative
OliaDesign Black Swing Arm Desk Lamp: $19.99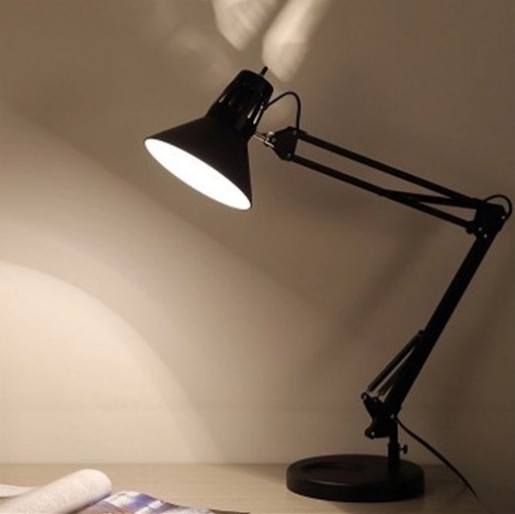 Like I said, there are many Anglepoise 1227 imitators. Seriously, you won't lack for options in the $15 to $50 range. The OliaDesign one above is pretty typical. What is difficult to find is one with the square base. Not many of those around.
Artwork
Antique Car Prints (unframed): $9.99 to $12.99
I'm not the biggest fan of Bond's decór circa Dr. No. Green walls and ornate gold sconces just ain't my thing. But the classic, antique car lithographs he has hanging on his bedroom wall are very fun! Bond uses simple, dark brown wood frames for the five he has. Depending on your budget you can go with more inexpensive prints, like the one above from All Posters. If you're looking to make a bit more of an investment, you can find original lithographs on etsy for around $50.00 or at Fine Rare Prints for $75.00. It's worth checking out Ebay as well. The best part is you get to mix and match the cars you like to create your own set.
Extras
The Original
Royal Doulton Jack Bulldog Skyfall Edition: $375.90/£199.00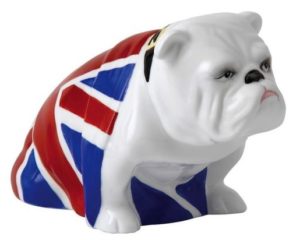 What more can we say about good ol' Jack? M's little desk buddy has become a fan favorite collectible. So much so that the discontinued Skyfall version is now fetching close to $400 on Amazon. Meanwhile, on Ebay prices start around $180 for a new one. And used ones aren't that common. Or that much cheaper.
The Affordable Alternative
Royal Doulton Jack the Bulldog SPECTRE Edition: on sale for $70.00/£40.00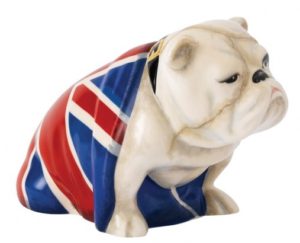 You could always go with "blown-up" Jack from SPECTRE! It's still coming to you from Royal Doulton, with the 007 branded box and documentation. He's just a little worse for wear. And about $100 to $300 cheaper.
The Kitchen
Chemex® 6 Cup Classic Coffee Maker: $41.32/£36.37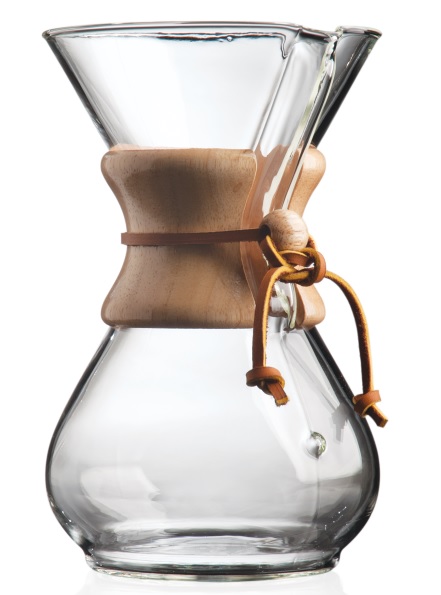 In the novel From Russia With Love, Fleming described Bond's morning coffee routine. Two large cups of strong java from De Bry, brewed using a Chemex, and consumed black without sugar. The Chemex Classic Coffee Maker was invented in 1941 by chemist Dr. Peter Schlumbohm. The deceptively simple design was inspired in equal parts by lab glassware and the Bauhaus movement. But the real key to its success was the double-bonded filters, which he also designed. So if you want your morning cup like Bond's, this is the way to do it.
Wild and Wolf "Q" Scrabble Mug: £20.00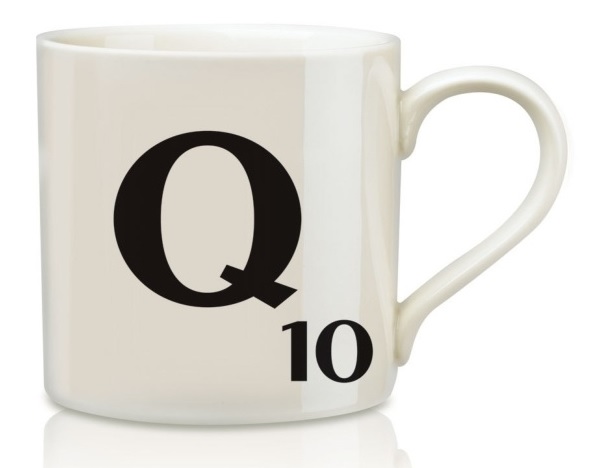 Well, you can't drink directly from the Chemex! Q's "Q" mug from Skyfall is another one of those fun, inexpensive collectibles that fans loved. The Wild and Wolf mug with the correct font for the "Q" is only available in the UK, unfortunately. Unless you want to pay $107.45 for one from Amazon U.S.
Matt Sherman's James Bond's Cuisine in Paperback: $27.51
Matt Sherman, of James Bond Tours and Spy Events fame, is also an author! And if the reviews on Amazon are anything to go by, he's a damn good one. The title of his James Bond Cuisine: 007's Every Last Meal: Every Bite and Sip of the World's Greatest Agent may be a mouthful (HA! I made a funny!). But the work itself is a thorough and comprehensive investigation of Bond's breakfasts, lunches, dinners, drinks, favorite restaurants and much, much more. If you love food and 007, then this reference guide was written for you.
Do you have any ideas for what you would have in your Bond inspired apartment? Share away in the comments!
The featured image for this post was sourced from The Hollywood Reporter.