Spend or Save? When to Invest in Bond Clothing
In an ideal world, every Bond-related piece of clothing we buy would be the best possible. But most of us just can't afford that expense. So we need to make some tough decisions. When should we invest and when should we save when we're building our Bond wardrobe?
We're going to start with the spend worthy items. The choices below are based on my personal experience. So your mileage may vary. But these are the pieces I've either bought cheap versions of, regularly reached for, and repeatedly said, "I wish I had a better version of this!" Or the pieces I've actually invested in and never regretted the decision.
A Black Shawl Collar Cardigan
The Tom Ford cardigan is one of the most iconic pieces so far from Craig's run of films. In fact, if the stats here are anything to go by, a lot of people are still looking for the perfect alternative eight years after Quantum of Solace. And it's a versatile and timeless style in it's own right (see Steve McQueen). It's going to look good with everything from jeans and a Henley to grey flannel trousers, a dress shirt and tie. Lastly, good, inexpensive alternatives are just damn hard to find. Most don't fit right, are poorly constructed, feel cheap, or simply don't have the right details. For all of these reasons, investing in a quality shawl collar cardigan is a bit of a no-brainer. So, what to choose?
A 100% cotton option from a German brand. It has the rib stitching, the two pockets and the contrasting knit across the back of the shoulders. But more importantly, it has the smaller gauge rib knit of the original. And that's something that's often missing on less expensive alternatives. It really gives the cardigan the more refined look of the Tom Ford. Sizes small to XXL are available at Zalando. Or you can check it out on the Marc O'Polo site for €159,90.
Cashmere Heartland again? Whyyyy? I'll tell ya why. First, it's close in looks to the Tom Ford. Second, it's a 100% 4-ply cashmere cardigan for under $400. For comparison sake, a similar sweater costs £695 at Drake's, $795 at Ralph Lauren, and £850 at Berk.  Even Amazon jacks up the price. It'selling this exact same sweater for $399! Yes, it has elbow patches. And those brown buttons need to be swapped out (here's a $20 fix for those). And, boy, Cashmere Heartland sure does need to work on their product shots. But put all that aside, and what we've got is an excellent, investment-worthy alternative for a damn good price.
Brown Suede Chukkas
Can a man own a more versatile style of footwear? Except for those times you're wearing a suit or shorts, these will work with just about any outfit you've got on. Sure, the Church's Ryder IIIs Bond wore in Quantum of Solace are the most well known. But he's also donned brown suede chukkas in Die Another Day and Casino Royale. And they'll work as replacements for the brown suede derbies Connery wore in Goldfinger and Thunderball. Simply put, they're investment-worthy because a pair of high quality, comfortable shoes that we can wear day after day makes us happy. So, what to choose ….
Made in England. Quality suede uppers with a full leather lining. Genuine welted Dainite soles. Most boots with these features would cost you £300 and up from other manufacturers. So while $200+ for a pair of chukkas is expensive for many of us, the price Herring Shoes is asking for the quality they're delivering is very fair.
One Good Great Suit
We mainly focus on Bond's casual style on this site. And, unless you work in the financial or legal sectors, the reality is most of us just don't need to wear a suit very often. But there will come a day in every well-dressed man's life when a suit is the only option. And on those days? Well, that's when you want a suit that's going to make you feel great. Bondian even. This is the perfectly fitted, high quality, versatile suit that will take you from a job interview to a wedding to a company cocktail party. Few will mention how good you look. But everyone will be thinking it.
Head over to Barneys or Neiman Marcus, and an Ermenegildo Zegna suit will set you back somewhere between $1200 and $3500. Now, granted, this one from Gagliardi only uses the 100% wool, woven-in-Italy Zegna fabric in an extremely versatile navy herringbone. But it's a fabric that comes close to the suit Bond wore to M's office at the end of Skyfall.  And if my previous experience with Gagliardi's excellent OTR tailoring and quality construction is anything to go by, then they're not going to let us down in those departments either. As an added bonus, Gagliardi is offering a 20% discount on the first 150 orders of any products from their new website. Just enter the code NEWEBSITEPROMO at checkout. That'll bring the price down to around $416.
I'll admit it. I have a soft spot for Spier & Mckay. Rick, the owner, is a superstar on the men's style forums, always ready to help customers and answer questions. You can tell that the man truly loves what he does. That matters to me. And they make a really good product at a really fair price. Consider the sharkskin number above: 100% Australian merino wool, half canvas construction, Bemberg lining, genuine horn buttons, a Barchetta chest pocket. All for under $350 U.S. Add it up and you have the definition of "excellent value". If you're worried about ordering a suit from Canada, Spier & Mckay will now pay for the return shipping from the U.S. for your first suit if it's just not working for you. Also available in a slim fit.
A Quality Navy Grenadine Tie
No, it's not the most formal weave for a tie. But the navy Grenadine Grossa tie is just so classic Bond that's it's hard to think of another one to invest in. Of course, the easy recommendation would be the Turnbull & Asser Seven-Fold Navy Grenadine Tie. After all, it's what Connery wore. But that thing is $320! So here's a couple of recommendations that are still investment worthy but won't destroy your wallet.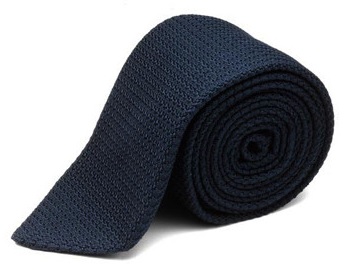 Mason & Sons is doing a great job bringing the Anthony Sinclair name back to life. And they don't hesitate to play up the Bond connection. So while it's not Connery's brand of tie, picking up this 100% silk piece from an equally iconic 007 name is almost as good. And it'll save you $200. Which you can now put towards your suit or a pair of those chukkas.
First things first. Sam Hober is not the easiest website to order from. Just check out the customer account creation forms. Yes, "forms". Plural. But then again, $125 for a bespoke, lined 6-fold tie is a crazy good deal. Yes, I said "bespoke". As in custom-made for the client. They're actually handmade in Thailand on an order-by-order basis. So you get to choose the length, width, color, and construction (more on that process on this page on their site). And order times are more than reasonable: 5 days from ordering to completion, plus 3 days shipping with DHL. I'm sure, if your anything like me, you still have lots of questions. So contact them here and ask away. If the reviews on the style forums are to be believed, it'll be worth it.
Sunglasses
Anyone who's read anything I've written on sunglasses knows my feelings on this one: they're your EYES! You do NOT cheap out when it comes to protecting your EYES! With that being said ….
It's a Bond-approved brand. They're not stupidly expensive. The PO3135S style captures a little bit of Connery and a little bit of Brosnan and is a shape and size that should work on most face shapes. And most importantly: they're high quality lenses mounted in high quality frames. Right now it looks like FramesDirect has the best prices.
A Good Tailor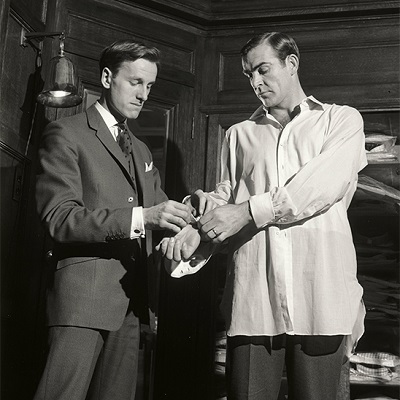 From dress shirts to jeans to off-the-rack suits, 90% of the clothing you buy is going to look significantly better if you let a professional, trusted tailor make the necessary adjustments so it correctly fits your body. And I mean "professional" and "trusted". Getting a pair of pants hemmed is one thing. The shop in the mall can do that. But taking in the waist on a suit jacket, altering a shirt or tapering a pair of trousers is another. So search around, get recommendations, ask questions, and find the tailor that works for you. A $40 dress shirt with $15 worth of tailoring will always look better than the $100 dress shirt that fits like a bed sheet.
Up next: when to save when you're building your Bond wardrobe. And if you have any suggestions for investment worthy, Bond inspired clothing, please share in the comments!
Need to some help building your Bond wardrobe? You can start with this article. And remember: Ebay can be a great place to shop for investment worthy items with deeply discounted prices. This article shares some tricks and strategies for finding great deals. Also check out discount sites like Nordstrom Rack, Saks Off 5th, Last Call, Gilt, Bluefly, and the "Outlet" sites of major retailers.