The Steve McQueen Bullitt Tweed Jacket
Why a tweed jacket? Because there are few men who have ever graced this earth that have had the iconic influence on men's style like "The King of Cool" did. And because of out of all of Steve McQueen's sartorial influence and bravado, there is one piece that rises above. Sure, there's the rugged bad ass look of double denim and the sophistication of a perfectly tailored three piece suit. But the tweed jacket that he dons while playing the role of Inspector Frank Bullitt in the 1968 classic American thriller "Bullitt" is perhaps the most well known, sought after, and distinguished piece in relation to McQueen's legendary status.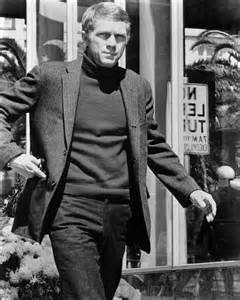 Some Background on the for the Steve McQueen Bullitt tweed jacket
Costume designer Theadora van Runkle custom made the jacket for Steve McQueen. It makes its most prominent mark during the infamous car chase between Frank Bullitt's '68 Ford Mustang GT 390, and the '68 Dodge Charger driven by the antagonists. McQueen, who no doubt had his influential hand in creating Frank Bullitt's wardrobe for the movie, wears the tweed herringbone jackets with a dark, French Blue roll neck sweater, charcoal trousers, and dark brown suede chukka boots with crepe soles. This jacket ensemble screams "The King of Cool" in terms of style. It's obvious in the behind-the-scenes pics of McQueen leaning against his '57 Jaguar KXSS rocking a very similar tweed jacket with a dark sweater and a pair of dark brown suede chukkas.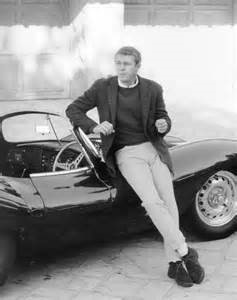 The original jacket sold at auction in 2014 for the "modest" price of $120,000. But we're going to see what we can find on today's market that might help the Average Joe in attaining a look that might be as cool as The King's. Or at least come as close as any man could ever hope.
The Details
Bullitt's jacket is made from brown herringbone tweed, cut in American style fashion, with little to no structures in the shoulders, and dual vents. The jacket is un-(or half)-lined, and features a 3-roll-2 button closure, lighter brown suede elbow patches, flap pockets with an English style ticket pocket, and narrower lapels. It is also worth noting that this particular jacket was longer than some of the more cropped jackets available today, and that it was less tailored than most current styles. While this worked with Steve McQueen's build, it may not be flattering for every individual. Therefore some of the jackets that were selected are fashioned to be more tailored and fitted.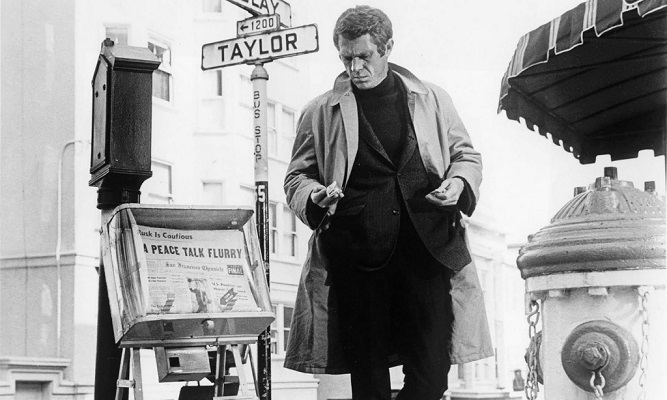 Features Wanted for the Steve McQueen Bullitt Tweed Jacket
Brown Herringbone tweed, preferably wool.
A narrower lapel. Think less than 3".
Elbow patches, preferably suede.
Dual vent
English style ticket pocket.
Dark brown contrasting buttons.
Best Option for the Steve McQueen Bullitt Tweed Jacket
Without going completely bespoke, this is perhaps the best option currently available. They created the jacket specifically to be a near perfect replica of the one McQueen's character wore in "Bullitt." Grand Prix Legends nails every last visual detail on this, from the 3-roll-2 to the ticket pocket. They even make the jacket a touch longer in length than most modern cuts. It boasts a name tag on the inside left breast with the text "Lieutenant Frank Bullitt" on it, and a picture of "The King of Cool" on the right inside breast (some may find this appealing, others… may not).
After reading reviews, the only questionable areas are the structured shoulders and the full satin lining. The jacket McQueen used in "Bullitt" originally had a satin lining. However they later removed it, presumably to make for a cooler and more comfortable wear during the iconic car chase. Some other minute details, such as the size of the elbow patches and button stance, are also called into question. But construction and subjective details aside, this is a worthy investment piece for any Steve McQueen Aficionado! It's also available at Grand Prix's own The King of Cool website for £249.99.
Under $200
The regular price is $249, so you need to use one of Lands' End's discount codes to get the sale price. For example, it's currently on sale for $175.00 as I write this. Cut to a tailored fit, this jacket boasts a great shade of brown, with a definitive classic herringbone pattern. Made from 100% wool, with the body lined in silky Bemberg  and polyester for the arms, it features flap pockets, dual rear vents, and a narrower lapel more in line with the "Bullitt" jacket.
A couple of things that this jacket has working against it are the absence of the suede elbow patches and the missing ticket pocket. But at its current sale price, it's a hard option to beat if you're looking at the quality-to-price ratio.
Not bad for under $150! But you'll have to wait for one of Macy's frequent discount codes to get it for that price. The jacket is a more classic cut through the chest and shoulders and a more traditional length. It features dual rear vents and flap pockets. It's also has a partial lining unlike some of the earlier options. This would definitely be a good option for bigger guys. Or someone seeking that more traditional, full cut of Frank Bullitt's jacket.
Some of the sought after details are missing (ticket pocket and elbow patches. But it's still a good choice if you're looking for an affordable option that features the classic iconic masculinity of a wool herringbone sports coat.
Under $300
If Steve McQueen is "The King of Cool", then without a doubt Harris Tweed is "The King of Tweed". Yes, it's getting up there is price. But the quality of this jacket is bound to be nothing short of fantastic, and will last decades, if not a lifetime.
They've hand-made the jacket from 100% English Harris Tweed and features contrasting leather football buttons, a classic English style ticket pocket, and 100% Bemberg style lining.
Yes, it lacks the often sought after 3-roll-2 button closure and the suede elbow patches. And it also has a single rear vent versus the dual of the original. But it's still a very solid option, and a beautiful classic sports coat for any sartorially inclined gentlemen.
Have some suggestions for good alternatives for the Steve McQueen Bullitt tweed jacket? That's what the comments are for! And you can also visit our Facebook page, Instagram feed and Pinterest Boards for more Steve McQueen style inspiration!
Images used in this post were sourced from Profiles in History, ShortList and Classiq.