SPECTRE Danner Mountain Light 2 Boots
Man! Bond was really prepared for that quick walk from his plane to the front door of the Hoffler Klinik in SPECTRE. The classic Vuarnet PX5000 glacier glasses, the watch cap, the Tom Ford jacket and heavy wool trousers, the N.Peal mock-neck sweater. And, of course, the black leather Danner Mountain Light 2 boots. I understand that a secret agent is supposed to be prepared for anything. But doesn't all that kit seem like overkill for what was essentially a short trip across a snowy parking lot? Honestly, the biggest risk he faced was overheating in Madeleine Swann's office. But damn, he did look cool!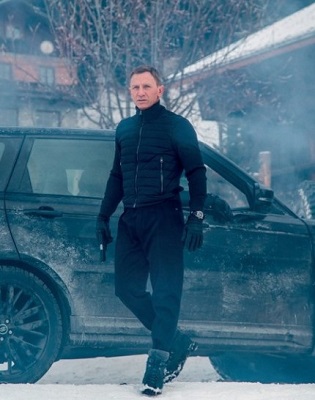 The SPECTRE Danner Mountain Light 2 Boots
So about the boots. The Mountain Light 2s are a pretty traditional style. But despite that "heritage" design, they're relatively light-weight and shouldn't be too hard to break-in. Made in the U.S.A, they feature full-grain one-piece leather uppers with a waterproof Gore-Tex liner, a stitchdown construction (so they can be re-soled), a fiberglass shank, and a Vibram® Kletterlift outsole. If you want some extra traction, throw on a pair of studded rubber ice-cleats (like these or these), as Daniel Craig occasionally did during filming. Danner has a full page on their website dedicated to the use of the boots in SPECTRE if you'd like to learn more. And you can watch The Bond Experience's video if you want to see the Mountain Light 2s in action.
Features Wanted for SPECTRE Danner Mountain Light 2 Boots:
Black, full grain, one-piece leather upper
Stitched on Black rubber mid-sole and out-sole with aggressive treads
Extended lacing (to the toe) using riveted metal eyelets and speed lacing at the boot collar
Traditional styling
If you're looking for an actual hiking boot, then you'll also want to consider the quality of sole (Vibram in this case), the construction (Danner uses a "stitchdown" construction to attach the sole, but Goodyear Welted is also great), and the type of shank used. If you're just going for looks, you can forget most of that stuff.
Best Option for the SPECTRE Danner Mountain Light 2 Boots:
The "Best Option" is the original. The actual Danner model used in SPECTRE is currently on sale at Back Country. They're missing some sizes, but if they have what you need grab it fast! You can also try Amazon U.S. They have the Mountain Light 2 priced between $216.19 and $420.00. But the most common sizes (9 to 11) are in the $250 to $280 range. And over again to Back Country, they also have Danner's Portland Select Mountan Pass GTX boot on sale for $262.46. It's a very similar style to the Mountain Light 2 and they have more sizes available.
Under $100
Looking for a street boot that captures some of that old-time hiking boot charm? The Elmers should do the trick. It actually uses a Goodyear welt construction, which is great at that price! And of course it comes with Doc Martens' famous oil and fat resistant sole. 6pm.com has sizes 7 to 14 in stock.
Can't say I've heard of Shoe the Bear before. But Jack Threads has their Russ boots going with a deep discount. Regular price is $219.95! Jack Threads doesn't go into too much detail on the boots, other than they're full grain leather and made in Portugal. The Shoe the Bear website doesn't offer much more info. So construction remains a mystery. At this price, they could be worth a shot.
AJB007 forum member crt007 suggested these ones. And it is a great suggestion if you're not looking for a technical boot! They're lightweight, with an EVA foam mid-sole. But it looks like Eastland made them for AEO, and they're known for delivering pretty good quality for the price. They definitely nailed that DAnner look! Whole sizes 7 to 13 are available on the AEO website.
They're definitely more of a "fashion" boot than a technical hiker. But the uppers look to be full grain leather. And they do have a Gore-Tex® liner, which will help keep your feet dry. Not sure about that maroon mid-sole, though. 6pm.com has sizes 10 to 12 in stock.
Under $200
Another option from Clarks. AJB007 forum member explore007 suggested these ones and states they've served him well. The Lawes do have a stitchdown construction and a Gore-Tex liner®. Those are points in their favor. But I doubt that EVA sole will stand up to much punishment. Reviews also say the stiff leather is a bit of a challenge to break in. They're on sale at Clarks U.S., while their UK site still has them at full price. You can also try the "guess the real price" game at Amazon U.S. They have the boots priced between $122.99 and $174.99.
Under $250
This is an excellent price for these boots. The classic Merrell Wilderness model has been around for decades and hikers recognize them as serious boots. They feature full-grain leather uppers with a wicking liner, Norwegian welted construction, a strap-on crampon compatible Vibram Roccia Block sole, and Italian metal hardware. And Merrell makes them in Michigan, U.S.A.  In short, they're Merrell's version of the Mountain Light 2s. Actually, they're better than the Danners, if you want my honest opinion. Regularly four hundred bucks, 6pm.com has them on sale and is stocking sizes 8 to 11.5. Just don't expect an easy break-in period. These puppies are stiff at the start!
I swear 6pm.com is not sponsoring this post! They just have the best prices right now, for whatever reason. Take these Fryes for example. Regularly $368, they're now on sale for 40% off. The Evans keep the trad styling of the Danners and use a Goodyear welted construction and full leather lining. All nice things to have in a boot. Sizes 7.5 to 12 are in stock at the time of writing.
So, props to Thursday Boot Co. for fully embracing the whole "office-worthy hiking boot" trend. If you're looking for something a little sleeker than the Danners, these should work for you. Full grain leather uppers, Goodyear Welt construction, and glove-leather lining. The product description doesn't say if these are made in Thursday's Leon, Mexico factory or their one in New York. I'd assume it's the former. And the sole is more of studded Dainite style. Good for wet sidewalks. Not so good for the snow-capped Alps. They have sizes 6 to 14 in stock on their website.
What did I miss? Have a suggestion? The comments are open so share away! And you can also visit our Facebook page, Instagram feed and Pinterest Boards for more Bond style inspiration!