Best Budget Bond Finds December 2016
"Best Budget Bond Finds" shares the top discoveries from the previous month. Some of these will have already been included in past posts and are deserving of another mention, some will be great alternatives found by the intrepid community, and some are just odds and ends that don't currently have a home.  
Well, Christmas has come and gone and here we are at the start of January. Which means the credit card bills haven't started to arrive just yet. Which means it's easy to fool ourselves into thinking we still have some cash to spend. The good news is many of the alternatives we found in December are now beginning to hit the winter clearance sales. So there's some decent deals to be found.
Another Solid Alternative for the Brunello Cucinelli SPECTRE Belt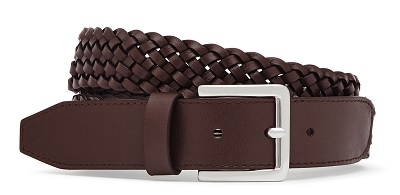 AJB007 forum members Portent and Chriscoop found this one. Still missing the original's full frame buckle. But that plaiting and the solid leather strap end make it a very good affordable choice. REISS has sizes 32 and 34 left in stock. You can find more belt options in this post.
And some boots to go with that belt
Based on the description on their product page, the Boondockers look like they're both an excellent alternative for the J.Crew Kentons AND good quality boots at a fair price. Genuine suede with a pigskin collar and Goodyear Welt construction, Goldenfox currently has sizes 7.5 to 10.5 in stock.  If you're really on a budget, you can also check out their factory seconds for $39.99. We looked at other options for the Kentons over here.
And how exactly are you defining "affordable"?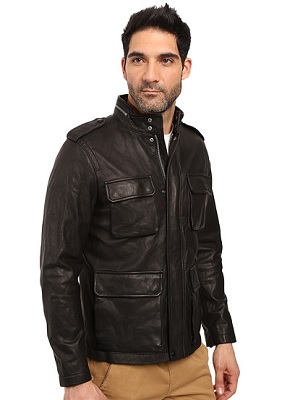 Okay, so hear me out on this one. First, $400 plus is a lot of coin. I get that. But a lot of people are still looking for a decent alternative for the Armani leather jacket Bond wore in Miami in Casino Royale. And while this one is not screen accurate (black not brown, epaulets, etc.), it does have the four pockets and attitude of the original. It also happens to be on sale for 65% off a suggested retail price of $1200. If this is a style you like, it could be worth the investment. 6pm.com has sizes medium and large left in stock. You can find other options for the Armani Casino Royale jacket over here.
And speaking of investments …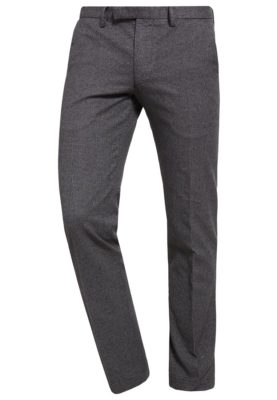 Well, that ain't the £10.00 the Burton trousers ended up at. But we're left with only two or three sizes in that option. Meanwhile these are currently almost 50% off with sizes 30 to 42 left in stock. A very slim fitting 98% cotton/2% spandex, the pattern is a great match for the Neil Barrett's Bond wore in SPECTRE. We shared some other alternatives in this post.
ZARA updates their JV Racer alternative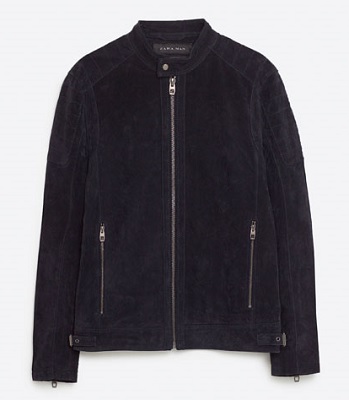 And we're not sure all the updates were necessarily improvements. ZARA has increased the "busy-design-details" of the jacket. And lost some of the screen accuracy last year's simpler model offered in the process. Still, a decent genuine suede jacket in dark navy that comes close to the John Varvatos model Bond wore during SPECTRE's London finale isn't easy to fine. Especially for under $150.  Zara's U.S. website is out of stock in size medium. But small, large and XL are still available. Remember this is ZARA, a European brand well known for it's slim-fit. Sizing up should be considered.
Okay, back to reality …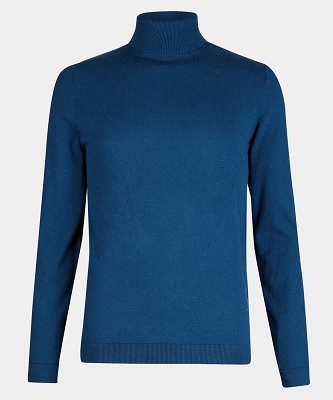 This will work as a budget option for the N.Peal mock neck 007 wore under his Tom Ford quilted front jacket during his visit to the Hoffler Klinik in SPECTRE. Remember the neck on that one was pretty high, so the full turtleneck/roll neck of the Burton alternative won't look too dissimilar. The material is a 82% viscose/18% nylon blend and sizes small to XXL are available on their website. To see other options for the N.Peal mock neck, check out this post.
For the home …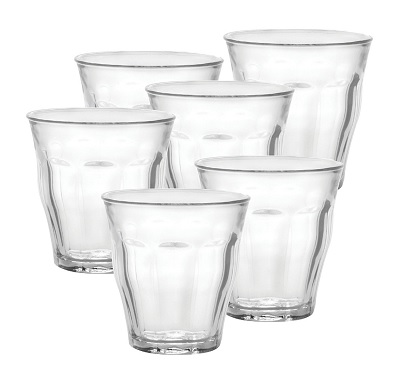 In this AJB007 thread, forum member Tintin originally identified the Duralex as the glass Bond uses while enjoying death in that beach bar in Skyfall. According to this article at James Bond Lifestyle, 007 used a similar glass in Quantum of Solace and Goldeneye. Not often you find a product with that much 007 history for under twenty-five bucks! If you're interested in other decorating tips to create a Bond-style apartment, this post is a good place to start.
Did you find anything good last December (other that what was under the tree)? Share your discoveries in the comments below! And remember you can catch us on Facebook, Instagram and Pinterest if you're looking to stay on top of deals from around the net or just need some inspiration.