Tom Ford Ivory Shawl Collar Cardigan
Updated September 9th, 2019 – Way back in November of 2008, GQ UK published an interview with Daniel Craig to promote Quantum of Solace (you can read a reprint of that interview here). And as part of the photoshoot for that article, Mr. Craig wore a Tom Ford ivory shawl collar cardigan. That same cardigan in black would be worn during Mathis Villa scenes in QoS. And the rest is history.
While finding affordable alternatives for the black shawl collar cardigan has been an obsession around these parts for a while (okay, my obsession!), that cream/ivory colored version also deserves a serious look.
And why is it deserving of attention you may ask? Because it looks really cool! The cream/ivory color evokes the classic and manly Aran knit fisherman's sweater. But the simpler rib knit gives the sweater a more streamlined, less busy attitude. It's like a perfect mix of rustic traditional and urbane. Both Daniel Craig and David Beckham wear it well.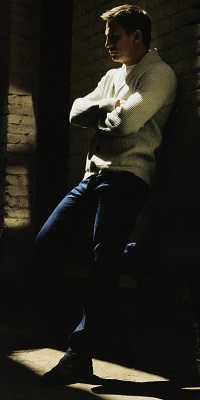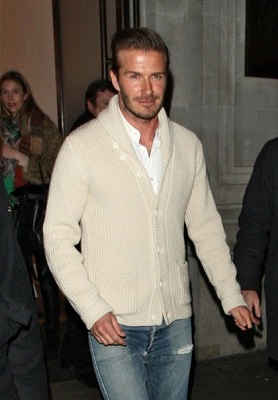 And I even tried my own take on the look using a now sold out cotton alternative from Celio: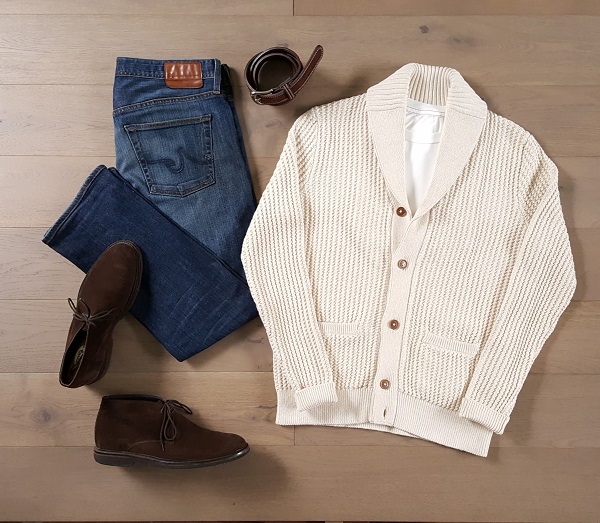 This has quickly become one of my favorite looks to just throw on for a casual night out. I just need to be careful not to spill anything on myself!
Features Wanted for the Tom Ford Ivory Shawl Collar Cardigan
Rib knit texture
Five button closure with black leather buttons
Patch hip pockets
So basically everything we want from the Quantum of Solace cardigan. But in cream/ivory.
Best Option for the Tom Ford Ivory Shawl Collar Cardigan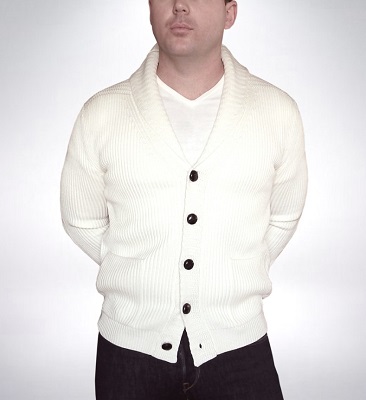 What more can we say about the work of Daniel Love and ROYALE Filmwear? He's helped hundreds of Bond fans get the style they want by creating screen-accurate reproductions that are both reasonably priced and incredibly well made. The ivory version of the extremely popular Quantum Cardigan is no exception. Made from soft 100% Merino wool, it shows all the attention to detail we've come to expect from a ROYALE piece. I'm not sure how long the sale is going to last (or these will remain in stock), so grab one now while you still can! Sizes XS to Large are available. But note that they're sized small, so check the sizing chart before ordering!
Under $100
At one point back in 2016, Le Chateau had one of the best affordable alternatives for the QoS cardigan available on the market. Sadly, that option is long gone. But their Cotton Shawl Collar Cardigan does a decent job of meeting our current needs. Made from 100% cotton, the construction is a subtle rib knit. Again, the lack of pockets is an issue. But if you're looking for something brighter than ivory, this is an option worth considering. Sizes XS to XXL are available.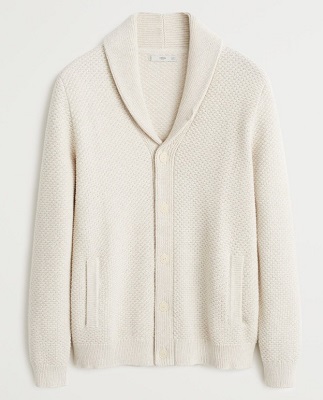 A new one for this season. Mango was on a bit of roll this summer with great alternatives for some popular Bond pieces. Let's hope that continues through the fall. This particular 100% cotton cardigan isn't a ribbed knit (more like a modified seed stitch). And the buttons and pockets are obviously different. But the slim-fit style and color have the right look. Mango has sizes XS to XL available.
Under $200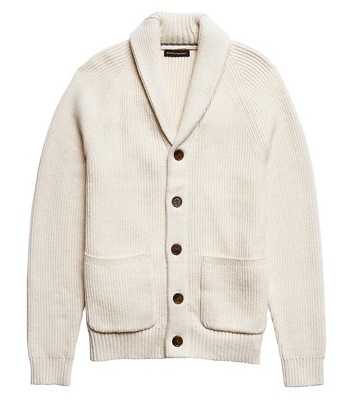 A great match from the Gap's sister brand. We get the ribbed knit, the patch pockets, the five buttons (albeit in brown faux horn), and a spot-on color. They've used a 57% cotton, 33% nylon, 9% wool, 1% spandex blend yarn, which adds a little stretch and helps makes it easier to clean. The only strike against it I can see is the use of raglan sleeves instead of the set-in sleeves on the Tom Ford. Sizes XS to XXL are in stock on the website. And when it comes to Banana Republic, I'd recommend being a little patient until one of their frequent sales comes along.
Under $300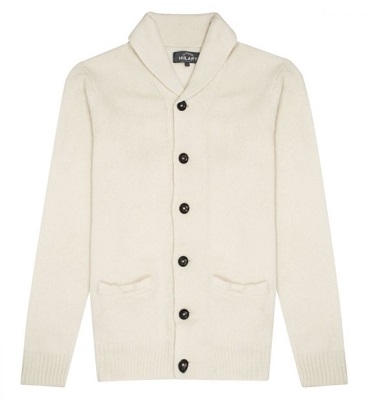 This one requires a little back story. Some of you may be unaware that New Zealander Sir Edmund Hillary and his partner Tenzing Norgay were the first people to summit Mount Everest (Chomolungma in Tibetan and Sagarmatha in Nepalese) on May 29th, 1953. After this historic achievement, both men continued to build on their legacies by devoting their energies to improving the lives of the people of Nepal. This led to the creation of the Sir Edmund Hillary Foundation, which is still working with local organizations to help build hospitals, schools and develop infrastructure in the region.
The Edmund Hillary brand was co-founded with the direct involvement of the Hillary family and donates a percentage of each sale to one of the causes close to Sir Edmund's heart. It's clothing designs are inspired by the heritage mountaineering and sportswear of the 1950s, with most of the manufacturing done in Great Britain and New Zealand. For example, the cardigan above is made from 100% British Lambswool in Yorkshire. I've linked to The Rake above for those of you in the U.S. But if you're in the UK, check out the Edmund Hillary brand website for the sweater and to see more from their collection. There's definitely some cool pieces!
The Investment Piece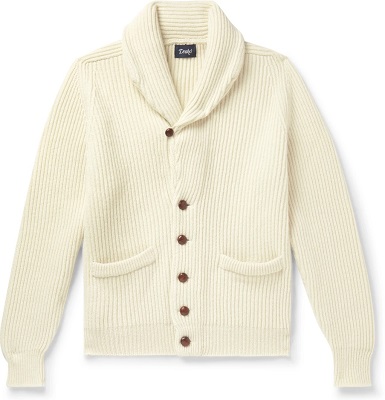 I thought I'd add this one since Drakes' might possibly become a Bond brand in No Time To Die. There's also the fact that their cardigans (especially the cashmere pieces) are something of a grail item for many #menswear enthusiasts. Drake's made this particular piece in Scotland using 100% lambswool and finished it with natural leather buttons. I believe this color is from last season. So it's no longer available directly from Drake's. And sizing is getting very low on Mr. Porter.
Do you have any alternatives for the Tom Ford Ivory Shawl Collar Cardigan you'd like to share? That's what we use the comments for! And please check out our Facebook page, Instagram account, Twitter account and Pinterest Boards for more Bond and McQueen style advice and inspiration!