Tom Ford Ivory Shawl Collar Cardigan
Updated February 13th, 2018: Way back in November of 2008, GQ UK published an interview with Daniel Craig to promote Quantum of Solace (you can read a reprint of that interview here). And as part of the photoshoot for that article, Mr. Craig wore a Tom Ford ivory shawl collar cardigan. That same cardigan in black would be worn during Mathis Villa scenes in QoS. And the rest is history.
While finding affordable alternatives for the black shawl collar cardigan has been an obsession around these parts for a while (okay, my obsession!), that cream/ivory colored version also deserves a serious look.
And why is it deserving of attention you may ask? Because it looks really cool! The cream/ivory color evokes the classic and manly Aran knit fisherman's sweater. But the simpler rib knit gives the sweater a more streamlined, less busy attitude. It's like a perfect mix of rustic traditional and urbane. Both Daniel Craig and David Beckham wear it well.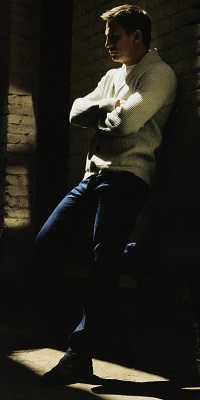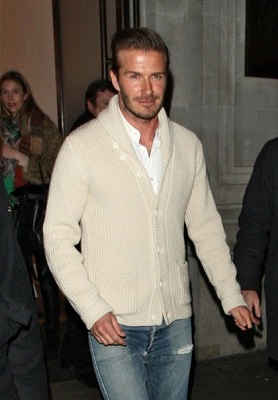 And I even tried my own take on the look using a now sold out cotton alternative from Celio: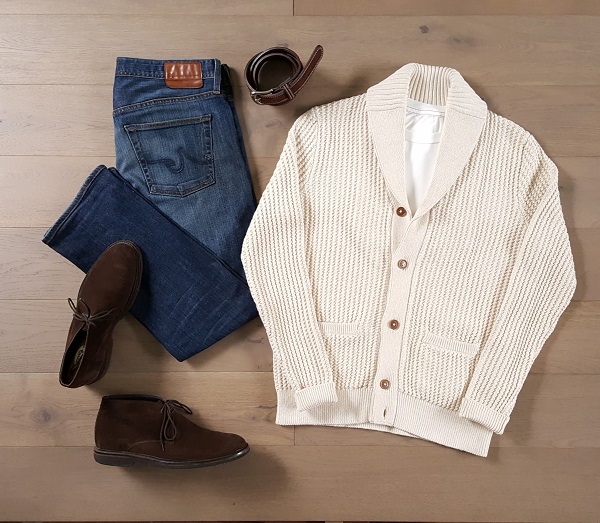 This has quickly become one of my favorite looks to just throw on for a casual night out. I just need to be careful not to spill anything on myself!
Features Wanted for the Tom Ford Ivory Shawl Collar Cardigan
Rib knit texture
Five button closure with black leather buttons
Patch hip pockets
So basically everything we want from the Quantum of Solace cardigan. But in cream/ivory.
Best Option for the Tom Ford Ivory Shawl Collar Cardigan
A cotton/acrylic blend, ribbed and seed-stitch knit alternative that hits most of the right style notes. Express is down to sizes medium, large and XL, but those are going pretty quickly. Just remember that this is Express, and the fit on their products tend towards the slim side.
Under $100
A nice, straight-forward, ribbed knit option from La Redoute. The cardigan is missing the patch pockets, but the color and texture are a great match. And it already has dark buttons (although they're plastic instead of leather). The yarn is a 60% cotton, 40% acrylic blend. They have sizes small to 3XL on their UK site. It doesn't seem to be available in the U.S.
This 100% cotton alternative from the famous American designer uses a waffle knit instead of the ribbed. And we're missing pockets. Plus we get that (in)famous Hilfiger flag logo on the chest. But the price is certainly right and Amazon has almost all sizes in stock.
At one point back in 2016, Le Chateau had one of the best affordable alternatives for the QoS cardigan available on the market. Sadly, that option is long gone. But this season their Cotton Shawl Collar Cardigan is doing a decent job of meeting our current needs. Made from 100% cotton, the construction is a subtle rib knit. Again, the lack of pockets is an issue. But if you're looking for something brighter than ivory, this is an option worth considering.
Under $200
And now for the super-streamlined option, courtesy of AJB007 forum member Chriscoop. The REISS Millside is the opposite of chunky. Even they've used 100% wool yarn, the knit on the body is almost flat with the subtle rib knitting kept on the sleeves, collar and placket. One thing I really like is the placement of the two buttons at the hem. Since (traditionally) you're supposed leave the bottom button of your cardigan unfastened, having two buttons close together really helps. The recent sale price is great, but available sizes are getting low.
Do you have any alternatives for the Tom Ford Ivory Shawl Collar Cardigan you'd like to share? That's what we use the comments for! And please check us out on Facebook and Instagram if you'd like to see more fun "Bond style" content!