R.M. Williams Gilchrist Tobacco Suede Chelsea Boots
It's no secret that Daniel Craig is a fan of R.M. Williams products. Their classic Craftsman model boots have long been a favorite, and that O-Ring woven belt still gets a lot of play. So it's not really surprising that for a while this year, one of his "go to" pair of boots was the R.M. Williams Gilchrist Tobacco Suede Chelsea Boots.
Thanks to the diligent reporting of Instagram account What's Daniel Wearing (@whatsdanielwearing), we saw lots of pics of the man-who-is-Bond strolling about town in them.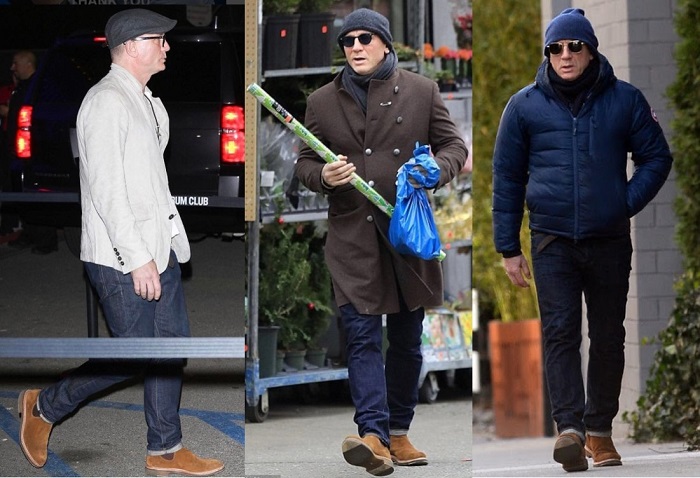 Unfortunately, the Gilchrists are sold out everywhere. So even if you could afford to spring for the real deals, they're going to be very tough to find. However, there are more than a few solid alternatives out there right now.
Features Wanted for the R.M. Williams Gilchrist Tobacco Suede Chelsea Boots
A more rounded shape than the R.M. Williams Craftsman
Tobacco or reddish tan colored suede uppers
Dark brown elastic gussets
Natural colored mid-sole
Rubber out-sole
Best Option for the R.M. Williams Gilchrist Tobacco Suede Chelsea Boots
Two things. First, this is undoubtedly a made-in-China boot, with a glued on sole with accent stitching that's just there for show. Second, Nordstrom's in-house 1901 footwear has a surprisingly good reputation for fit and quality. The Hortons, for example, are currently sitting with 4.8 stars out of 5 after 9 reviews. And those people that gave it 4 stars mainly commented on the boots running a little bigger than expected. Obviously the suede uppers are darker than the Gilchrists; there's also the darker sole to consider. But value for money? I think these are hitting a sweet spot. Only problem is the sizing. It's getting pretty spotty. If they don't have your size in this color, you can check out the Mushroom Suede option. It leans a little more brown but still has that touch of red tone.
Under $100
Coming to you from Amazon. Where, by the way, it has 4.4 stars out of five. Comments claim the color is a little darker than it appears online. But it does have the lighter colored outsole, which is a bit of a rarity. Both Amazon U.S. and UK have U.S. sizes 8 to 13 available. And of course the price will vary depending on the size you need. 'Cuz Amazon ….
A basic, inexpensive Chelsea with a bit of funkiness added. Not everyone will be a fan of the V-shaped gusset and slightly burnished toe. But if you're looking for a pair of beaters that get you the look, these aren't a bad option. Sold directly from River Island. They have U.S. sizes 7 to 13 in stock.
Under $200
Dr. Scholl's you say? Well, we're getting a close color match and a light-colored, albeit full crepe rubber, outsole. And given that they're known for their footbeds, these should be comfortable. I actually had a pair of Dr. Scholl's alternatives for the Islays for a while, and I have to say the quality seemed decent and they held up pretty well. Zappo's is stocking the Credence with sizes 8 to 13 available.
A bit of a steal, considering the original MSRP was $278.00. Even though their boots are mostly made offshore now, Frye does tend to use good quality leathers. In this case, it's Italian oiled suede. But that black crepe sole won't be to the liking of some. Available through 6pm.com. They have sizes 7 to 13 in stock, with no 9s or 9.5s available. If you are a fan of Frye boots and feel like making a bit of an investment, check out the Frye Jones Chelsea in Italian Tobacco Suede. It's Goodyear welted and comes very close to the look of the Gilchirsts. Zappos is offering those for $328.00.
Under $300
Part of Herring's "Classic" line, the Ringwoods are made in Spain and feature a Goodyear Welted leather sole. Although the brown suede is darker than the Gilchrists' Tobacco color, it's easy to recommend a pair from Herring Shoes given their track record for excellent quality at a fair price. Sizing is getting a little spotty online, so it may be worth giving them a call. If your size is not available (or you prefer a made in the UK product), take a look at the Loake Chatsworth Chelseas in Brown Suede for $237.00/£210.00. Herring has all sizes available in that model.
I was soooo close to making these the "Best Option". Meermin's quality has a very good reputation. These are built on their popular Hiro last, so the fit should work for most people. The suede color is a great match for the Gilchrists and they have a lighter colored outsole. Lots to love here. So what stopped me? Meermin's return policy. These are shipped out of Spain. And if they don't fit, you get stuck with the return shipping charges. Since most of you dear readers live in the U.S. or the UK, that makes ordering from Meermin pretty risky. But if you can get your size dialed in the first time around, then these should definitely be considered!
The Investment 
A more streamlined, lower profile style than the Gilchrist. But that suede is a really nice color match. And the outsole also comes very close. Then there's the fact that these are made in Italy (which will be a selling feature for some). And lastly, Barneys is offering free returns on international shipments for a limited time. So that helps mitigate a bit of the risk for those of you living outside the U.S. Barneys has sizes 7 to 12 in stock.
Found any alternatives for the R.M. Williams Gilchrist Tobacco Suede Chelsea Boots you'd like to share? Scroll down a little and leave a comment! And head over to our Facebook,  Pinterest, and Instagram pages if you'd like to see more Bond!