Best Budget Style Finds October
Our Best Budget Style Finds for October shares the top discoveries from the previous month. Some of these will have already been included in past posts and are deserving of another mention. Some will be great alternatives found by the intrepid community. And some are just odds and ends that don't currently have a home.
Starting with some SPECTRE Style for Fall …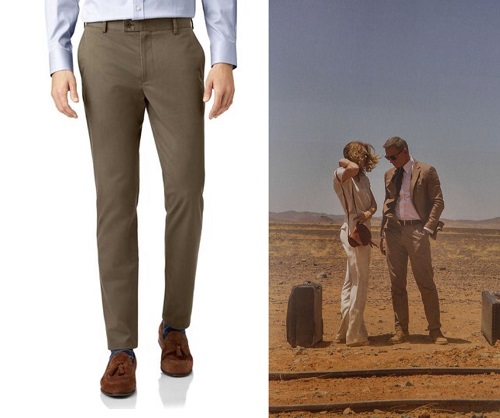 A new arrival from Charles Tyrwhitt. And if you have a darker color Morocca Blazer alternative, these would be a great color match. The 97% cotton/3% elastane fabric is going to give them plenty of stretch. And the anti-bacterial, non-iron and stain-release treatments mean they'll be easy to care for. In terms of style details, they have the button tab closure at the front and two buttoned jetted pockets on the back, just like the screen-used Brunello Cucinelli chinos. Charles Tyrwhitt has sizes 30 to 42 in four different inseams and three different fits in stock.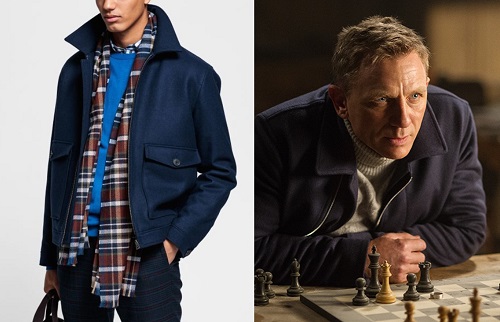 We'll be updating our dedicated post on affordable alternatives for the SPECTRE Dior Mr. White jacket in early November. But if the temperature is already dropping where you live, this option from GANT will help get you the look you want. Of course it doesn't have all the details that were unique to the Dior. The front zipper is a normal up-and-down instead of asymmetrical. And there's no buttons on the inside placket (although there are some on the hip pocket flaps). But it does come with an open hem and cuffs as opposed to the ribbed knit we see on so many alternatives. That "Marine" color also looks to be close to the Dior. And try telling me the larger collar isn't just begging to be popped! John Lewis has sizes small to XXXL in stock and they ship to the States. If you're in the UK, you can also order it directly from GANT.
Followed by some Skyfall Fall Style …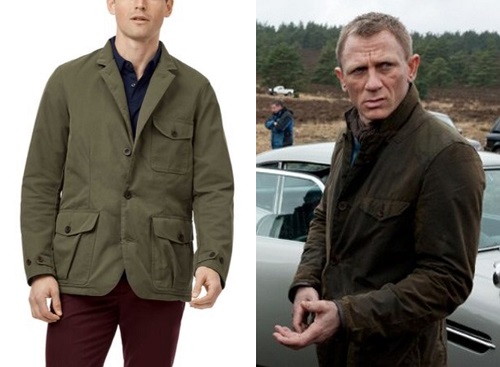 Heading back to Charles Tyrwhitt again, this time for a Barbour X To Ki To alternative. Let's first cover how it deviates from the original. The 60% cotton/40% polyester is not waxed. And obviously the "fatigue green" color is lighter than what we saw onscreen. The jacket is also lightly insulated for cooler temps. Having said all that, those bellow hip pockets and the country blazer styling really help give it the right look. Sizes small to XL are available on their website. And our dedicated post on alternatives for the To Ki To is getting updated later this month.
How about some non-Bond Craig Style to mix it up?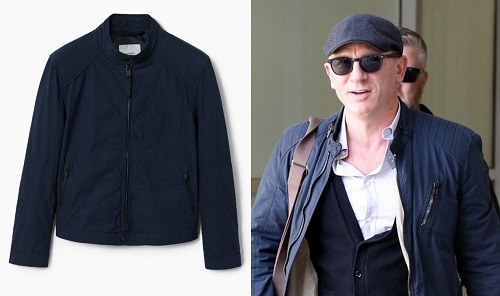 From the company that brought you the awesome alternative for Bond's No Time To Die blue Matera Jacket. A few years back, Mango also had an excellent affordable alternative for the K Racer. This one isn't quite as good as that one. It does have the reinforced shoulders, but they're missing the quilted padding that runs down the upper sleeve. And the chest pocket is a patch design with a hidden zipper. Even with those differences, it still has the right modern Cafe Racer vibe thanks to the cotton/polyamide outer fabric, the zippers at the cuffs and trimmer fit. Mango UK has sizes small to XXL in stock. But the jacket is long gone on the Mango U.S. site unfortunately.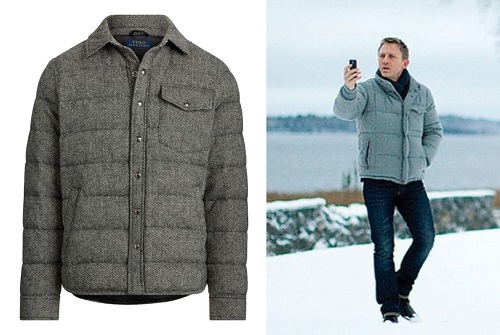 Nearly eight years later and I still really like style costume design Trish Summerville created for Daniel Craig's Mikael Blomkvist in The Girl With the Dragon Tattoo. And that grey Moncler Cezanne puffer jacket he wore is definitely a classic. This shirt jacket from Ralph Lauren isn't what I'd call an exact match. The shirt collar and darker color are obvious differences. But the wool blend outer fabric has the right texture. It also has the flapped patch pocket on the chest. And its length and cut come very close to the screen used puffer jacket. Plus, the 750 fill power down insulation will certainly help keep you warm in colder weather. Sizes XS to XXL are in stock on the website. The MSRP is $298.00. But if you use the code RLFAMILY (vaild until October 15th) you'll get the 30% discount.
A Little Sir Roger Inspo …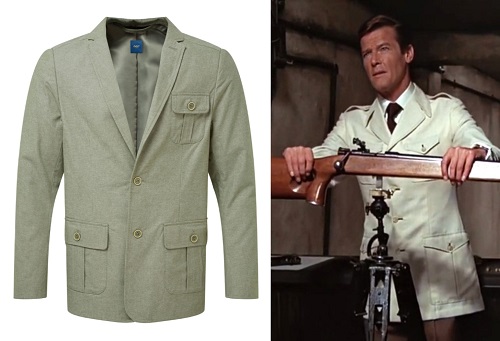 Think of this as an unstructured, modern take on Sir Roger's classic safari-style leisure jacket from The Man With The Golden Gun. The fabric is 100% cotton and it's fully lined. The "Leaf" green color isn't screen accurate. But it could work better with your fall outfits than the more summery cream color Bond wore. Cotton Traders has sizes 40 to 56 in stock. For more details on Roger Moore's outfit, check out this post on The Suits of James Bond.
And to wrap it up, some No Time To Die alternatives …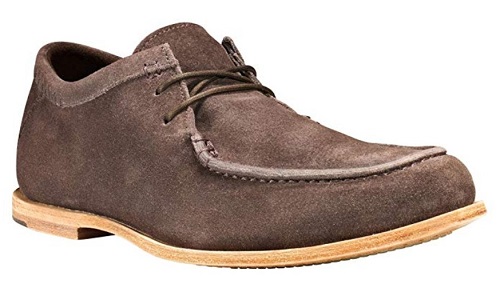 Our Facebook friend Sean recently sent us a couple of great suggestions for some No Time To Die alternatives. Starting with these Timberlands which can work as more affordable substitutes for the Drake's Crosby Moc-Toe Chukka Boots Bond wears in Matera. They're more of a lower cut, shoe style than the Crosby's. And those brighter outsoles will need some edge dressing to darken them up and make them more screen-accurate. But the Tauk Points have the correct apron style vamp and a slightly trimmer profile. So they're not just another Wallabee clone. Sizes 9 to 12 (whole sizes only) are available on Amazon.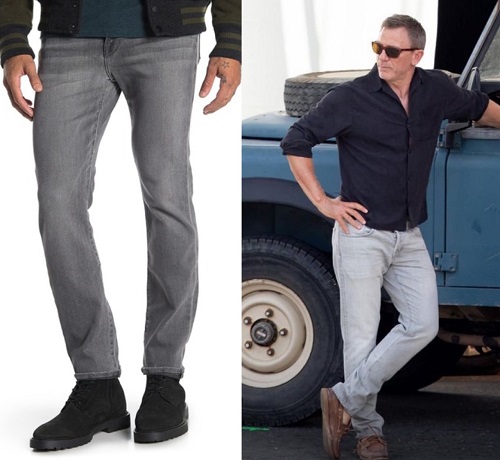 Next from Sean are this alternatives for the Tom Ford grey distressed selvedge jeans Bond wears in Jamaica. The fact that they're from one of Daniel Craig's favorite denim brands is just a bonus. The color does look a little too dark on the Nordstrom Rack product page. But Sean sent a pic of the pair he owns and it looks like they're actually lighter in real life.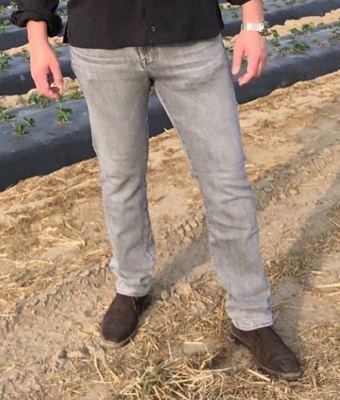 Size 30 is sold out on the Nordstrom Rack website. But sizes 29 to 40 are still in stock at the discounted price.
Seiko SRPD73K1: approximately £300.00/$350.00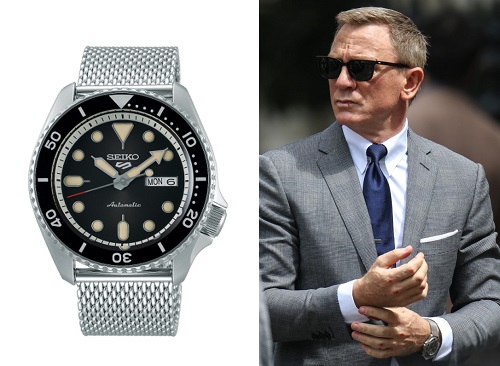 Way back in August, AJB007 forum member CB0012 shared the new lineup of Seiko's 5 Sports watches. And I've been meaning to add a least a couple of them to some posts ever since. The one that really stood out for me is the SRPD73KI, which (IMHO) would make a solid alternative for the yet-to-released No Time To Die Omega we've seen Bond wearing in some set photos. It's not just the looks (or the Milanese strap) that make me say that. The SRPD73KI is also a very well crafted watch. The 42.5mm stainless steel case houses Seiko's 24 jewel 4R36 automatic movement with a 41 hour power reserve. Features include a uni-directional bezel, exhibition case-back, Hardlex crystal and 100m water resistance, which makes it suitable for casual swimming.
Now the tricky part. The watch is no longer available at most of the bigger retailers. Which means we have to hunt around a little to get one. The online stores where I could find it were Masters in Time ($316.25), Steffans (£300.00), First Class Watches (£240.00) and Watch.co.uk (£312.00). You can also check out Chrono24 to find some other dealers. And remember to always be careful buying watches from international dealers you don't know. Even Seikos get faked, especially when they're as popular as this new 5 Sport series has been!
Did you pick up any good Budget Style finds recently? Share your discoveries in the comments below! And remember you can catch us on Facebook, Instagram, Twitter and Pinterest if you're looking to stay on top of deals from around the net or just need some inspiration!