The Essential James Bond Sweaters Part 1
It's sweater weather! This is the time of the year I look forward to the most. You see, I'm kind of a sweater addict. And 007 has certainly sported some damn fine knitwear throughout the francise's history. Put those two things together and you'll understand why I get excited writing about the essential James Bond sweaters every fan should have in his (or her) collection. There's a lot to cover here (so much that I had to divide this post into two parts!). So let's get started!
The Black V-Neck Sweater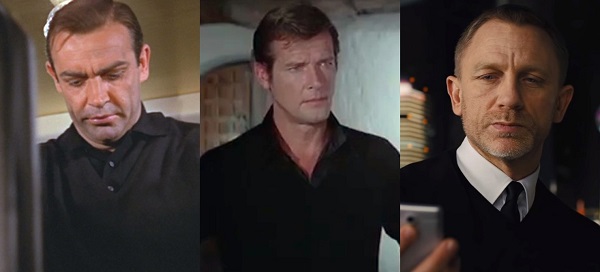 Bond certainly likes his black V-neck sweaters. From Connery's Goldfinger outfit to Moore's black-on-black look when he's being confronted by Anya in The Spy Who Loved Me to Craig's Shanghai style in Skyfall, this versatile piece of knitwear has been a consistant part of our favorite agent's wardrobe. When one sweater can help you capture this much Bond-style, it's definitely earned a place in your closet.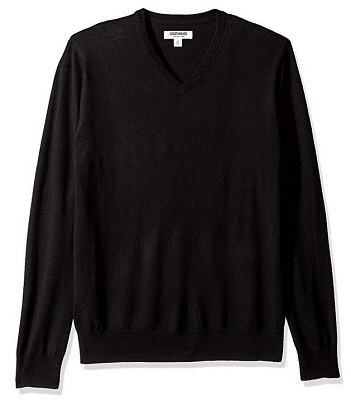 About as affordable as it gets. This is coming from one of Amazon's newer in-house brands and the quality of the wool and the fit are both pretty well reviewed (4.2 out of 5 stars after 185 reviews). Plenty of sizes in stock as well. If you want something basic that offers good value for the money (and who among us doesn't want that?) this one seems like a pretty solid bet.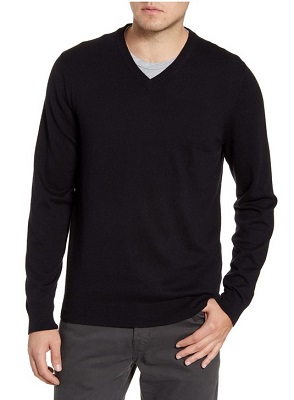 Looking for something lighter weight with a touch of luxury? This should do the trick. The knit is a 95% cotton/5% cashmere blend and Nordstrom has sizes small to XXL in stock. They also make the sweater in a "Burgundy Fudge Heather" color that could definitely work as a Goldfinger Slazenger alternative. And if you want to take things up a notch on the luxury scale, check out their 100% cashmere version for $145.00.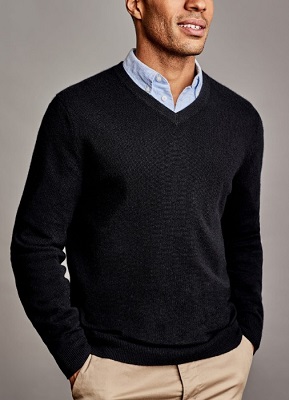 Speaking of cashmere …. Woolovers has sizes small to XXL for their 100% cashmere V-neck in stock on their UK and U.S. websites. Woolover's prices have crept up over the years. But it also looks like they've improved the fit from the boxier shapes we used to see.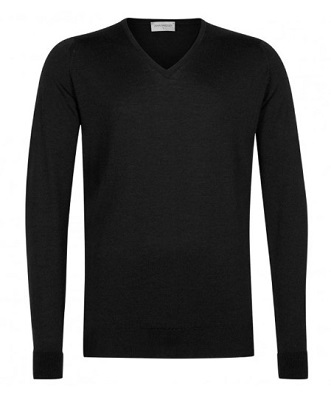 Yes, you can still get Bond's Skyfall Shanghai sweater. Made in England from extra-fine Merino wool, it's a slimmer fit than most traditional V-neck sweaters. Just something to consider when selecting your size. I've linked to Mason & Sons here. But you can also purchase the sweater directly from John Smedley for £170.00.
The For Your Eyes Only Grey Ribbed Knit Sweater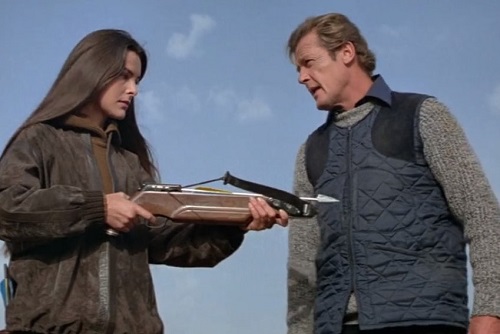 Still one of favorite looks from the Bond franchise (although I would probably keep the shirt collar neatly tucked away under the sweater). The combination of the heavy ribbed knit sweater with the quilted shooting gilet manages to combine "English gentleman" and proto-workwear in a way that would totally fit in with today's styles. We've already looked at some options for the gilet in our "7 Bond Jackets for Fall" article. But you should also seriously consider making the rustic fisherman-style sweater a part of your knitwear rotation.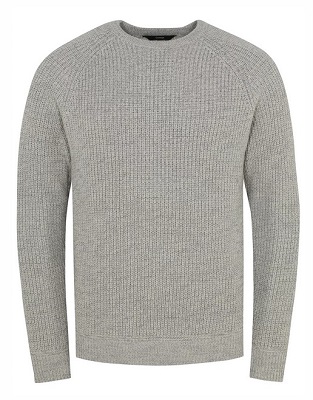 A true budget option for those of you saving your money for Christmas. The yarn is 100% acrylic and at this price I wouldn't expect stellar construction. But at least it'll be easy to take care of. Sizes small to XXL are available on their website.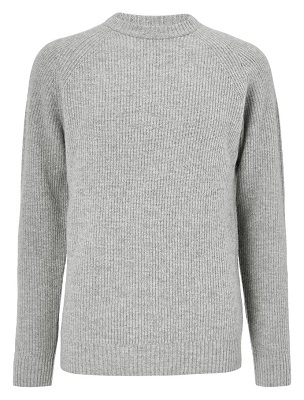 A 100% lambswool alternative from the well known British retailer. The sweater is a lighter color than Sir Roger's and the yarn is missing some of the darker marling we see in the original. But we are getting the more pronounced ribbed knit which gives it the rugged feel we want. John Lewis has sizes small to XXL in stock.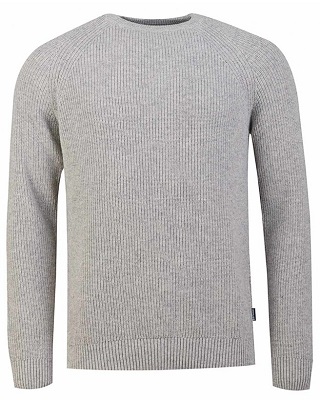 From the makers of Bond's now famous Skyfall Scotland jacket. The color is similar to the John Lewis option above. But the yarn is a 55% wool/45% cotton blend. So it should feel a little softer if you're wearing it over a t-shirt. The links above go to Psyche (UK Retailer of the Year, so congrats on that!). They have sizes small to XXL in stock and they do ship to the U.S.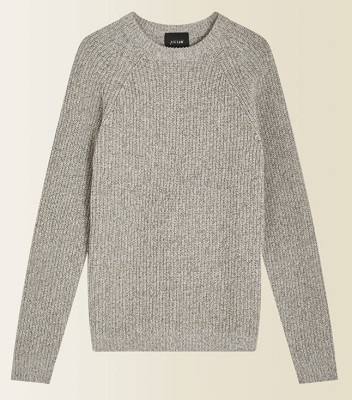 This option probably comes closest in terms of color and marling. And the 100% Merino wool knit has the heavier ribbed style that's key for this look. Sizes small to XL are available on the Jigsaw UK site. But their U.S. site hasn't come on-line yet and I'm not sure if they'll ship to the States.
The Grey Roll Neck Sweater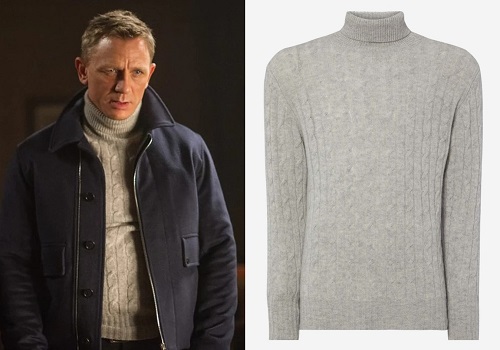 What more can we say about Bond's "Mr. White" sweater from SPECTRE? At this point almost all of us know he was wearing the N.Peal Cashmere Turtle Neck Sweater in Fumo Grey, which you can still purchase for £339.00. And even though it was only onscreen for a relatively short amount of time, it's definitely a fan favorite. Worn with the blue Dior jacket, it gave Bond a rugged but sophisticated look that has become something of signature style for Craig's 007. And that's a look we can all mine for inspiration in the colder months ahead!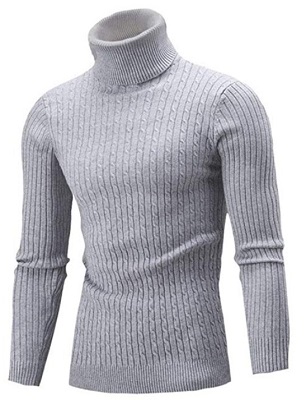 Let's play "Guess the Fabric"! Because there's no mention of what this one is made of on either the Amazon UK or U.S. site. Obviously it's one of those mass produced numbers that Amazon FBA stores sell under various obscure brand names. So if you dig around for a bit, I'm sure you'll find it at a cheaper price. But it the design and color aren't a bad match. Just watch out for the sizing! The U.S. site only lists XXS to XL. However, you'll find the actual measurements for each size on Amazon UK. Expect it to fit small!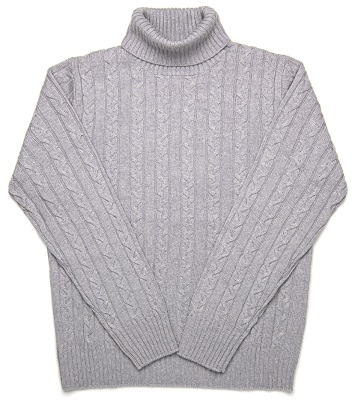 A great alternative suggested by our Facebook friend Sean (man, that guy has been killing it lately!). By offering high quality clothing at reasonable prices, the Canadian company has quickly established itself as a favorite with men's style aficionados. And this sweater seems to continue the trend. Made from 100% Merino wool finished with an anti-pill treatment, it certainly has the color and finer cable design we want. AJB007 forum member Enjoying Death has already purchased the sweater and he sounds pretty darn pleased with it. The only thing he recommends is sizing up. Spier & Mackay have sizes XS to XXL available on their website.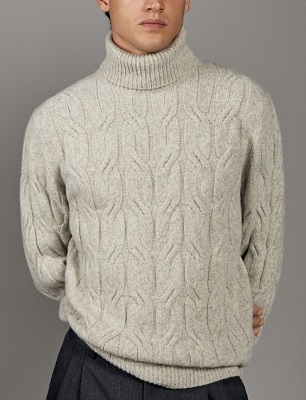 The pattern is a slightly bolder and more geometric cable design than what's on the N.Peal. However, that doesn't seem to be too bad a trade-off considering the 77% wool/6% yak/17% polyamide fabric sounds pretty comfy. Overall, the sweater definitely has a chunkier look to it than the N.Peal. But that could appeal to some of you. Sizes small to XL are available on the website.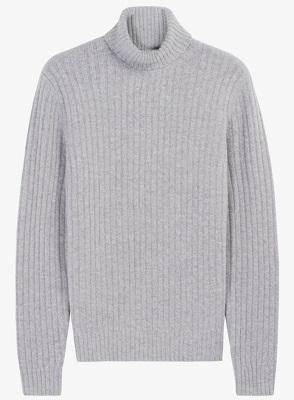 A great suggestion from AJB007 forum member Cheverian. This a ribbed knit instead of the cable knit. But it still has a similar vibe to the N.Peal. The real star is the fabric: a soft 52% wool/27% Alpaca/20% synthetics blend that should keep you warm and cozy when the temperature drops. Sizes XS to XXL are in stock on the SuitSupply website.
The Charcoal Grey Roll Neck Sweater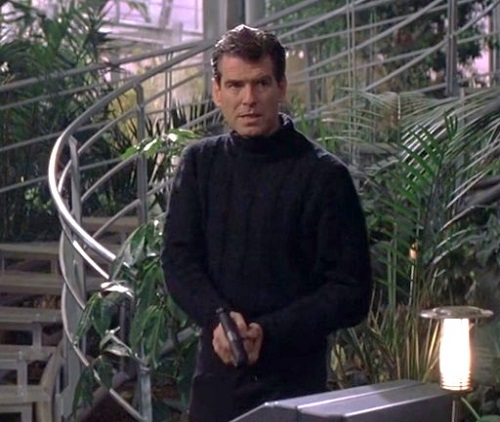 And we'll wrap up Part 1 with another awesome turtleneck: the charcoal cashmere Ballantyne Bond wore in Die Another Day. Made specifically for Brosnan's 007, its most distinctive feature is certainly the extra-wide ribbed knit. You'll find more information about the sweater in this article on James Bond Lifestyle. I'll only add that, although the movie may have its flaws, that sweater is an absolute winner!
This would also be a good time to mention that on October 18th, N.Peal will be launching their James Bond inspired collection. And one of the pieces will be a dark charcoal cashmere roll neck sweater inspired by, you guessed it, Bond's Die Anothe Day sweater. I'll be updating this post as soon as it becomes available. But you can also sign up here for notification from N.Peal when that collection launches.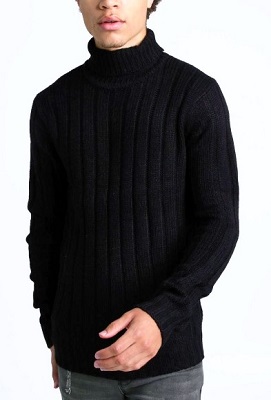 How's that for an affordable alternative! There's no information on the Boohoo website about the fabric. So I'm going to guess it's either acrylic or some kind of blend of synthetics. But, aside from being black rather than dark charcoal, it certainly nails the style details. Especially the wider ribbed pattern. Sizes small to XL are in stock.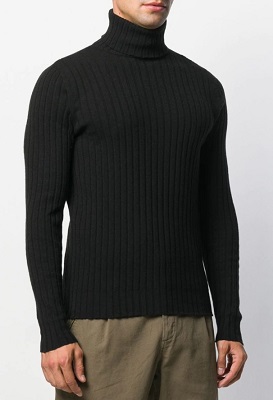 A sleeker, made-in-Italy alternative. But it still has a heavier ribbed knit than you'll find on your typical sweater. The yarn is a 40% wool, 30% viscose, 20% polyamide blend and the fit is definitely on the trim side. Farfetch has Italian sizes 50 to 54 in stock.
You can view Part 2 of our Essential James Bond Sweaters by clicking here. But if you think we missed a great alternative in Part 1, tell us about it in the comments! And if you haven't already, check out our article on How To Care for Your Cashmere Sweater so you can keep your new knitwear looking its best. You can also visit our Facebook page, Instagram account, Twitter account and Pinterest Boards for more James Bond style advice and inspiration!