The Essential James Bond Sweaters Part 2
In Part 1 of our exploration of the essential James Bond sweaters, we looked at designs from Goldfinger, For Your Eyes Only, Die Another Day, Casino Royale and SPECTRE. Now it's time to check out some Dalton-style knitwear and add a little color to our sweater collection.
The Living Daylights Charcoal Fisherman Sweater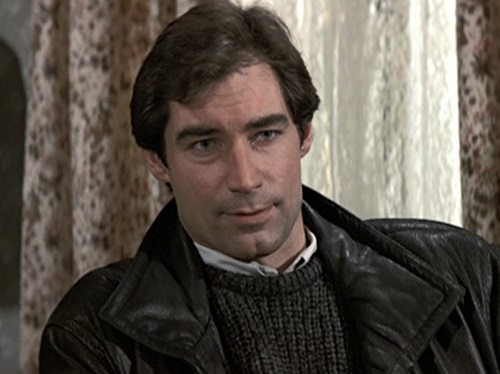 Very similar to the Roger Moore For Your Eyes Only sweater we saw in Part 1. Just in a significantly darker grey. Which, let's be honest, perfectly suits Mr. Dalton's portrayal of Bond. The fit of his leather jacket may be dated. But the sweater style is still a classic.
We should also note that on October 18th, N.Peal will be launching their James Bond inspired collection which will include a 50% cashmere/50% Merino wool version of this sweater. No word on the price yet. But Matt Spaiser just published a review of the sweater on his website The Suits of James Bond. To sign up for notifications from N.Peal on the launch of their collection just head over here.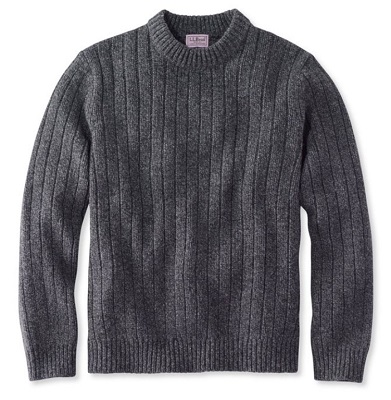 And here's another classic. L.L. Bean's Ragg sweater has been in the heritage brand's lineup for decades now. The ribbing is too wide for it to be completely screen accurate. But the dark charcoal color is a great match. It's made from 100% premium lambswool and sizes small to XXL are in stock.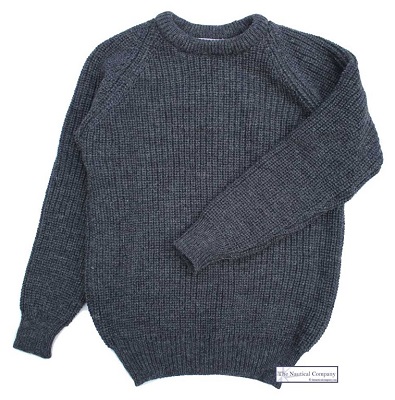 If you want a fisherman's sweater, go to a company that specializes in nautical clothing! And this one looks like a great alternative. The Nautical Company has used 100% wool and made the sweater in Ireland. So it's about as traditional as you can get. They have sizes small to XXL in stock on their website. But make sure to check the sizing chart before you order!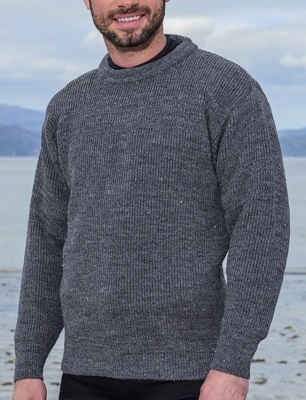 And another made-in-Ireland option from the Aran Sweater Market, this time in 100% worsted wool. Plus you get a signed and stamped Certificate of Authenticity with your purchase! Call me goofy, but I actually really enjoy small details like that. Sizes small to XXL are in stock.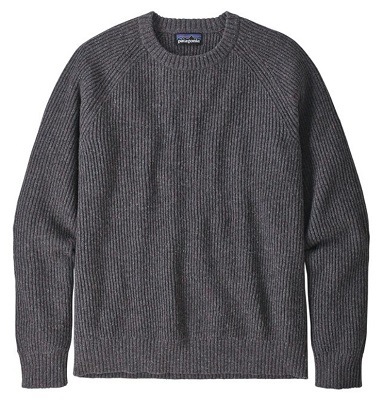 I'll call this one the "ethical choice". Anyone who knows anything about Patagonia is familiar with their commitment to preserving our environment. And that carries over into how the manufacture their clothing. In this particular case, they've used a 41% recycled polyester/34% recycled wool/20% recycled silk/5% other fiber blend yarn to create a 7 gauge knit sweater that comes very close to the style and color Bond wore in Bratislava. It also comes with Patagonia's "Ironclad Guarantee". Meaning if you have a problem with your product, they'll take care of it for you. The sweater is available in sizes small to XL.
The Teal Crew Neck Sweater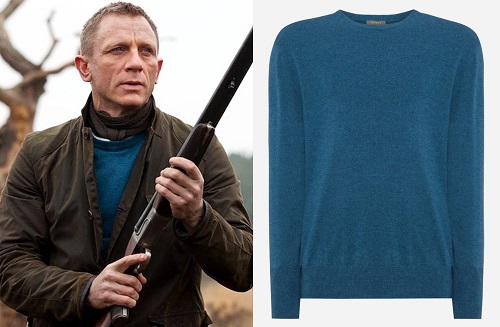 The knitwear that started Bond's relationship with British brand N.Peal. As we all know by now, the original screen used knit was their Cashmere Oxford Round Neck in Blue Wave, which you can still purchase for £269.00. And on a list dominated by blacks and greys, it's good to add a little color to the mix. Even if that color is a little difficult to find. N.Peal spends a lot of time getting their colors just right. So finding an exact match isn't easy.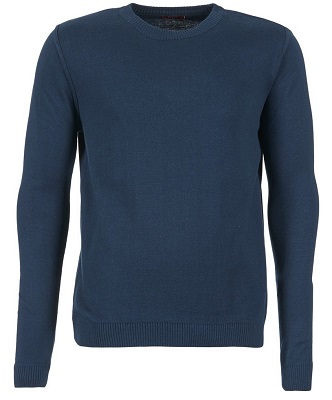 The color will work just fine, thank you very much. And so will the price. Of course, we're not getting luxury cashmere for £22. Instead, the fabric is a 50% cotton/50% acrylic blend. This looks to be a pretty standard fit in the product photos on the Spartoo website. But they still recommend going up a size.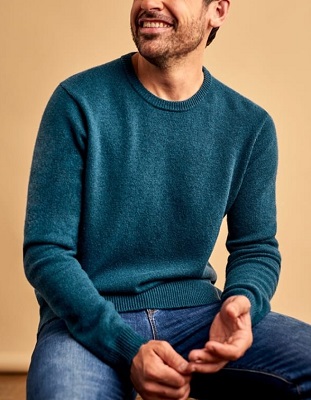 100% Italian lambswool, a new trimmer fit, a very close color match and a reasonable price. All together that seems like seems like solid value for the money. Woolovers has sizes small to XXL available.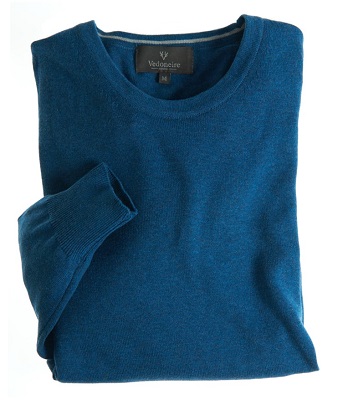 A high quality, 100% cotton alternative from the Irish brand that makes one of my favorite McQueen waxed moto jacket alternatives. This model as been around for years now. And for those of you worried about ordering from Ireland, don't be. I bought my jacket directly from them and had it shipped to the U.S. with no problems (and no extra duties). Sizes small to XXL are available on their website. A great choice if you find it difficult to wear a 100% wool sweater.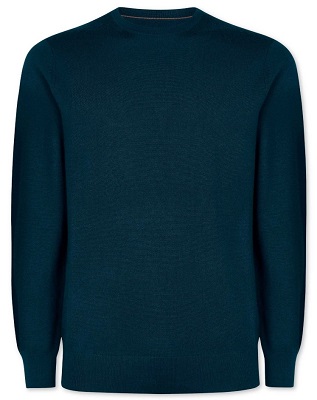 The color is darker than Bond's sweater. But some may prefer that. Made from 100% Merino wool, the fit has been updated to be a little trimmer and more contemporary. They also claim it's machine washable. But I'd still be hesitant to try that. Charles Tyrwhitt have sizes XS to XXXL in stock.
The Black Polo Collar Sweater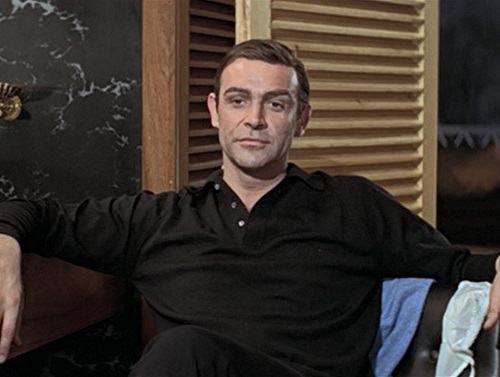 If any sweater can beat the v-neck as Bond's favorite style it's the polo. Connery wore it in black in both Thunderball and Diamonds are Forever. Dalton sported a dark navy one with an extra long placket in The Living Daylights. And Craig wore a black (presumably cashmere) version when he broke into M's apartment and a brighter blue cotton one for his run through Venice in Casino Royale. While any of those can work in a man's wardrobe, I feel like that the black knit version is the one with the strongest Bond connection.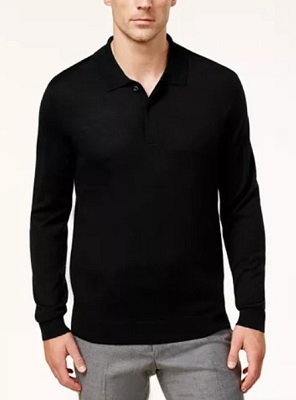 First the warning: that sale price only lasts until October 14th. After that it jumps back up to $75.00. At least until the next Macy's discount promotion starts. As for the polo itself, the fabric is a wool/acrylic blend (no mention of the percentages). More interestingly, it has a covered placket. So the three buttons aren't visible when the collar is done up. Not screen accurate, but still kind of a classy touch. Sizes small to large are in stock.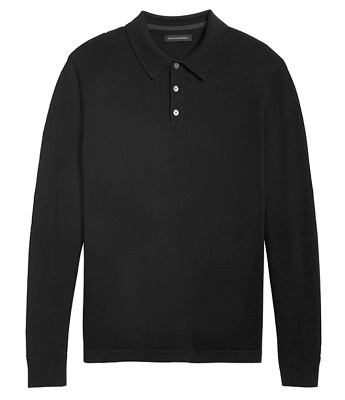 This one looks like a real winner. Banana Republic has used 100% extra-fine Merino wool from the Italian mill Zegna Baruffa. And I'd expect the fit to be typical of Banana Republic's trimmer styling. The only negative? It has some grey contrasting piping along the button side of the placket. Sizes small to XXL are in stock and it comes in both regular and tall lengths.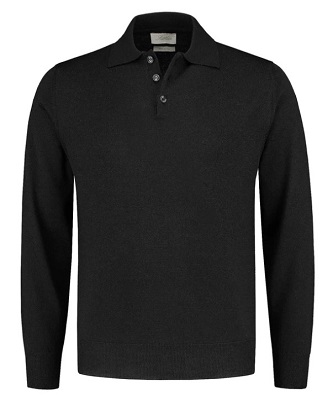 I've shared this sweater more than a few times now. And I still think it offers great bang for the buck. Handmade in Italy from 100% extra-fine Merino wool from the Zegna Baruffa mill, it comes in a trimmer fit that will work well on its own or layered under a jacket. Sizes medium to XXL are in stock.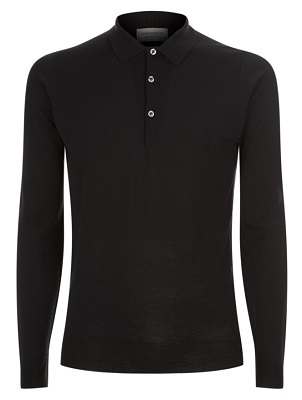 And a final alternative from the maker of Bond's Skyfall v-neck sweater. Once again, we have a 100% extra-fine Merino wool knit, this time made in England. It also has a slightly longer placket with more space between the buttons, which nicely matches the style of Connery's polo from Thunderball. You can buy the sweater directly from John Smedley. But I found the price for those of you in the U.S. to be better at Harrods, so that's what I've linked to above. They have sizes small to XXL in stock.
The Navy Aran Knit Sweater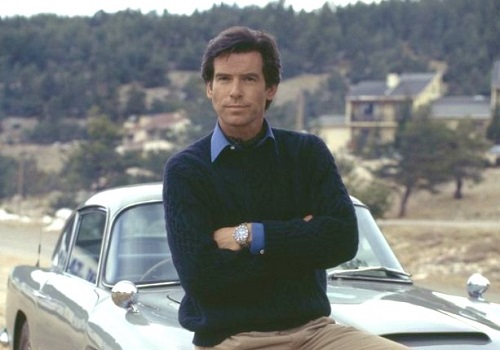 I do love me a traditional Aran knit! And although Bond has only worn the style one time in Goldeneye, he did pick a nice one. The heavier weight knit and pattern give it a suitably rugged look. But by going with a dark navy in a slightly trimmer fit, it comes across as a more sophisticated piece of knitwear, one that's appropriate for a man driving the iconic DB5. If you're looking for a great weekend sweater for your winter wardrobe, this is definitely a style to consider.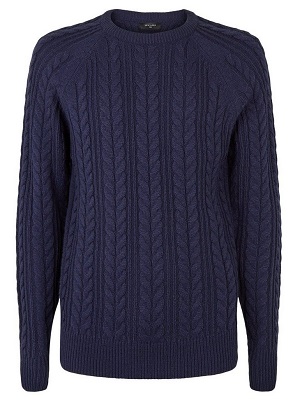 An affordable option that has the right style details. New Look has gone with a 100% acrylic yarn. But the sweater does have the cable knit down the sleeves like we saw on Bond's sweater. If you're in the UK, ASOS has the best price and sizes XS to XXL in stock. Unfortunately, their website shows "out of stock" if you try to order it from the U.S. If you're in the States, you can get it directly from New Look.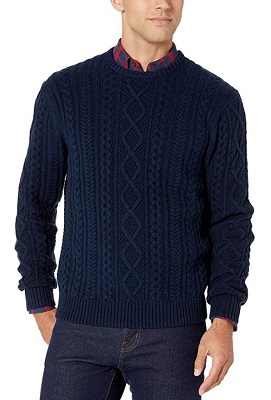 About the same price as the New Look. And it also has the cable knit pattern down the sleeves. But with this Amazon alternative, we're getting an upgrade to a 60% cotton, 30% nylon, 10% wool yarn. They have sizes XS to XXL available on the U.S. site. I hunted for it on the UK site, but no luck finding it.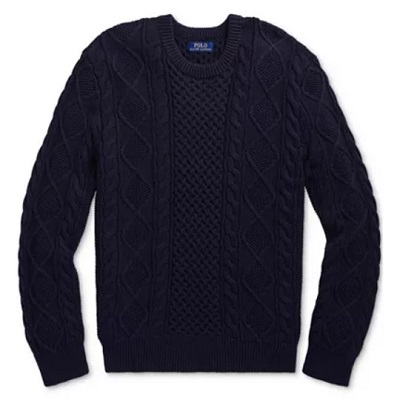 A classic, 100% cotton alternative from the house that Ralph built. This is on sale at Macy's, but the discount ends on October 14th. However, as we know, Macy's is almost always running some type of sale. So I wouldn't panic. The bad news for bigger guys is they're down to sizes XS to medium. If you feel like splurging a little, check out the Polo Wool Cashmere Sweater in Dark Navy over on the Ralph Lauren website. It's on sale right for $160.
This one is missing the cable knit down the sleeves. But just over a hundred bucks for a made-in-England, 100% Merino wool sweater from a respected British brand is a pretty good deal. And a part of me really likes that simpler style. Aran knits can be pretty chunky. But this one looks a little more streamlined and sophisticated. Sizes small to XXL are available at Bombinate.
Bonus Knitwear! The Black Shawl Collar Cardigan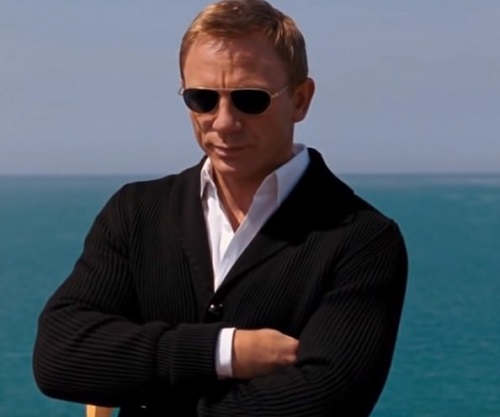 Still one of the most popular pieces of knitwear Bond has ever worn. We took an indepth look at alternatives in this post at the start of September. But a new (to me, anyway) alternative has popped up on the radar. And it's a good one!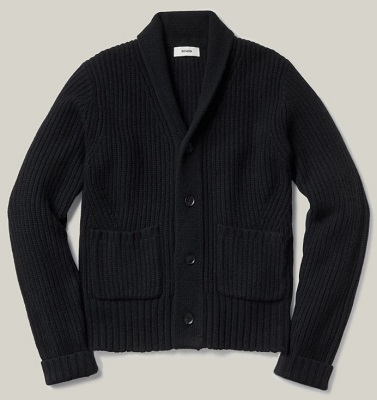 It only has four buttons. And they're genuine horn instead of leather. But other than that? This has to be one of the best alternatives for the Quantum of Solace cardigan I've seen in a long time. The price isn't exactly cheap. But we're investing in a timeless style made with an Italian 95% Merino wool/5% cashmere yarn. Buck Mason has sizes XS to XL in stock. Just note that they recommend sizing down if you want a more fitted look. Here's hoping this one stays around for a while!
You can find Part 1 of our Essential James Bond Sweaters over here. And if you think we missed a great alternative in Part 2, tell us about it in the comments! Also, check out our article on How To Care for Your Cashmere Sweater so you can keep your new knitwear looking its best. And remember to visit our Facebook page, Instagram account, Twitter account and Pinterest Boards for more James Bond style advice and inspiration!