James Bond Leather Jackets For Fall
Over the last three years, we've taken a look at some of the more popular James Bond leather jackets. The Matchless blouson from SPECTRE in particular has received more than it's fair share of attention. And of course the Skyfall Menlo and Casino Royale Armani had their own posts. But those haven't been updated in a few years. So I think it's time we remedied that situation and explore alternatives for four 007 leather jackets that need some love. Let's get to it!
The SPECTRE Navy Suede Cafe Racer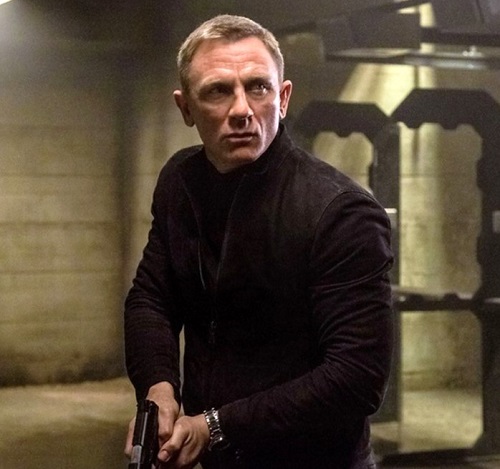 At the time of SPECTRE's arrival in theatres, there was a debate amongst fans of Bond's style: Do you go with the Matchless or the Varvatos? We've spent a lot of digital ink covering alternatives for the Matchless jacket. But I've tended to ignore the Varvatos piece that topped off 007's "fashion ninja" look from the London finale. So here's our chance to give that jacket the attention it deserves.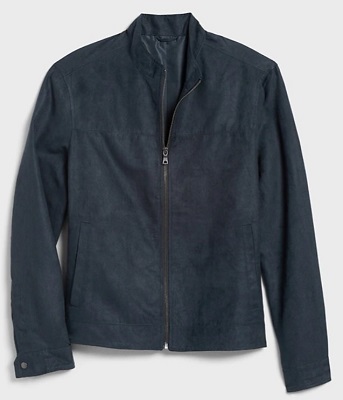 Not just for those of you who would prefer not to wear real leather. When this was part of Banana Republic's regular line up (it's on the Factory website now), it got all kinds of positive reviews. Faux suede isn't going to wear as well as the genuine article. But for just under fifty bucks, this is a great way to get the SPECTRE look without killing your wallet. Sizes small to XXL are currently in stock.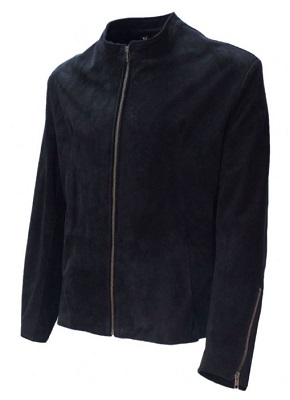 I'll get this out of the way right at the start. There are a few Wested Leather Co. jackets in this post. And no, they are not sponsoring it. But every time I post an article about James Bond leather jackets, there's always a reader comment saying Wested makes great repros. So I guess it's well past time that I gave them some attention. Anyway, about the jacket. I've linked to their slightly less expensive stock version above. However, they also offer a made-to-measure option for £225.00 (click here to learn more about that). Sizes 38 to 48 are available on their website. But they do state that the jacket is a slim fit. So best to check their size chart.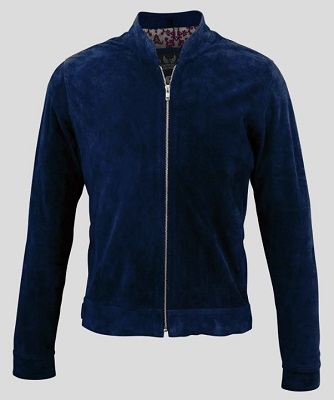 The styling is a great match for the SPECTRE jacket, although the navy suede may be a little too bright (it looks darker in the swatch photo on the product page). This is a made-to-measure option, which means the jacket is built to your body specs. You can also chose your lining and hardware color. Independence Brothers is a little more expensive than many other MTM options out there. But there's two things I really like about them. First, they're upfront about the types of higher quality leather they use (most cheaper MTM companies don't even mention it). And second, the owners of the company (they really are brothers!) also own the workshop where the jackets are produced. So no outsourcing to a third party factory where quality control can be hit or miss.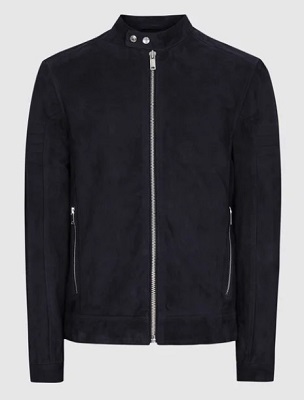 Wow, that price jump in U.S. dollars is a bit of a shocker! But for those of you in the UK who don't want to go MTM or vegan suede, this is solid off-the-rack option. Obviously the two button neck tab and zippered pockets aren't screen accurate. But the overall styling and that super dark navy suede really capture the look of the original. Reiss has sizes XS to XXL in stock.
The Casino Royale 4 Pocket Leather Bomber Jacket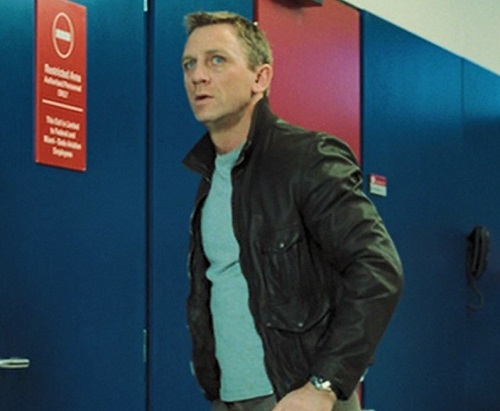 Daniel Craig's first leather Bond jacket from the iconic Italian designer Giorgio Armani. And it's unique four pocket design has always made it difficult to find decent alternatives. So if you want that exact look, going with a replica is probably your best option.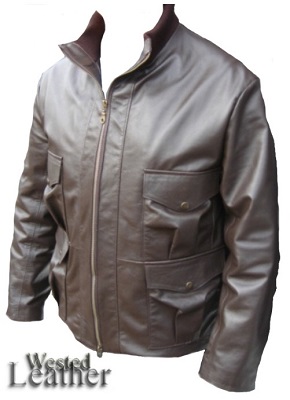 Starting us off with the Wested reproduction. Again, I've linked to stock option above. But you can go the MTM route for £210.00 if you'd like a more custom fit. The leather is a dark brown lambskin, finished with brass hardware and the screen accurate ribbed wool collar. And it's all made in England. Sizes small to medium are the regular price. But if you bigger guys need an XL or XXL, you'll need to pay extra.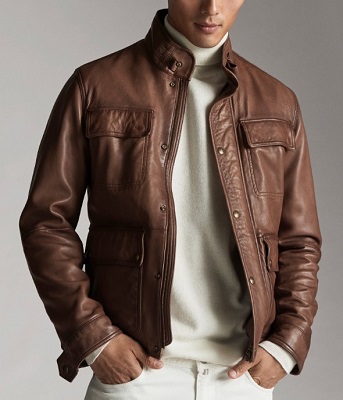 An option from Zara's sister company for those of you who like that Casino Royale look but don't want to go with a replica. Personally, I really like the style of this one. It kind of has an "Armani meets Belstaff" vibe that, while not screen accurate, is definitely cool in it's own way. The leather is sheepskin. So expect a very soft hand and a nice drape with little to no break in time. Massimo Dutti has sizes 36 to 44 in stock on their website.
The Skyfall Vintage Leather Jacket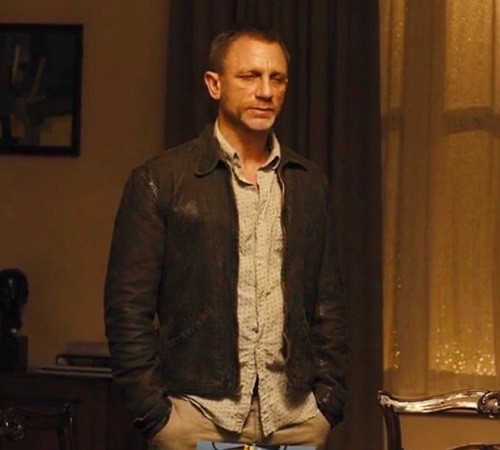 What would a post on James Bond leather jackets be without a look at the Levi's Vintage Clothing Menlo from Skyfall? This quickly became THE grail jacket for many fans. And you may still be able to find one of the originals floating around on Ebay. Just expect to pay a premium for it! Guest writer James Brosnan (@shawn.michael.bongiorno on Instagram) wrote a review of the Menlo for us a few years back. You can read his detailed insights into the jacket's fit and construction over here.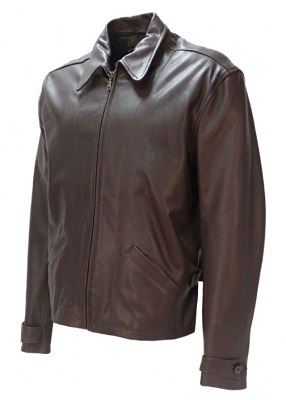 Many a fan of Bond style has gone with Wested for their Menlo repro and been more than satisfied. The stock version uses a Brown Shrunken Lambskin leather, which is very soft and lightweight. But if you go with the made-to-measure option for £210.00, you can choose other leather types, including goat and a pre-distressed lambskin (but it will cost you an extra £40.00 on top of the higher customization price). And like the other Wested alternatives above, this one is also made in England.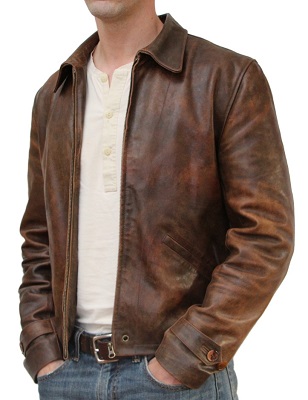 And now an option from another respected fan-favorite repro maker, Magnoli Clothers. It's significantly more expensive than the Wested option. But Indy is known for producing higher quality pieces that are a few steps above your average cosplay clothing. The standard leather used is goatskin. However, since this is a MTM jacket, you can select other leather types for an additional fee.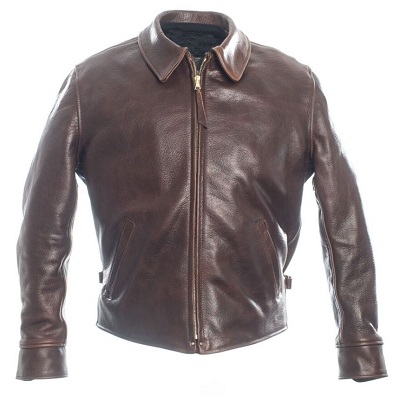 NOT a repro! This design is actually based on the pattern for an original Simmons Bilt model from the early 1900s. So it's no surprise it has the same vintage vibe as the Menlo. Simmons Bilt makes their jackets in Scotland and they are a very well respected manufacturer. One of the nice things about paying up for a made-to-measure jacket is choosing your leather. And these guys are not short on options. Everything from lightweight Seal Brown Goatskin to near-bulletproof Horween Chromexcel Steerhide is available.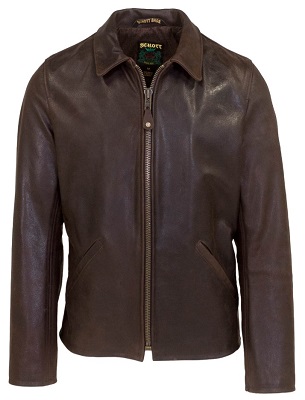 As most of you know, Schott has been making leather jackets in the U.S.A. for over century. And their Sunset jacket is a reminder of that heritage. Aside from the vintage styling, probably the most interesting thing about it is the leather. Schott has gone with a waxy naked buffalo leather, a tougher skin with a very distinctive prominent grain and beautiful reddish-brown tone. This one will take a while to break in. But it's truly built to last a lifetime or longer.
The For Your Eyes Only Shearling Jacket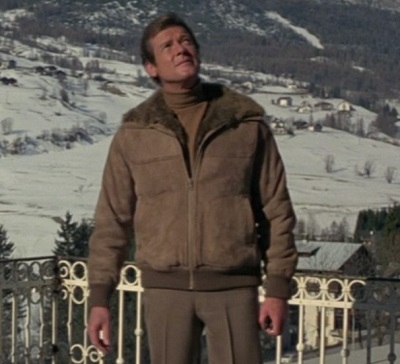 WAIT!! Bond wore shearling? Yep! And you can read more about Sir Roger Moore's look from For Your Eyes Only in this post on The Suits of James Bond (that's where I sourced the image above). Of course, Daniel Craig is also a fan of the classic sheepskin jacket. The Bond Experience actually did a video review of his jacket in this video in case your interested.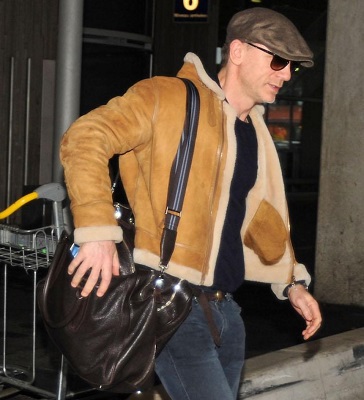 You'll have to excuse me for going a little off-piste with the alternatives for this one. I've decided to include options for both Bond's jacket and Craig's. Shearling has been making a big comeback in recent years. So there's plenty of alternatives out there. But I'd also strongly recommend checking out Ebay for lightly used pieces. There's a lot of beautiful vintage sheepskin jackets for under $200 out there that will work perfectly with today's styles.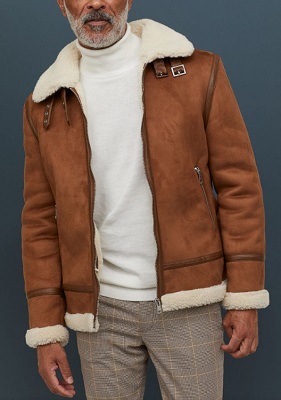 A vegan alternative from the Swedish retailer. I still think of H&M as being fast fashion. But I do have to give them credit for at least trying to be more transparent about how their supply chain and manufacturing works. And faux leather and suede has certainly come a long way in the last decade. This particular model is obviously closer to the Craig jacket. With a little extra retro trim around the seams to give even more of a 1970s Robert Redford vibe. Size large is currently out of stock, but sizes XS to XXL are still available.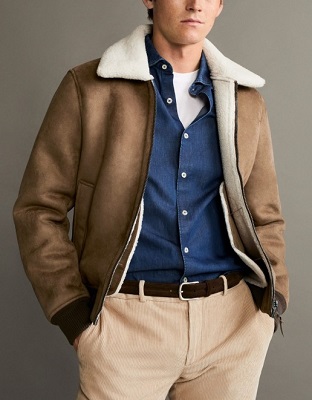 Another faux sheepskin alternative, this time from the Barcelona based brand. The color of the outer material and the ribbed knit cuffs and hem come closer to what Sir Roger wore. Mango has U.S. XS to XL in stock on their website.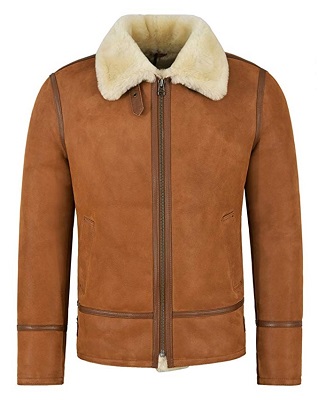 A jump up in price. But now we're talking about 100% genuine shearling with leather trim. The jacket design is based on the B3 aviator's bomber, so it's about as classic as it gets. If you're not a fan of the contrasting leather trim, check out the A1 Fashion Goods Shearling Bomber for $489.00/£329.00. It's also based on the B3, but leaves the seams exposed for a cleaner look closer to what Daniel Craig wears.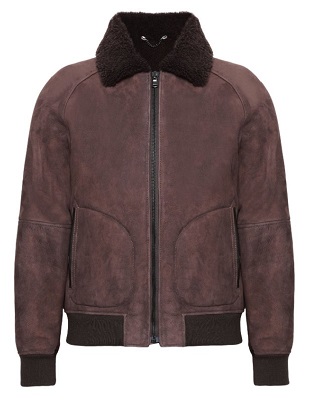 Now we're getting closer to the Roger Moore inspired alternatives. This one comes from Yoox's house brand and is made in Italy from 100% genuine shearling. The outer leather and knit cuffs and hem are a great match for the For Your Eyes Only jacket. Shame the fleece is too dark to be a perfect match. Yoox has sizes small to XXL in stock. But please check their size chart! They tend to size their pieces on the small side.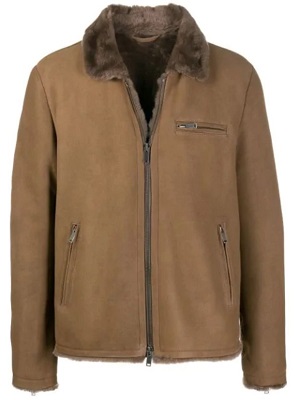 In terms of leather and fleece colors, this option from Farfetch really nails the Sir Roger look. But the open cuffs and hem give it a more contemporary, fashion forward look. Unfortunately, they're down to just Italian sizes 48 and 50 on the website.
Have a suggestion for a great alternative for one of the James Bond leather jackets? Tell us about it in the comments! And remember to visit our Facebook page, Instagram account, Twitter account and Pinterest Boards for more James Bond style advice and inspiration!