The James Bond Fall Style Round Up
As the colder weather quickly approaches, we thought we'd take a last look at some key pieces of James Bond fall style that should still serve you well over the next month or so. The focus here is on layering. So think sweaters and jackets that will keep you warm during the cooler hours of the day but can be easily removed so you don't overheat in the afternoon. Plus a few extra odds and ends that you may be missing in your closet.
SPECTRE Sölden Jacket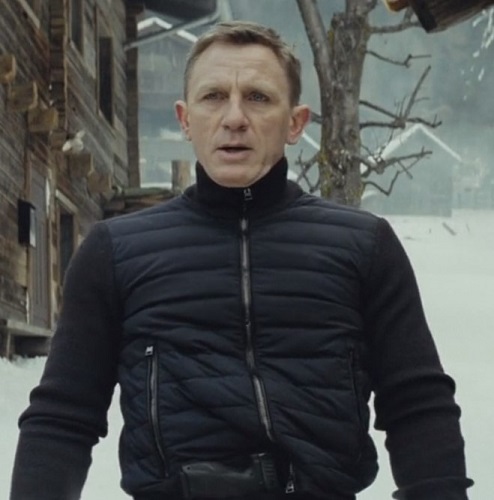 The alternatives for the Bond's Tom Ford Sölden Jacket are starting to appear! And it's still a popular (and practical) style. Wear it on it's own as Bond does. Or try layering it under shell jacket for some extra insulation when things get really chilly. The versatility of the design means it'll see lots of use in the colder months ahead.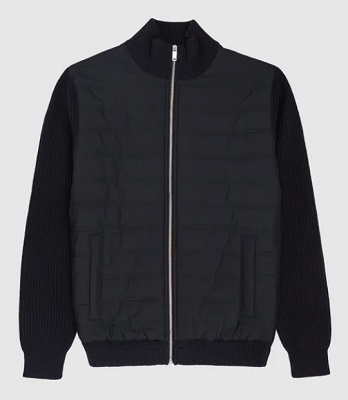 We'll be updating the dedicated post on the Sölden jacket in November. But we can start off early with this solid alternative from Reiss. The knit part is a ribbed 70% cotton/20% nylon/10% wool blend. So not ideal for use in more strenuous activities when you're likely to perspire. But it's a true slim fit and definitely has the look we're after. Sizes XS to XXL are available on the Reiss website.
SPECTRE Matchless Morocco Suede Jacket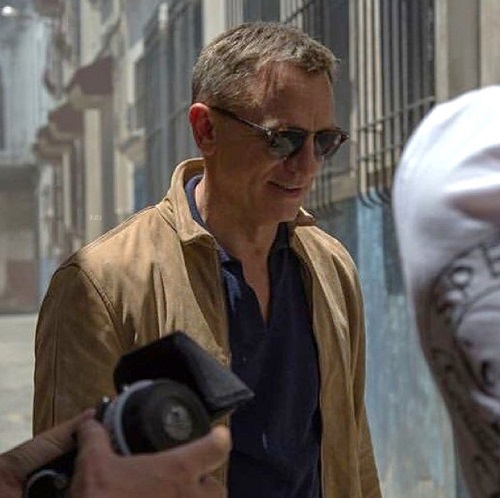 Bond's look from the Morocco scenes in SPECTRE quickly became a fan favorite. And the key to nailing the style was that suede jacket. If you're patient, the original design from Matchless will still turn up on their website. But they ain't cheap. Currently there's a size medium going for €1399.00. Occasionally you can get lucky and find one on a 3rd party vendor site for less.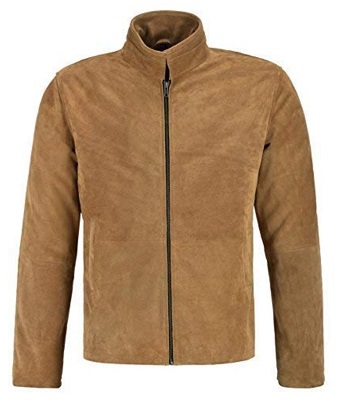 In the comments section of our recent post on Bond Leather Jackets, James St. John Smythe asked about low-priced SPECTRE suede jacket alternatives. I replied that I usually recommend staying away from the ultra-cheap repros. The cut is going to be boxy, the materials of poor quality (super thin split suede) and the construction will leave a lot to be desired. However, this option from Smart Range does seem like a solid possibility. The company is based in the UK, has a pretty professional looking website (with telephone numbers!) and they use their own product photos. Plus, if you buy from Amazon you'll at least have some customer protection if things go sideways. As for the jacket, they've used genuine suede and the styling details include that unique seam construction. Amazon has sizes small to XXXL in stock.
No Time To Die Matera Navy Connoly Jacket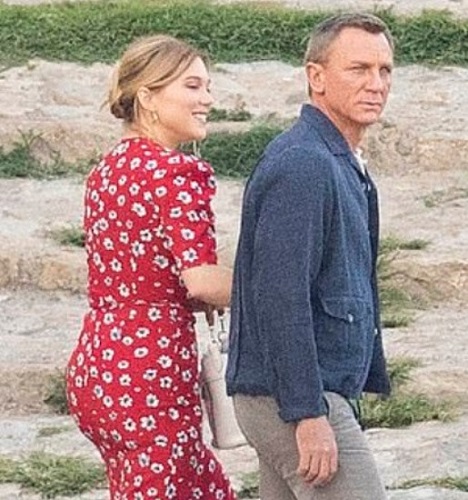 Only seen in a few No Time To Die set photos from Matera, Italy and already it seems to be a hit with fans. Well, some fans anyway. London based Connolly provided the jacket Bond wears. And they've confirmed they'll be doing a re-issue early next year. I'm going to assume the price will be close to the £399 the original sold for. But some of us just can't wait that long to get the look!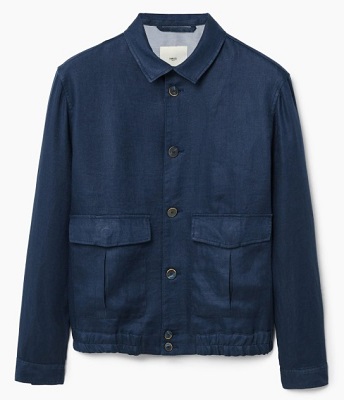 The cotton-linen version of this jacket, priced around fifteen bucks on sale, was a hit as an alternative for the navy Matera jacket. And (no surprise) it sold out quickly! If you're regretting missing out on Mango's super affordable alternative, then take a look at this 100% linen option from the brand. The design is virtual identical to their cotton-linen one. And the price still ain't bad. The UK site still has sizes small to XXL in stock. But it's no longer available on the U.S. site.
Q's Fishtail Parka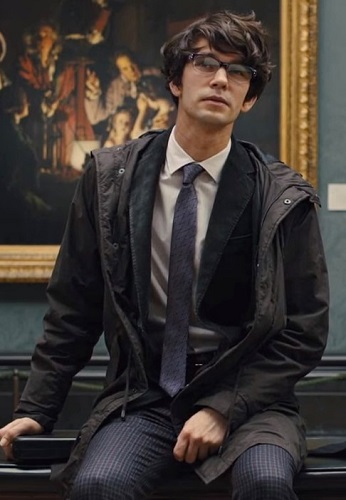 For fans of Q's Skyfall look. Ben Whishaw wore a dark brown fishtail parka from Pretty Green when first meeting Bond in the British Museum in the film. It's a design that manages to blend military minimalism with a more fashion forward attitude that worked well for the character and makes it a practical choice for day to day use that can work with lots of different looks. Pretty Green still makes some parkas that have a similar vibe. But you'll need to look elsewhere if you want that fishtail style.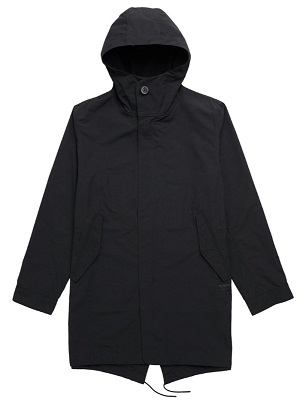 This one from Herschel Supply is black rather than brown. But the simple styling comes very close to the original design. Made from a 60% cotton/40% polyester fabric, it also has a water resistant treatment so it should help keep you dry during those late fall showers. Backcountry has sizes medium to XL in stock.
James Bond Inspired Knitwear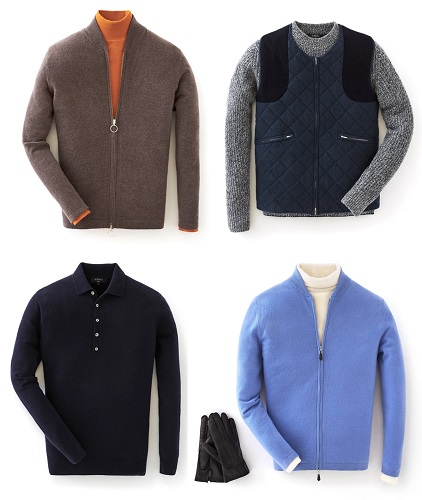 By this point you've probably seen the various pieces from the collection all over social media. And, if the early reports are any indication, N.Peal really hit it out of the park with most of the designs. Shown above are the On Her Majesty's Secret Service "golf" look, the For Your Eyes Only look, the second On Her Majesty's Secret Service look and finally the six button polo from The Living Daylights. None of them are what we could call "inexpensive". But seeing as this is N.Peal we're talking about, they certainly won't be lacking in quality or style. You can check out The Bond Experience and The Suits of James Bond for more information and reviews on the individual pieces.
The The Man With the Golden Gun Marine Blue Suit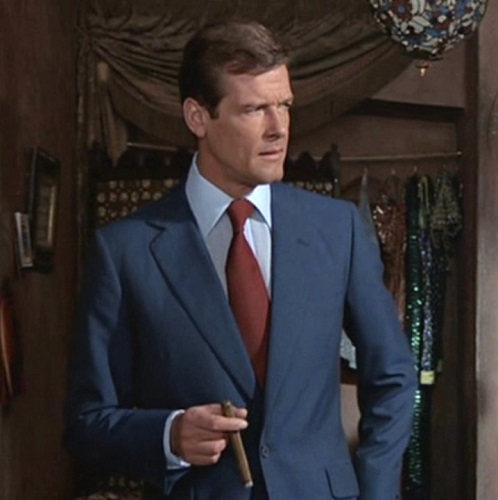 One of my favorite suits from the Roger Moore era. And as we're seeing the slightly wider lapel and fuller cut making a comeback, the styling doesn't even seem that dated any more. The marine blue may not be the best color for everyone's skin tone. Some may even argue that it's a shade more appropriate for the warmer months. Personally, I think it can work year round, especially if you go with a nice worsted wool. And it's just different enough to stand out in a sea of navy and charcoal without making you look like you're trying to be too "fashion". Our friends at BAMF Style have a great write-up on the complete look from the film.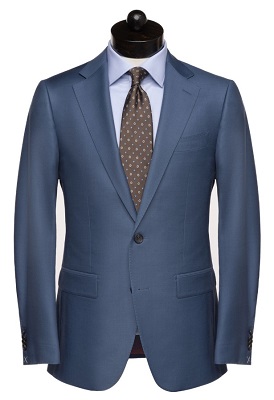 The color may be a shade or two lighter than what Sir Roger wore. But it's definitely in the right neighborhood. As is the overall styling. Spier & Mackay keeps the jacket length, button stance and lapel width very "classic". And their use of 100% Super 110's Merino Wool and a half canvassed construction offers great value for the money. Plus they use genuine horn buttons but don't mess around with surgeon cuffs. Which means the sleeves can be easily tailored to length you need. The bad news? They only have sizes 36 to 40 in regular and short lengths left in stock in their "Contemporary" cut. So you bigger guys will need to be a patient while we look for other alternatives.
Accessories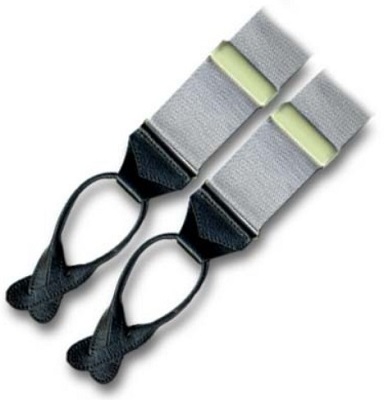 Bond's braces from the No Time to Die Matera scenes, worn with the Massimo Alba beige corduroy suit and Drake's Crosby brown suede chukkas. Craig's 007 also wore Albert Thurston braces in Casino Royale. And they're certainly one of the more affordable pieces to come from the film's wardrobe. I understand braces won't be to everyone's taste. But that blue hued "Dove Grey" color tones very well with a pale blue shirt, so they're not exactly bold statement pieces. If you're looking to try something a little different or just want to add a subtle style detail to your look, they can be a fun option.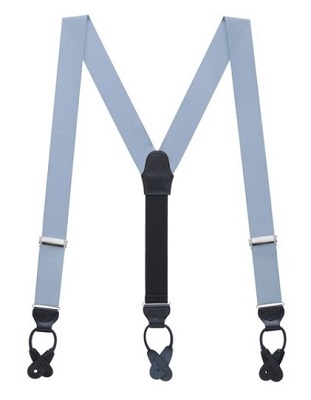 Another great alternative suggested by our Facebook friend Sean. Paying for the original Albert Thurstons won't break the bank. But if you're still not sure braces are your thing and don't want to spend more than fifty bucks, then these will give you the look for about half the price. They're made in the U.S.A. from a grosgrain ribbon material.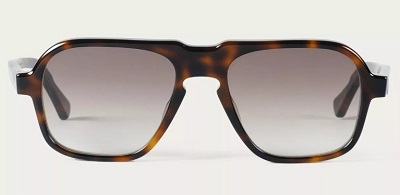 I can't do a fall style round up without adding some Newman/McQueen 1960s retro-cool inspiration! And these Oscar Deen Frasers totally nail the look.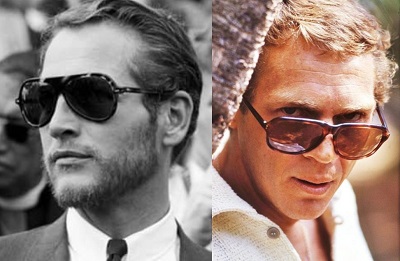 The London based company makes their sunglasses frames from high quality acetate in the Italian Mazzuchelli factory. They also use CR-39 lenses from Carl Zeiss which are scratch resistant and provide 100% UV A and UV B protection. These are very high on my "Want List"!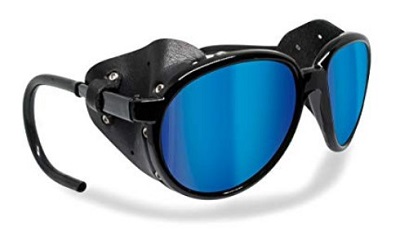 Speaking of retro cool …. Bond's vintage Vuarnet PX5000 glasses from SPECTRE definitely brought glacier glasses back into the limelight. So much so that Vuarnet decided to offer an updated version with their 1315 model which retails for $640.00. Obviously that price tag is a little steep for most of us. But these Bertoni glasses have the look we're after and hit the sweet spot if you're on a budget. You can find more alternatives for the glacier glasses in this post.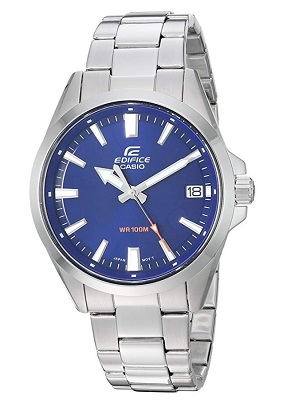 A solid affordable alternative for Bond's Omega Aqua Terra from Skyfall and SPECTRE, suggested by AJB007 forum member CB0012. He's already picked one up and, based on his initial impressions, he seems pretty darn pleased with it. The case is listed as 42mm, but it seems to wear a little smaller due to the thinner bezel. Quartz movement obviously. But Casio does a good job with those so I doubt durability will be much of an issue. Thanks for sharing!
Did we miss one of your favorites in our James Bond Fall Style Round Up? Have a better alternative than the ones we listed? Tell us about it in the comments! You can also visit our Facebook page, Instagram account, Twitter account and Pinterest Boards for more James Bond style advice and inspiration! And don't forget to check out our Amazon Page. That's where we've organized the James Bond and Steve McQueen alternatives we've found the massive online retailer.
Iconic Alternatives uses affiliate links on our site. So clicking on one of the links above may result in us receiving a commission from the vendor. You can learn more about our use of affiliate links on this page.