SPECTRE Matchless Craig Blouson
Updated February 21st, 2017 – While many of us may not be sure about choosing suede for the heat of Morocco, I think we can all admit: Bond looks pretty damn cool (see what I did there? I made a funny!) in his SPECTRE Matchless Craig Blouson. 007 wears the jacket with the Brunello Cucinelli chinos and belt, the J.Crew Kenton suede boots, and both the Tom Ford polo and the Orlebar Brown linen shirt. For details on the original, check out this video from The Bond Experience and this article from James Bond Lifestyle. Not much more I can add. The jacket can be purchased directly from Matchless for $1440.00, although Selfridges is offering it for $920.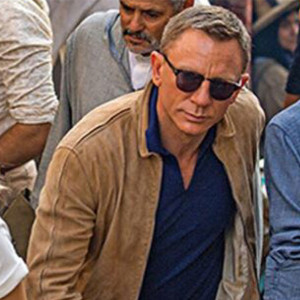 Sadly, I don't have $1400.00 to spend on a suede jacket. And unless you want to go with faux-suede, microsuede, or some other pleather jacket, options under $400.00 are thin on the ground. I've listed a few (and will keep adding others as they show up), but I've also detailed another option that may work for some. Scroll down towards to the end of this post to check that out.
Features Wanted for the SPECTRE Matchless Craig Blouson 
Beige suede
2 way exposed front zipper
Slash front pockets
Mao style collar
No knitting/ribbing on the cuffs or hem
Clean overall design
Best Option for the SPECTRE Matchless Craig Blouson 
What can I tell you? It's not the cheapest option. But a quick trip to the tailor will take care of modifying the Harrington collar. Then you have a damn close match for the SPECTRE for about $1000 less than the price of the original. Just know that they're down to sizes medium and large now. Jaeger also makes this jacket in a navy suede, which would work well as an alternative for the John Varvatos jacket Bond wore in the SPECTRE London finale.
Under $200
Like the Jaeger option, the Harrington style collar is an easy and inexpensive fix. Obviously, the suede is too dark to be screen accurate. But it's nice to have another option for under $300.00. They're currently out of size medium. Dappered.com reviewed the jacket; you can read it here.
Under $300
Big discount on this one at Van Mildert. Regular price is £850.00. And they're stocking sizes small to XL at the time of writing. DKNY has used a perforated suede, so there's lots of tiny holes poked throughout the material. Although this (and the extra chest pockets) give the jacket a slightly different look than the Matchless, the color, fit and overall style still make it a decent alternative. And again, that Harrington style collar should be an easy fix.
Under $400
Leather Right has their Suede Biker Jacket for $330.00. Again, more detailing than the Matchless, but still a clean look.
It's right on the cusp price-wise. And, obviously, the darker camel color and chest pockets make it a less than ideal match. But with its shorter cut and slim fit, it certainly has the right attitude. Sizes small to XXL are available at the Superdry website.
The Investment Pieces
Folks, that there is what you call a "slim fit". Here's hoping you didn't skip arm day. The cut on this is already pretty short. So if you're not into the "painted on" look, sizing up shouldn't be a problem. And, color aside, it's a very close style match for Bond's jacket. ASOS has sizes medium to XL available.
Well, it's still about $200 cheaper than the lowest price I could find for the Matchless. There are couple of style differences, the darker color being one and the button cuffs being another. But other than that, it comes real close to the screen used jacket. The Peter Millar website has sizes small to XXL in stock.
Replicas: 
Lots of manufacturers to choose from. Magnoli Clothiers is a respected source, and they've just released their made-to-measure Morocco Suede Jacket option for $695.00. Expensive? Yes. But still about half the price of the original. And it's about as screen accurate as you're going to get.
Wested Leather have also released their "Morocco Jacket", priced at £185.00/$244.24.  This one is off-the-rack in standard suit jacket sizing. 
You can also read about AJB007 member Vesper007's experience buying a replica from another manufacturer on this thread. As always, proceed with caution when choosing your manufacturer.
The Experiment
So, you want Bond's Morocco look, but you don't want to spend $200 plus? I tried a little experiment to create a budget alternative and was pretty pleased with the results.
Step 1: I bought a used Banana Republic suede jacket on Ebay for about $45.00 including shipping:
Step 2: I took my jacket to my tailor to modify the collar and sleeves. I brought pictures of the Matchless jacket and the measurements I thought would work best (basically 2.25″ at the back of the collar and 2″ at the ends).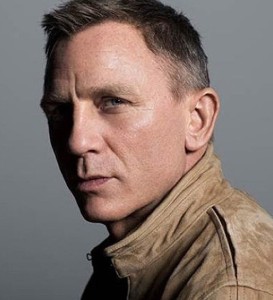 Step 3: For about $40.00 and a 1 week wait, alterations were completed and I picked up my jacket.
Results:
Not an exact match, and definitely not the Matchless quality or fit, but for under $90.00 all in, I'm satisfied. Shown with the Perry Ellis Rib Open Collar Knit Polo.
Lessons learned:
I bought a used jacket from a known, but unlikely to be copied, brand. Lots of fakes out there, as most of you already know. But you could have any of the alternatives with the Harrington collar altered the same way.
The more "vintage" jackets definitely have a larger, boxier cut. So think about sizing down for a fitted look. And I definitely recommend you ask the seller for the exact measurements instead of going by the sizing. I went with a medium in the Banana Republic, but I probably could have gotten away with a small.
Focus on the jacket details. I waited until I found one that had design details similar to the Matchless (plain front, minimal stitching, no buttons at the cuff). That way you keep the modifications needed to a minimum.
Altering the collar is a pretty simple job; I used a tailor, but I'm sure a shoe repair service or cobbler could also do the work if you give them the details.
Here are some jackets currently on Ebay and Etsy that could be contenders:
Banana Republic size XL, $49.99
Nautica size 46, $69.95
Banana Republic size medium, $129.98
Banana Republic size XL, $69.69
Wilson Leather Pelle Studio size large, $25.oo OBO
Wilson M. Julian size large, $89.99
Banana Republic size large, $109.99
Wilson Leather Pelle Studio size large, $36.00 OBO
Feel free to share any alternatives you find in the comments! And as always, if you want some more info on Bond style and sales and deals we find around the net, you can find us on Facebook and Pinterest.