SPECTRE Brunello Cucinelli Gabardine Chinos
Updated October 25, 2016 – During his adventures in Morocco in SPECTRE, Daniel Craig's Bond wears the Brunello Cucinelli Aged Gabardine Chinos, first with the Matchless Craig Blouson and Tom Ford Polo, and later with his Cucinelli blazer, Cucinelli belt, Tom Ford tie and shirt, and the J Crew Kentons. As near as I can tell, it was AJB007 forum member  Awilliams007  that first identified the maker of the pants, while member 000-7 got the confirmation of the model (M067DF1050) and color (C1581) direct from the company. They appear to still be available at Harrod's for the low, low price of £439.00.
So we can get a good idea of the "real world" color of the chinos, AJB007 forum member DBS has kindly shared one of his photos  showing the Brunello Cucinelli Linen Blazer with the Chinos, the Tom Ford tie and JCrew Kentons in the screen accurate Sahara color. AJB007 forum member TinTin's photo shows his Chinos, again with the Kentons and the Matchless Craig Blouson.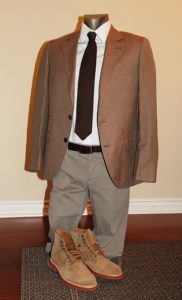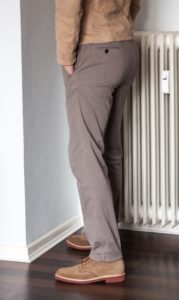 Features Wanted for the SPECTRE Brunello Cucinelli Gabardine Chinos
Slim fit 100% cotton chinos
Belt loops and button tab closure
On-the-seam front pockets
Rear welt pockets with button closure
Medium taupe in color (it's really all about the color)
So before we get started with the alternatives, it needs to be said that the fine members over at AJB007 are responsible for finding some of the best options listed below. Excellent work and credit is given where it is due!
Best Option for the SPECTRE Brunello Cucinelli Gabardine Chinos 
Interesting new option from Burton. Fabric is a 73% cotton, 26% lyocell, 1% eElastane blend. There should be a little bit of stretch there, as well as some subtle texture. They also have some styling details similar to the SPECTRE trousers. The slimmer cut and offset button closure waist band for example. And last but not least, the color is a very close match to the originals. All in all, those are some good reasons to make these our new Best Option.
Options Under $50
These were on the list waaaay back when it was first published. And now it looks like they've returned to Macy's with all sizes in stock. They're a shade darker than the Brunello Cucinellis. Fabric is a cotton/spandex blend so they should have a trimmer fit. And the front pockets seem to be more of a jean/frog mouth style.
That's a pretty taupe looking shade of grey. These are the option for those of you who do not want a super skinny fit. They're a classic straight cut in 100% broken in cotton twill. From fabric weight and texture perspective, they should be pretty close to the "Aged Gabardine" of the originals. White Stuff still have almost all sizes in stock. But inventory is getting low.
Although they're not an exact color match for the Brunello Cucinelli Chinos, Marks and Spencer's Cotton Rich Super Lightweight Chinos in Taupe, selling for £35.00, are a solid option at a good price. Remember that those of you in the U.S. can order from M&S as well. You can find the pants here priced at $57.00. Credit to Andy, who shared this find in the comments below!
You can buy these at Amazon U.S. and, typcial Amazon, they're priced between $14.93 to $83.84 (size 32 goes for $39.75). Material is 59% Cotton/39% Polyester/2% Elastane, so they'll be a little warmer than the 100% cotton options.
Options Under $100
Nice new find available at Zalando! The material is 97% cotton and 3% spandex, so there's a decent amount of stretch. And they look to be a good slim (not skinny) fit. They currently have sizes 29 to 36 in stock.
I'm not crazy, am I? These are the Alpha Slims in the British version of the Dark Pebble that were on this list ages ago, right? The material looks to be the same: 98% cotton/2% spandex. And they certainly seem to have the same fit. Zalando has sizes 29 to 38 in stock.
Options Under $150
The fabric is 99% cotton/1% elastane. So not as much give as the some of the other options. These are available from FarFetch, and they currently have sizes 34, 36, and 38 in stock. So maybe a good choice for the bigger guys that are looking to make a bit of an investment?
Excellent color match! But a high price! Fabric for these ones is 98% cotton/2% elastane. Again, they're coming to you from FarFetch. They're offering sizes 31 up to 38, but it's a little scattered. Oh, and there is only one of each size available.
As always, we'll be adding more options as they're found! If you've turned up some good alternatives, share away in the comments below. And remember to check us out our Facebook page, Instagram account and Pinterest Boards for more James Bond style advice, inspiration and info on where to find the latest deals!