The Steve McQueen Blue Shawl Collar Cardigan
Updated September 5th, 2019 – Steve McQueen's influence on Daniel Craig's Bond style has been discussed repeatedly. As evidence, we can compare 007's look when he visits Mathis in Quantum of Solace and pictures of McQueen from William Claxton's book Steve McQueen: Photographs.  From the sweater style to the pale beige pants to the suede chukkas, the inspiration for Bond's look is pretty obvious. So it's time to go back to the source and explore affordable alternatives for the Steve McQueen blue shawl collar cardigan.
Features Wanted for the Steve McQueen Blue Shawl Collar Cardigan
Rib-knit cotton, merino wool or cashmere
Muted French navy/dark steel blue color
Two patch pockets
Brown leather buttons
The shawl cardigan style isn't that difficult to find (unless you want it in black). And if the buttons on the alternative aren't a match, it's pretty easy to swap them out (you could try these or these). The real challenge here is finding a good color match. Which is why we won't be including the multitude of pure navy options that are currently out there.
Best Option for the Steve McQueen Blue Shawl Collar Cardigan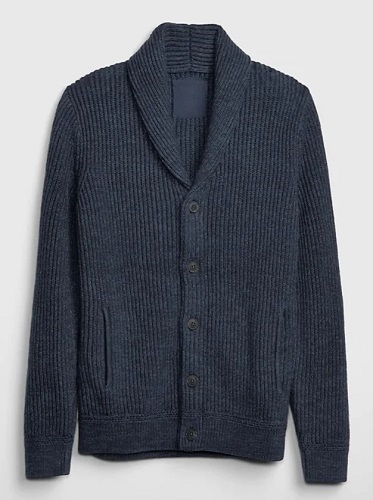 No leather buttons. And welted pockets instead of patch. But the color and knit of this 100% cotton option is a great match. The sale price is also pretty darn attractive. That's what really helped it jump into the top spot. Gap has sizes XS to XXL in stock.
Under $100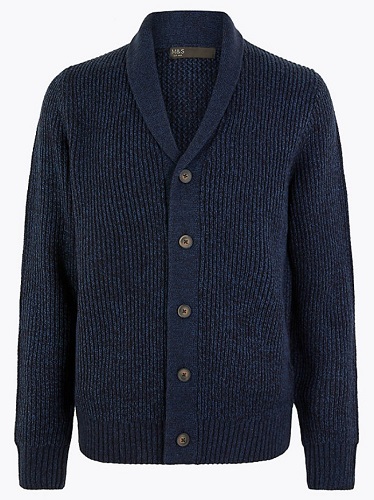 To be honest, I'm not completely sold on the colors of the yarn mix on this one. I feel like the black yarn just gives it a little too much contrast. But that's just personal opinion. What I can't argue with is the price, even if the cardigan is 100% acrylic. Which isn't necessarily a bad thing if you're a guy who doesn't have much time to hand wash his sweaters. Marks & Spencer has a ton of size options in stock.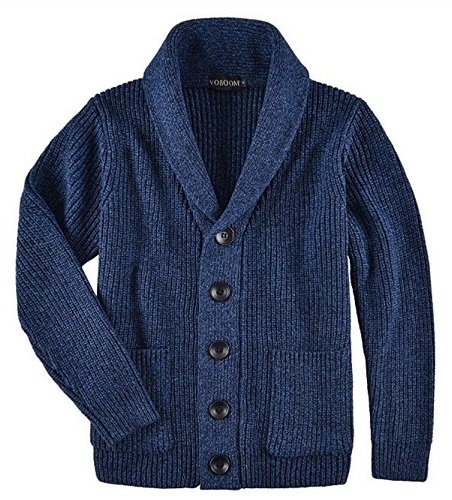 You might remember the brand name from our post on Steve McQueen style for fall. Yep, it's the same cardigan as the brown one we listed there. Just in that great shade of blue we're looking for. VABOOM has a 30% wool/30% acrylic/20% nylon/20% polyester yarn and ribbed "shaker" knit style, so the design is pretty close to ideal. It even has the patch pockets, which are kind of rare this season at the lower end of our price range. As, I mentioned in the other article, the only problem I see are the buttoms. But those are a pretty easy fix. Sizes small to XXL are available on Amazon. Just make sure to check the size chart!
Under $200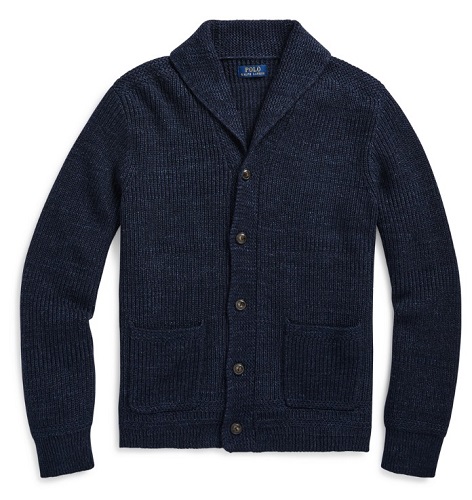 The color may be a little dark. But other than that, Ralph Lauren has nailed most of the style details we want. It even has the buttons on the collar in case you want to close it up to your chin. You'll find sizes small to XXL on their website.
Under $300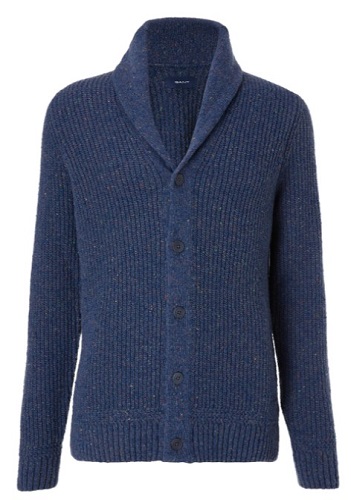 A blend of 80% lambswool/20% polyamide, this option from GANT really scores on the color and knit style. Buttons, as we've discussed, aren't much of an issue. Sadly, the lack of pockets is a little more difficult to fix. Still, it definitely has that King of Cool vibe. And GANT pieces (at least for the UK) are generally well made, so the price isn't unreasonable. John Lewis has sizes small to XXXL in stock.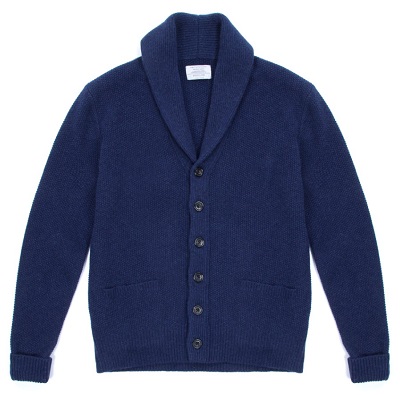 From the tailoring house that brought you M's and Mr. Hinx's suits. Timothy Everest has used a seed stitch rather than ribbed knit. But the wool/cashmere blend yarn is a spot-on color and the other style details are totally classic. Sizes small to XL are in stock on their website.
The Investment Pieces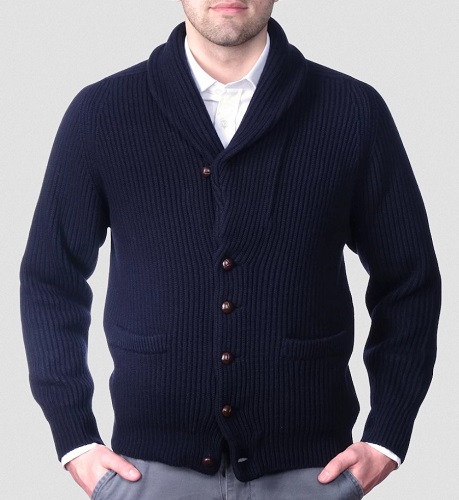 Well, it does have "McQueen" in the name. So I kinda had to include it, didn't I? BERK makes the cardigan in Scotland from hand combed cashmere, wrapped into 4-ply yarn. In other words, this one is going to be very soft and very heavy. And, despite being a darker navy, it has all the other style details you could want. Sizes medium to XXXL are in stock on their website.
Share your favorite alternatives for the Steve McQueen blue shawl collar cardigan in the comments below! You can also visit our Facebook page, Instagram account, Twitter account and Pinterest Boards for more Bond and McQueen style advice and inspiration! And don't forget to check out our Amazon Page. That's where we've organized the James Bond and Steve McQueen alternatives we've found the massive online retailer.
Images used in this post were sourced from doucement le matin, the weejun and Sun Valley Alpaca Co.