A Guide to Selvedge Denim Jeans for Beginners
If we can say one thing with any certainty, it's this: Daniel Craig likes his denim. He's regularly been seen wearing jeans from Rag & Bone, Scotch & Soda, Levi's, Frame, Adriano Goldschmied and Brunello Cucinelli. In particular, he lately seems to favor a specific type of denim called selvedge. And thus our Guide to Selvedge Denim Jeans for Beginners.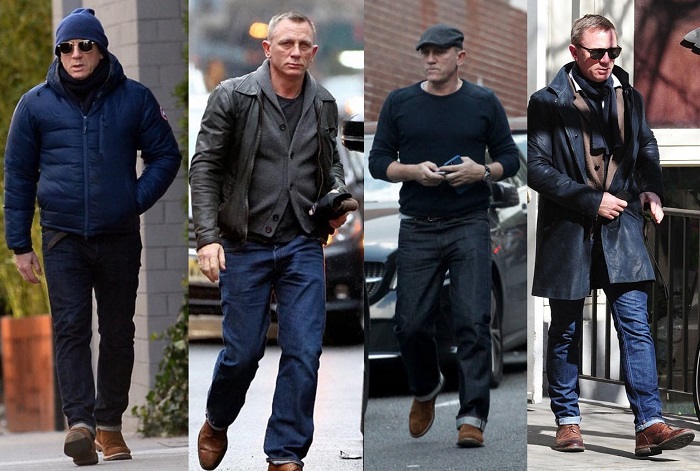 The history of selvedge denim is pretty interesting, but is a little beyond the scope of this article. If you would like to learn more about it and it's place in jean culture, check out this article from Heddels. We'll get into the characteristics of selvedge and what makes it special down below.
Our Guide to Selvedge Denim Jeans for Beginners: Terminology
Before we start digging into options for selvedge jeans, it's helpful to know some terminology to better understand what we're buying. So, let's review a few common terms used when describing jeans.
Sanforized vs. Unsanforized
Sanforization is a process done at the denim mills (the companies that supply the fabric to the jean manufacturers). During sanforization, the denim is fed into a machine that basically pre-shrinks the fabric through the application of heat, pressure and stretching. You can read more about the process here. The majority of the denim out there has been sanforized by the mills. To get unsanforized denim, companies usually must make a special request to the mill, which helps explain its higher cost.
So, aside from availability and price, why do most big jean manufacturers today favor sanforized denim? It comes down to predictability. Jeans made from unsanforized fabric can shrink as much as 10%. Jeans made from sanforized denim usually shrink somewhere in the 1% to 3% range (depending on other treatments done by the jean manufacturers). Unless the jean manufacturer specifically states otherwise, it's always safe to assume the denim is sanforized.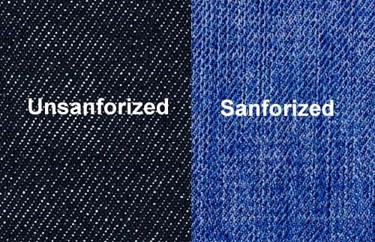 Raw vs. Washed Denim
Okay, this is where the confusion usually starts. "Raw" is NOT the same as "unsanforized". The term "raw" usually refers to the state of the denim when it's received by the jean manufacturers. In other words, most companies start with bolts of raw, sanforized fabric from their suppliers. If the jeans are made with denim straight from the bolt and don't undergo any additional treatments, they are normally referred to as "raw denim jeans". But most manufacturers are going to wash the denim to soften it and treat it for different finishes and effects to create jeans that already have a "broken in" appearance.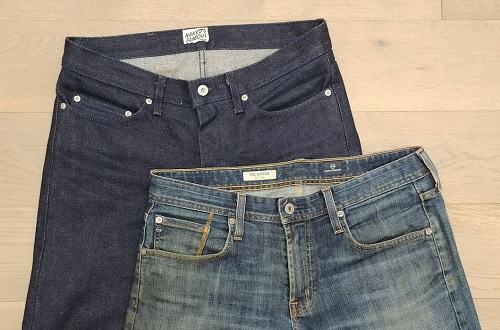 Denim in its purest form would be unsanforized and raw, which is also called "loomstate" fabric. Loomstate denim has basically been woven and … that's it. Because the denim is in its most natural state, you can expect raw unsanforized jeans to be very stiff and dark in color when they're new. And the dye will bleed (so try to avoid sitting on any light-colored furniture). They'll also shrink up to 10% with their first washing. So getting the sizing right when you buy them is very important. You normally have to go up at least a size or two from your regular waist size with unsanforized denim.
Weight
The weight of the denim is determined by how much one square yard of the fabric weighs in ounces. Lightweight denim is usually 12 Oz. or less. Midweight is usually between 13 Oz. and 16 Oz. Most denim enthusiasts consider any denim above 16 Oz. to be heavyweight. You can also get super heavyweight denim, which can go as high as 32 Oz. a square yard. For most of us, denim in the 11 Oz. to 13 Oz. range will be the most versatile and comfortable.
Selvedge Denim
Selvedge is all about how the denim is woven. Most mass-produced denim is woven on industrial projectile looms. This leaves the edges of the fabric unfinished. Selvedge denim is made on a shuttle loom, which allows the fabric edge to be finished with a tightly woven strip that helps prevent fraying. That strip (it's usually white with a red line running through it) is the hallmark of selvedge denim.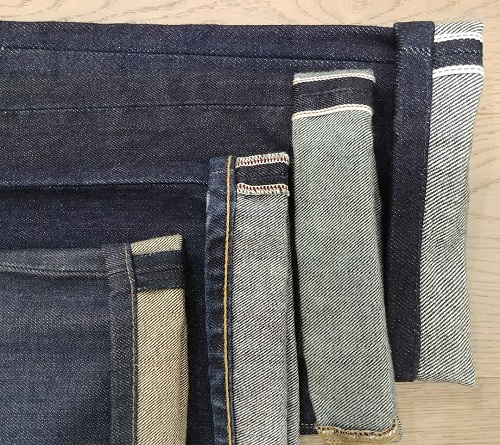 A few points to clarify about selvedge denim. First, while selvedge is usually higher quality denim, fabric made with industrial projectile looms can also be very good. It just won't have that distinctive finished edge. Second, without seeing the edge, it's almost impossible to tell high-quality raw selvedge denim and high quality raw "regular" denim apart. Third, selvedge is NOT the same as "raw". Selvedge is about how the denim was woven. Raw is about how the woven denim fabric was treated and processed. Yes, many companies produce "raw selvedge" jeans. But you can also find pre-washed and pre-distressed selvedge out there. As well as raw regular denim.
What does it all mean?
Yeah, all this terminology can be confusing. So let's put together some examples of jeans using the different denim characteristics to see what we'd get.
Unsanforized Raw Heavywieight Selvedge Denim
Let's just call these "project jeans". When they're new, they're going to be dark and stiff as hell. Like "stand up on their own" stiff. You're going to need to go through a process of soaking them at the start so they shrink to fit your body. Even after that, it'll feel like you've got PVC pipes on your legs for the first dozen or so wears. Oh, and the dye is going to rub off on everything it touches.
So why would anyone choose this denim combo? Two main reasons: fit and fades. The high shrinkage rate means the jeans will completely conform to your lower body (assuming you sized them correctly when you bought them!). And unsanforized denim is basically a blank canvas. So the deep fades that develop over time (and denim enthusiasts lust over) will be uniquely yours. It's just going to take patience and a certain amount of discomfort to get there.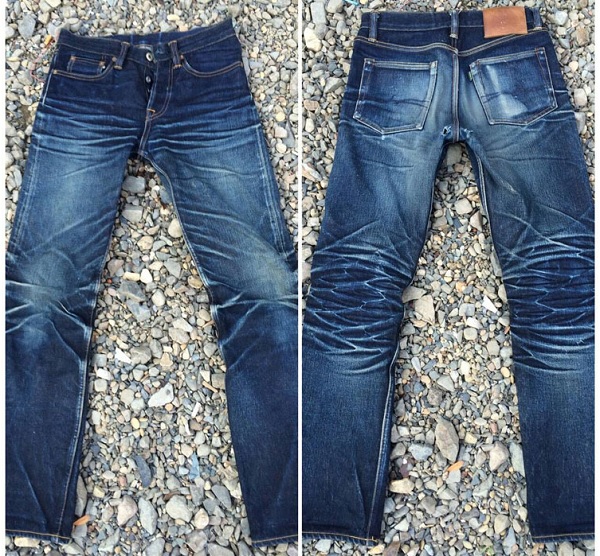 Sanforized Raw Midweight Selvedge Denim
If you're looking at getting into the raw selvedge game, this is a great combo to start with. The jeans will still have about 3% shrinkage, so the fit should customize to your body a little. The mid-weight denim will be stiff but should break-in faster and with less discomfort. And the dark, raw fabric will develop the fades you want. Plus, these types of jeans are common at a variety of price levels.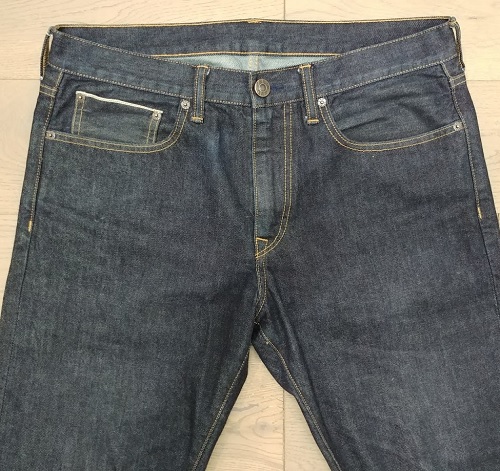 Washed Lightweight Selvedge Denim
If you want that cool selvedge strip when you cuff your jeans but can't be bothered with the whole "these fades are MINE!" thing, then this is a good combo. Pre-washing the jeans makes them much softer, so break-in time will be minimal. And most manufacturers going this route try to distress the denim so the "fake fades" look natural. There should also be minimal shrinkage. Which means general care and washing of your jeans will be much easier.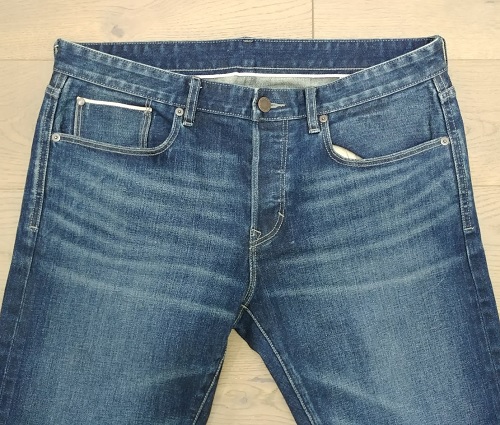 Unsanforized Raw Leightweight Regular Denim
If a custom fit and decent fades are more important to you than that selvedge strip, then this combo is worth a try. The most common jeans of this type on the market are Levi's famous 12.5 Oz. "Shrink to Fit" 501s. Usually priced under $50 on Amazon, they're definitely affordable.
Washed Lightweight Regular Denim
99% of the jeans on the market fall into this category. Just don't think that all of them are created equal. Prices can range from $15 Wal-mart specials to $600 Brionis.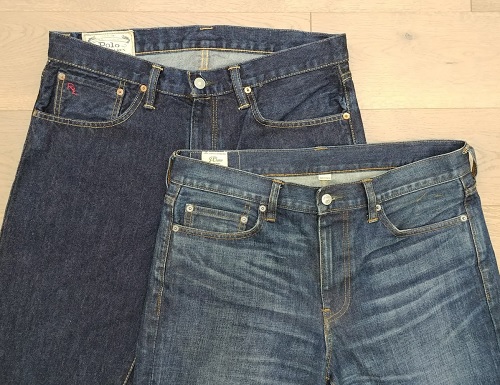 Choosing Your Selvedge Jeans
As I said earlier, there are a lot of options out there at various price points. The first thing to consider is fit. Since that's so personal, I can't get too specific about it. But, in general, I would suggest sticking with designs in a slim-straight or slightly tapered cut. It's relatively timeless and works well dressed down or dressed up.
After fit, it really comes down to your priorities. Does "Made in the USA" matter to you? How about the quality of the stitching and hardware? Do you want little details, like the selvedge band showing on the coin pocket? Or do you prefer them to be as clean and simple as possible? How about a zip fly or a button fly? I can tell you from experience: brand new, raw, mid- or heavyweight selvedge jeans with a button fly are not what you want to wear when you go out drinking with the boys!
To keep things simple, I'm going to focus on sanforized raw mid-weight selvedge jeans in this article.
Best Options for Sanforized Raw Selvedge Denim
Before we get into the options, just a note to those serious denim enthusiasts out there. I'm trying to keep our choices under $200 and suitable for people that may be relatively new to the raw selvedge denim game. So please don't expect to see brands like Iron Heart, Big John, Samurai, Raleigh Denim Workshop or Evisu below. Don't get me wrong. They all make some excellent jeans. But most are going to be overkill and/or too expensive for someone that's just getting started. On with the show!
Yep! You can get into the selvedge game for about the same price as run-of-the-mill Levi's. With a bit of cheating. These are NOT raw. They are 12 Oz., 98% cotton/2% spandex selvedge in a darker rinse. In other words, don't expect any serious fades. Still, if you want to cuff your jeans and show off the white band, these will let you do it on the cheap. Even the regular price of $49.90 won't break the bank.
At 11 Oz., these are drifting into the "lightweight" denim category. But that shouldn't be a problem for most of us. And that 1% spandex that they've added should make them even more comfortable from the get go. Unbranded focuses on making no-fuss, no-gimmick jeans, so expect these to be clean and simple. They feature a button fly, hidden rivets and a heavy leather patch. That's about it for details. Unbranded jeans are made in Macau, just in case that's a concern. I have a pair of 21 Oz. Unbranded jeans. While the Japanese denim is very good quality, the stitching isn't what I'd call top-of-the-line. If you're looking for a slighter heavier pair, check out their non-stretch UB201 14.5oz selvedge jeans for $82.
GAP is still a good source for menswear basics. These jeans are no exception. They've used a 13 Oz. Japanese selvedge denim and left it raw. So you can expect to get some okay fades and a slightly higher amount of shrinking. They come in a more traditional straight fit and have lots of sizes in stock. Which should work for those of you with bigger legs. Also keep an eye out for those ever present GAP sales. Denim is often excluded. But every once and a while you can find good discounts on their jeans.
Jigsaw has started with a 13 Oz. raw selvedge from the Kuroki Mill in Japan. They've also given them a bit of a rinse to remove some initial stiffness. That may bother some of you, but they claim it still leaves plenty of indigo dye needed to achieve good fades. The fit does have a bit of taper. But the mid-rise, overall looser cut should make those of you with thicker legs happy. The link above goes to John Lewis. You can also find them on the Jigsaw website here.
Canadian Brand Naked & Famous is known for creating some truly unique denim. Yes, at one time they offered "scratch and sniff" and glow-in-the-dark jeans. But they also make excellent staple styles. They've gone with a lighter weight 11 Oz. Japanese selvedge for this pair. And made them in Canada. Naked & Famous also offers six different fits. I've linked to the Weird Guy cut, which is a slim fit with a taper from the knee down. I also have a pair of N&F Weird Guy jeans. One thing I can warn you about: the fit ain't that generous around the crotch area, especially with the low-to-medium 10″ to 11″ rise. If you're looking for something a little more forgiving, their 12.5 Oz. Stretch Selvedge jeans (which adds 2% elastane to the weave) for $155 are worth a look.
This option from Taylor Stitch checks a LOT of the right boxes. They're made from 13.5 Oz. Cone Mills raw selvedge denim. The Democratic cut has a slightly tapered fit and medium rise (but you can also get them in a slim fit). They come with a button fly and a subtle selvedge detail on the coin pocket. And, last but not least, they're produced in California. Lots of bang for the buck!
About as traditional a cut as it gets and made from White Oak Cone Mills denim (that's a good thing). Some may find Levi's classic 501 straight-leg fit a little too "baggy". But for those guys with heavier builds (or those that prefer a true "work-wear" look), it's a favorite. And if you do want something a little more tapered? Try their 511 Made in USA Slim Fit Selvedge Jeans. Quick note: I've read through the product description of the 501s and the buyer comments and it sure seems like these are "Shrink-to-Fit" (unsanforized). Keep that in mind when choosing your size.
J.Crew has used a 13.75 Oz. Japanese selvedge denim from the famous Kaihara mill for their 770s. Although the name says "Straight-fit", expect these to be more on the slim side. If you need a pair with more room, try their 1040 Athletic Fit made from the same denim. And, as with GAP, it's always wise to keep a watch on sales at J.Crew. I also have a pair of 770s in my closet (just regular Kaihara denim, not selvedge). And I have to say, I really love the fit for my body type. If your on the leaner side, I'd suggest giving this a look.
A good price for some selvedge from a Daniel Craig approved brand. They've gone with a 14 Oz. raw Japanese selvedge denim. So expect these to be heavier and stiffer than some of the other options on this list. They're also a true slim fit. Meaning guys with bigger builds may find them a bit of a squeeze to get into. But they are still made in Los Angeles if "made in the USA" matters to you. I've no idea how long the sale will last before they jump back up to their normal $225 price tag.
French brand A.P.C. used to be the selvedge jeans recommended to newcomers. But it seems they've fallen out of favor over the last couple of years. I honestly don't know why. They're a clean, simple design made with Japanese raw denim in a straight-leg, medium rise fit that should work on a variety of body shapes. Maybe that's the problem? There seems to be a lot of options out there now that have the same characteristics at a lower price. If you'd like something a little slimmer fitting, check out their Petit Standard Selvedge Jeans for $210.00.
Gustin works on a different business model than most retailers. It's more of a crowd funded thing. At any given time, Gustin will offer various models and wait until they're funded before putting them into production. While this can create longer wait times, it does give buyers some great jean options at very affordable prices. For example, the #1 Heavy model above is made from raw 13.75 Oz. Japanese selvedge, is produced in California, and comes in Straight, Slim and Skinny Fits. It's also only $75.00. The catch? You need to "buy before you buy" to fund the launch and you probably won't get the jeans for a couple of months.
Have any questions or suggestions about our Guide to Selvedge Denim Jeans for Beginners? Let us know in the comments! And check out our Facebook page, Instagram account and Pinterest Boards for more James Bond style advice and inspiration!